Recruitment Referral Program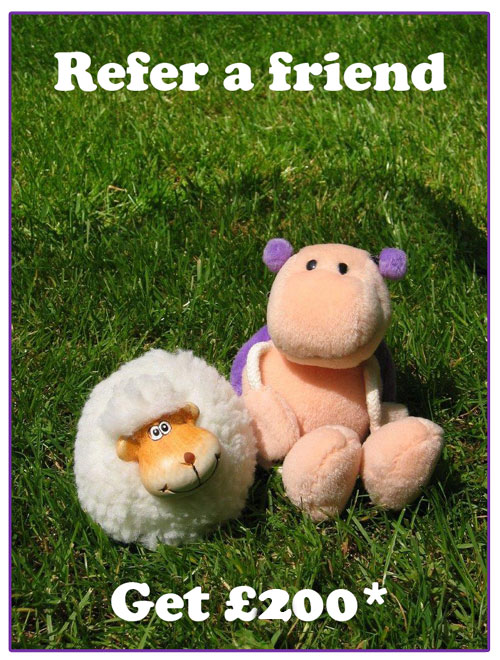 Know someone who might be a perfect fit at SAM Conveyancing? We're offering a £200 bonus for a hired employee referred by a person outside the SAM Conveyancing organisation in the United Kingdom.
To make a referral, please email the candidate's CV or completed application form to
Help@samconveyancing.co.uk
. Certain rules, restrictions and eligibility required apply.
THE PURPOSE
The Recruitment Referral Bonus program (the "Program") offers a one-time referral payment to unaffiliated persons to help SAM Conveyancing attract, hire, and retain the very best talent in the United Kingdom.
THE FINE PRINT
In order to be eligible to participate in SAM Conveyancing's Recruitment Referral Program:
The Referee (You):
Must be an individual person (i.e., not a business entity), and a legal resident of the United Kingdom who is at least 18 years of age to participate in the Program.




Can't be associated with, or a consultant of a staffing/recruiting agency.




Can't refer yourself (although admirable).
Your Referral Candidate:
Can't be past employees or SAM Conveyancing contractors.




Must be a candidate that SAM Conveyancing is not actively recruiting or who has had a dialogue with us about career opportunities within the last 90 calendar days.




Is referred to us after 12 July 2016.




Is hired. If your referred candidate is hired, they must remain employed with SAM Conveyancing for a minimum of six months and be in good performance standing.




Is hired to a permanent role. Fixed term, temporary or intern roles are excluded.




Any referral is valid for 6 months from the time of submission.
Agencies:
Please do not contact SAM Conveyancing employees directly to inquire about recruitment agency usage. All requests must come through Recruiting only. If you would like us to review your agency's information, please send a SINGLE informational email to
Help@samconveyancing.co.uk
Payment terms:
If you are eligible to participate in the Program, SAM Conveyancing shall pay you a one-time external referral payment in the amount of £200 for a referral if the referral results in successful completion of the probationary period by the candidate if hired, and such referred employee:
Acknowledges he or she was referred by you at application stage.




Successfully completes 180 days of continuous, active employment with SAM Conveyancing, passing the probationary period.




Is in good performance standing at the end of such 180 day period.




Is still employed by SAM Conveyancing at the time the external referral bonus is to be paid.




You must complete any other documentation that SAM Conveyancing may require in order to receive the referral bonus.
SAM Conveyancing will process £100 of the referral bonus upon completion of the first week's work by the candidate the remaining £100 referral bonus in approximately 30 days after the referred employee successfully completes the probationary period of employment.
Follow us on
---