What is subsidence?
Subsidence is the lowering and shrinking of the ground under a house, which causes the property's foundations to move, which causes minor subsidence in the first instance. As these foundations shift further, it produces movement in the upper parts of the property - this is when cracks can appear in walls and ceilings.
The ground or soil can move because of the removal of moisture, dry weather conditions or roots penetrating. Properties built before 1965 had shallow foundations and so are affected more by this ground movement.
There was a recent case where subsidence caused huge damage in to a property in St Albans - you can read more about this here -
Subsidence in St Albans
.
What causes subsidence?
The following are the main causes of subsidence.
Trees Close to Property – When trees grow near a property, their roots can both draw water from the soil making it loose and they can grow in and around the foundations.
Mining Area – If the property is built in a mining area, the probability that the ground under the foundations will shift or be more at risk of shifting due to mining works will be much greater.
Clay Sub-Soils – In dry weather, water is removed from the clay soil, causing it to shrink and the foundations to destabilise. Clay soil is particularly bad for this as it normally holds a lot of water and so the removal of water will have more of an effect than other soil types
Water Leaking – As much as the removal of water from the soil around the foundations can cause subsidence, water leaking in excess can also cause a problem. Water can wash away soil around the foundations and this is a particular problem when the ground is made up of sand, gravel or chalky soil.
What do subsidence cracks look like?
To test to see if a crack is getting wider you should stick a pin in it (coin, match stick, anything small enough to fit cosily in the crack). Leave the object in the crack and then keep an eye on it over the next few months. If the object continues to fall out as the gap gets wider you should call a Structural Engineer Immediately to come inspect your property.
What are the signs of subsidence?
New Cracks appearing - Expansion of existing cracks - wider than 3mm (width of a 50p coin) in plasterwork and brickwork, particularly after a period of dry weather.
Sticking doors - If the door frames move the doors won't close properly.
Wall Paper Ripples - When interior walls warp and move the wallpaper often lifts away
A hairline crack is under 3mm - Cracks in plaster is very common, especially in new build properties. For it to be a crack that causes concern it would have to be wider than 3mm.
How to check for subsidence
1

Get a Subsidence Report for £21.60
A subsidence report will identify what type of soil your property is built on and if the area is at risk of subsidence. The subsidence report does not guarantee if you have subsidence, only if the soil your property is built on has a higher risk to cause subsidence.
You would be advised to get a subsidence survey if:
You have no real concerns about subsidence; and/or
You want to know whether the soil type under your property has a high or low risk of subsidence.
You would not be advised to get a non-intrusive survey if:
You have been advised by a qualified person that there is suspicion of subsidence at the property;
You have cracks that are expanding; and/or
You have a crack that is 3mm wide or larger
2

Get a RICS Survey from £500 to £1,000+
Either a HomeBuyer Report or a Building Survey will highlight if the surveyor suspects that your property has subsidence. They will also identify other key factors within their report such as infestations, damp, asbestos and property defects. This is a good starting point if you think you have subsidence but you're not 100% sure.
You can order a RICS survey from us today and we have nationwide coverage with competitive prices. Call 0333 344 3234 to get a free quote.
3

Get a Structural Engineer
There are two assessments that a Structural Engineer could take and which you choose depends on what you know about the potential subsidence you have flagged.
1

Non-Intrusive Subsidence Inspection from £600 upwards
The structural engineer attends the property and conducts a non-intrusive assessment of the property, providing an opinion on whether there are any signs/suspicions of subsidence.
You would be advised to get a non-intrusive survey if:
You have not yet been advised by a qualified person that there is a suspicion of subsidence at the property
You have 'hair line' cracks; and/or
You have a crack that is under 3mm wide.
You would not be advised to get a non-intrusive survey if:
You have been advised by a qualified person that there is suspicion of subsidence at the property
You have cracks that are expanding; and/or
You have a crack that is 3mm wide or larger
2

Intrusive Subsidence Inspection from £600 upwards
You would go straight for having an intrusive subsidence inspection if a mortgage lender surveyor, RICS surveyor or any other qualified surveyor has flagged that the property has signs of subsidence. During this inspection the structural engineer will attend the property and conduct an intrusive assessment of the property along with a builder, digging down to inspect the footings of the foundations of the property. Their aim is to find where the subsidence is, what is causing it and what will need to be done to stabilise the foundations (for example, under pinning).
Important: You would only instruct a structural engineer after you have had another professional, such as a RICS surveyor for the mortgage lender or a HomeBuyer Report/Building Survey, inform you they have suspicions the property has subsidence.
What are the costs of underpinning?


You can generally fix a subsidence problem: roughly only around 10% of subsidence-affected properties require underpinning. Underpinning can cost between £5,000 and £80,000 depending on the property's condition. 
Alternatives to underpinning include Jet Grouting, where void areas are filled or even chemicals injected which turn the soil into solid aggregate. 
You can also get supporting systems using piers, piles and jacks but all these remedies depend on a property's location and the subsidence's severity.
How can calcium silicate bricks add to issues if mortar used doesn't 'match' them?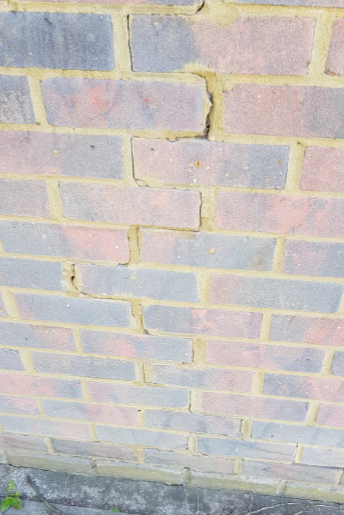 Sometimes, calcium silicate bricks are used as the construction material for house building.
If builders choose to use these bricks, it's particularly important that they plan for the fact that these types of bricks have 1.5 times the thermal expansion of clay bricks.
This planning in practice means that constructors have to build in additional slip planes, movement joists and weaker mortar to account for the greater thermal expansion than normal.
If these extra features are absent, where the mortar is stronger than the brick units, as the bricks expand with rising temperatures, there is an increasing risk of cracking and damage to the work (see the picture to the right for a 'real life' example).
As cracking occurs and increases, there is potential for water ingress, causing greater problems and involving greater expense to rectify. Any filling of existing cracks and repointing would only be a temporary fix.
Crack stitching helps, however if you find yourself in this situation, you are advised to obtain a report from an experienced brick contractor to find out what work would be required for comprehensive remedy, including introducing the necessary movement joints.
*RICS Surveyors – Local Knowledge – Same Week Availability
Want help now? Call us on 0333 344 3234 (local call charges apply)