Deed of Trust a Protected Trust Deed for Joint Owners of Property
The deed can contain any number of clauses that govern the intentions of the co-owners of property including how they wish for the property to be used, maintenance obligations, the mechanics of selling or buying each other out and, most importantly, the beneficial interest split for the share of any income from the property.
What is a basic deed?
A basic deed is cost effective and states a fixed beneficial share in the property so that the joint owners know how much they will be paid on sale. The fixed beneficial interest can be either:
Percentages - for example Mike owns 60% and Michelle owns 40% of the beneficial interest.
Deposits - for example, Mike and Michelle will be repaid their deposit they used to buy the property and then any gain or loss will be split equally.
The a basic deed Deed suits longer term relationships where the purpose is to note the joint owners' separate shares of the property and what to do when the property sells. It doesn't include clauses to account for shorter term relationships where you would want to have pre-agreed terms in place in the event that the relationship breaks down. The deed is legally enforceable and overrides any future claim for an increase in beneficial interest.
What is and isn't included?
What clauses are included?
Your deposit contribution is shown clearly and separately from those of other joint owners
You agree the percentage of your beneficial interest of any gain or loss (this is fixed and doesn't account for payments made during your joint ownership such as mortgage repayments or repairs/renovations)
Lists Registered Legal and Non-Legal Owners
Calculation for working out any gain or loss from rental income
Mechanism for buying out any other party's share of property
Allows for unregistered Beneficial Owners (for example parents investing with children or for Joint Mortgage Sole Proprietor mortgage products)
Section for stating individual contributions towards outgoings
All terms explained in simple English
What clauses aren't included?
A formula to account for varying contributions towards mortgage repayments or repairs/renovations
Mechanisms to protect you if a joint owner stops paying their share of the mortgage repayments
Procedures to sell your share of the property
Procedures for property repair or renovation costs (including how to calculate any gain because of the development of the property)
Procedures to sub-let your share of the property
Procedures if the relationship breaks down
Procedures if you can't afford your mortgage repayments
Any cohabitation agreements including splitting bills, living arrangements and how to settle an argument
Inventory listing of the personal possessions for joint owners
Frequently Asked Questions
"Can I use a deed when buying as joint tenants?"
"Does a Deed take into account mortgage repayments?"
The Basic Deed states each Party's individual share of the outgoings, but doesn't include a way for these to be used to calculate an increase to their beneficial share in the property like the Floating Deed does.
a Resulting Trust as the share of the mortgage repayments were pre-agreed before the mortgage was taken out (see case Cowcher Vs Cowcher where client A paid 100% of the deposit, but client B paid 100% of the mortgage); or
a Constructive Trust by way of no agreement before the mortgage was taken out (see case Curly Vs Parkes where Ms Parkes' sole name was on the mortgage and paid 100% of the deposit, however Mr Curley paid off some of the mortgage with a lump sum).
"What happens when you sell?"
When you sell you use your Basic Deed to confirm your individual joint owner's share of any gain or loss associated with the property.
The Basic Deed is used by the selling solicitor. It is important to note that property prices can go up as well as down so if you do make losses, then all joint owners are liable in direct proportion to their shares in the property.
"What happens if I want to sell and the other joint owner doesn't?"
Either joint owner can sell at any time. If one party wants to sell then they must give written notice to the other joint owner/s who have rights of first refusal to buy the share of the property. If the other joint owner/s cannot afford to buy the share then the property is placed on the open market through an estate agent seeking the best price available.
"Do I have to share the property 50:50?"
Many couples who agree to pay 50:50 mortgage repayments, but have different deposit amounts choose to refund the deposits paid, and then split any gain in the property 50:50. If there is no gain and you make a loss, then your deposits are refunded less your 50:50 contribution to the loss.
"What happens if you pay different shares for repairs and/or renovation?"
It is important to note that only improvements to the property that increase the purchase price are included (this would normally exclude painting, new kitchens/bathroom).
For example:
Jane and David buy a property worth £100,000. David spends £50,000 developing the property and the property is now worth £200,000, £100,000 more than before. David alone would be entitled to the value of the increase due to the development.
"Does paying the costs of purchase increase your interest in the property?"
"Does paying house expenses increase your interest in the property?"
Not unless it is a substantial sum of money which could lead to the imposition of a constructive trust. The Basic Deed states your agreed intentions towards paying outgoings.
"What happens if we get married or have children?"
You should review the agreement and see if the trust deed is still fit for purpose. When you get married or have children you may change your intentions towards each other. You should speak to a solicitor if you wish to protect your interests before you get married or have children.
"Can I get the Basic Deed of Trust after I have purchased?"
Yes. You'll need the consent of all the joint owners as to what the current value of the property is and what your agreed share percentage is at the point of signing. You'll then also need to get a solicitor to register the restriction against the property.
"Do I need a will?"
Do you need a Deed of Trust?
We have a specialist Solicitor, Claudine Boast, who is able to help draft a standard or bespoke deed. The basic deed is most commonly used when:
Buying a property jointly with a long-term or married partner
After changing a property from joint tenants to tenants in common to declare beneficial interest for tax purposes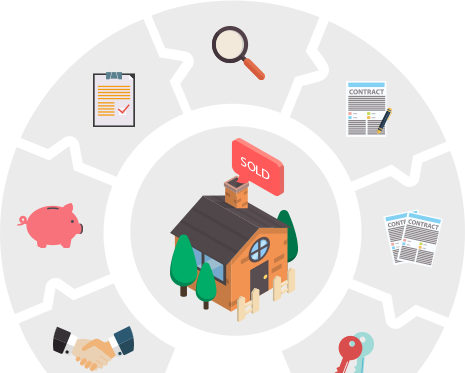 FREE Online Conveyancing Process for Buyers
Includes online checklists, videos, downloads and tips - plus it is completely free to use from start to finish and saves your progress along the way.
Log in