New Builds are exempt from most UK consumer protection legislation
UK new homes are excluded from the majority of consumer protection legislation, for example the Supply of Goods and Services Act 1982. For many other goods, a buyer would normally be able order that any defects were put right in 14 days, and have the right to use another contractor if the original developer were unable to do this.
However the providers of warranties for new builds, such as those offered by the National House Building Council, although they provide a dispute resolution service, insist that developers be given 8 weeks to solve defects. This puts matter on the same level with most other matters related to buying and selling property, where caveat emptor – or 'let the buyer beware' – is the guiding principle. This gives even more reason for a new build buyer to hire a chartered surveyor to carry out a snagging survey.
What types of snagging survey are there?
1

Pre-completion New House Snagging Survey
As it sounds, you hire your chartered surveyor to examine the property pre-completion. This way, if there are any major faults, you can negotiate with the developer before you hand over your completion monies.
2

Post-completion snagging survey
This occurs once you've moved in and had time to notice more subtle mistakes and deviations from what you were told you were buying. As stated, you'd normally get this type of survey in the first 2 years after buying the property and within the period that the developer has guaranteed the property.
Obviously the longer you live in the property, the less chance you have of holding a developer responsible for property defects because the property's occupiers are causing wear and tear and guarantees eventually expire.
Snagging Survey Cost
The cost is less than for a HomeBuyer Report or a Building Survey, however not much less. Instead of concentrating on wear-and-tear defects, it focuses on build quality and whether a property has been completed to a reasonable standard. It ranges from £400 upward and the defects found could save you in excess of this in repairs that the developer should pay for.
What are the worst things to spot in a snagging survey?
It's impossible to list all possible snags that might be noted in a survey, however we've pictured some actual snags observed in real inspections below. Other commonly-observed faults and shortcomings include cracked tiles, leaking boilers and sloppy painting. You can read more about these matters and other facts of interest in the following article about
new build homes
.
In order, the following photographs show these defects:
1

Cracked carcass under kitchen sink
2

Kitchen sink not sealed properly
3

Painting incomplete where polyfilla used
6

Skirting board not flush to flooring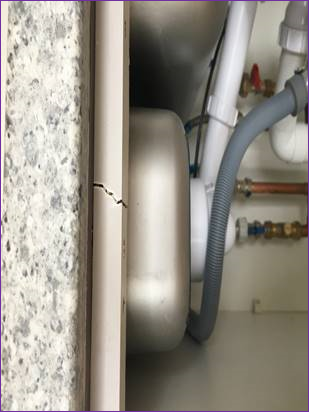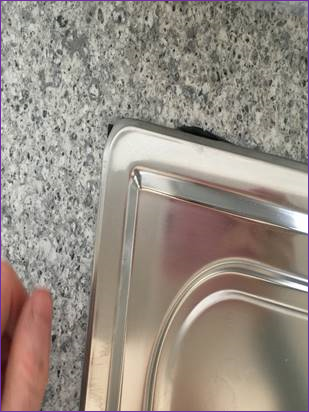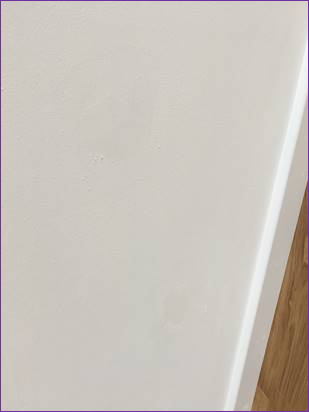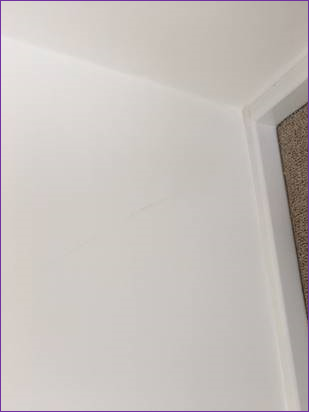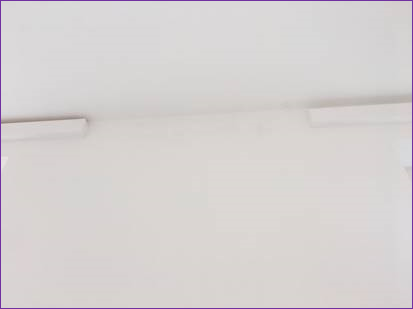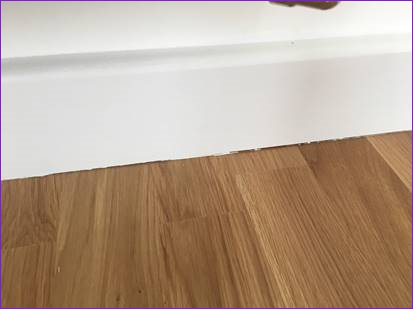 Frequently Asked Questions
Can you do a HomeBuyers Report on a new build?
Subsidence
Damp
Infestation
Damage and maintenance
Asbestos
Whilst the above are of a concern to any property, on a new build these are addressed via building control and supported by a building quality assurance such as NHBC. What a buyer needs is a surveyor to inspect the property and put together a snagging list of issues with build quality. This is why you wouldn't book a HomeBuyer Survey on a new build.
Can you be on-site during the survey?
A RICS surveyor will prefer being on site on their own because they can be distracted during the snagging survey if they are asked questions by you - it is difficult to not ask questions when the surveyor is right there next to you. There are, however, some surveyors who will be happy for you to be on site and will complete the snagging survey with you there. The survey may take longer and there could be an additional fee for the extra time this will take.
Do developers always fix issues in a new home snagging survey?
The build quality should be to a reasonable standard and as part of the exchange contract there'll be an agreement to address post completion snags. How you handle this with the developer depends on when you get the snagging survey:
Before completion - if you have a snagging survey before completion you can ask your solicitor to provide the report to the developer's solicitor and obtain their agreement to make good the snags before completion; if not before then agree a date by which they will make the repairs. The best time to book the snagging survey is when you get Served Notice to Complete
Post completion - if after you move in you find a number of snags then the sooner you get the survey the better. Leaving it for a long period of time leaves you exposed to questions whether the defects are caused through wear and tear rather than from the original build. Once you get the snagging survey you'll need to provide it to the developer and get an estimated time for when the snags can be fixed.
You need to make sure that before you exchange contracts that you have a clause included in your exchange contract that agrees to make good any reasonable snagging repairs and in what time-frame - forgetting the last bit could mean the developer agrees to fix the snagging defects but in a number of months, sometimes years and sometimes never if the developer goes bankrupt before they get round to doing it.
Something else to consider is that if your new build has snags, then the rest of the development may well also have the same issues. You may encounter a first come first served approach to fixing snags so make sure to keep on top of chasing and log all your communications with the developer.
New Build Snagging Survey
We have local RICS surveyors throughout England and provide:
Specialist New Build RICS surveyors
Photos of all defects
Detailed reports
RICS Surveyors | Photos Included | Same Week Availability (at short notice!)
Want help now? Call us on 0333 344 3234 (local call charges apply)