Off-Plan Homes: Do You Need a Snagging Survey?
Off-plan homes describes homes which have yet to be built but have been planned and for which planning approval has been given. You effectively pay for your home in advance of its construction.
Off-plan homes are one class of new build homes but new build homes also include properties which have actually been built but have not been bought and lived-in before.
A standard home buyers survey is inappropriate for an off-plan development but it is highly recommended that you get a
snagging survey
for peace of mind - these points are discussed below.
Buying a new build differs regarding the legal process from buying a modern or older property
RICS Surveyors – Local Knowledge – Same Week Availability
No time for forms? Call us now 0333 344 3234 (local call charges apply)
What's the difference between an off-plan home and a modern home?
While modern homes will have been built in, say, no more than 2 decades from the present day, and will have been lived in before, off-plan homes have yet to be built at the point when their first buyers start their conveyancing process.
Off-plan homes are designed to rank higher generally than older properties in terms of modern building standards and conditions, including energy efficiency, carbon dioxide emissions and damp proofing.
You should not have to think about making necessary repairs straight after you move in but this is not always the case - much depends on the workmanship of the developer.
One advantage you often get with off-plan homes is that you're able to choose fixtures, fittings and materials such as white goods which you'll have in your home, so your dwelling will be that much more bespoke.
You also don't have a chain above or below with an off-plan home, and you can reasonably assume that, because you are buying a brand new home, common property defects such as
subsidence
,
damp
and
rot
will not be present, which is why you would not get a home buyers survey such as a HomeBuyer Report or Building Survey.
The structural defect warranty which you should always get with an off-plan property should cover you against common property survey defects for 10 years.
But, the warranty won't always address how well the property has been finished, right down to how well tiles in the bathroom have been sealed etc., which is the reason for booking a snagging survey.
The National House Building Council (NHBC) most often provides the structural defect warranty, but warranties are also provided by Premier and BLP Insurance.
What do off-plan homes look like?
Off-plan homes come in a variety of shapes and sizes, from flats to detached houses, from the commonplace to the highly individual. Once again, it depends on the developer.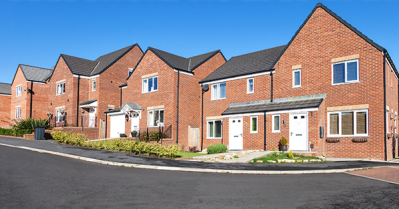 Some say that new builds in general lack the character of the houses of yester-year, such as those built in the
Victorian
or
Edwardian
era.
Individual flats in many new build flat developments are often considered rather small. However, there may be considerable gains in terms of efficiency as stated and in terms of the overall infrastructure.
New Build Survey - What defects do off-plan homes have?
You would expect not to find standard property defects such as subsidence in your new build survey when the off-plan home has been built.
However, you may find issues regarding how well your property has been finished and other problems uniquely related to its yet-to-be-built status.
You may find it more difficult to get a mortgage for an off-plan property
Getting a mortgage is likely to be more difficult with homes bought off-plan - lenders after all cannot easily value an uncompleted home and completion dates themselves may be postponed, additionally most mortgage offers only last for a maximum of 6 months.
You also often find that lenders won't give you more than an 85% Loan to Value (LTV) mortgage on a new build and if you require a mortgage of greater than 75% LTV, you'll have to present a relatively high minimum deposit.
Nonetheless, as long as you fit the required criteria, you should still examine the Help to Buy Equity Loan Scheme, which is only available for new build properties, and for which the Government loans you up to 20% of the retail price of the home, leaving you with having to find just 5% of the selling price as a deposit.
Additionally and as an incentive, if the completion date is longer term, developers are often prepared to accept just a 5% deposit, something which cash buyers may be better able to take advantage of.
The conveyancing process is more extreme
You normally have to pay a reservation deposit in the £1,000s - and you'll lose this if you pull out for any reason, then you'll have 28 days to exchange contracts and you must have the appropriate deposit ready.
You won't know exactly when you're going to complete, but when the developer has managed to finish the property and get the appropriate sign-offs from building control etc.
You'll then have a strict deadline of perhaps 14 days during which you'll have to pay the balance of the funds owed.
You are less likely to be able to bargain over price
Off-plan developments are generally sold with a fixed price tag and there isn't any appreciable room for negotiation over price - this is because the developers will have worked out how much they need to make to cover their costs etc.
The only situation in which you might have some room to bargain is if the developer has been unable to sell as many properties as it planned and thus will be eager to keep you on side.
You then might be able to bargain over the developer paying your stamp duty or some of it or offering you parking space or carpets etc.
Your plot may be comparatively small
Because of the prevailing high land values and also because developers will want to maximise the money they make for the area involved, you should not expect to get a large garden with an off-plan development - if this is a key requirement for you, you might be better off with an older property.
Plots are often built on brownfield sites
Building on brownfield sites is not of itself a hazard, but there is an increased possibility that the land the property is built on may have issues with drainage, sewage, flooding and contamination and these issues may not immediately show themselves. A new build survey will flag these if they are a concern.
Bad depreciation rates compared to older properties
Often, properties bought off-plan depreciate at a much higher rate than older properties, not least because their initial values have been over-inflated by the developer.
You may not get the returns you thought you might get when you come to resell your home.
Off-plan developments are notorious for snags
Whether it's broken roof tiles, tiles that haven't been grouted properly or kitchen cupboards that don't close as they should, you'll often find that your off-plan home has not been properly finished - it is for this reason that you should get a snagging survey.
Frequently Asked Questions
Need a new build survey for an off-plan property?
While you wouldn't get a home buyers survey (HomeBuyer Report or Building Survey) for an off-plan property, you should consider getting a snagging survey, which is normally cheaper than a home buyers survey.
RICS Surveyors – Local Knowledge – Same Week Availability
No time for forms? Call us now 0333 344 3234 (local call charges apply)
Proud of our Reviews


322 Google Reviews FREE Online Conveyancing Process for Buyers
Includes online checklists, videos, downloads and tips - plus it is completely free to use from start to finish and saves your progress along the way.
Log in