Do I need a statutory declaration of solvency transfer of equity?
Where a transfer is completed under market value then the mortgage lender or solicitor may require the party gifting their equity to make a Statutory Declaration of Solvency to an independent solicitor.
To be able to declare you are solvent, your assets (assets meaning valuable things you own like money in the bank, car, jewellery or houses) must outweigh your liabilities (HMRC taxes, loans, mortgages, contracts with suppliers). If you were made bankrupt within 5 years of gifting your equity then the transaction could be reversed in order for the property to be sold to pay off the creditors.
Here are some useful articles on this:
We have solicitors who can help provide legal advice on this so call us to get a quote on 0207 112 5388
Transfer of equity with existing mortgage
If you have an existing mortgage registered over the legal title then you have 2 options available to you:
Obtain mortgage lender consent
Get a new mortgage
If you can't get mortgage lender consent and the party/ies are unable to afford the mortgage in just the new owner's names then you cannot complete the transfer.
4 Stages of the transfer of equity and remortgage process
The parties remaining on the legal title instruct a solicitor to act on their behalf.
For the party leaving the property, they will need to
complete an ID1 form
and have this witnessed. The witnesses can only be a solicitor, licensed conveyancer, notary public, barrister, CILEx Conveyancing Practitioner, Chartered Legal Executive Conveyancing Practitioner, Chartered Legal Executive, lawyer outside the UK, officer of the UK armed forces operating overseas or an employee at a Land Registry Office.
If you are paying consideration to the leaving owner, then your solicitor will need to confirm the source of the funds you are using (read this article on
How to prove source of funds
).
2

Mortgage consent or mortgage offer
As highlighted above, getting the consent from your lender for a transfer of equity with existing mortgage if you are paying off a mortgage should be the first thing you do during the process. Without the consent from your mortgage lender your solicitor will not be able to progress your transaction.
If you are getting a new mortgage then your mortgage lender issues their mortgage offer to your solicitor. Different mortgage lenders will have different requirements for their solicitor to adhere to. Whereas some won't ask the solicitor to do anything more than their obligations under the CML, some mortgage lenders request additional information to be provided to them before they will agree for the mortgage to be issued. For example, Paragon Mortgages require the solicitor to provide copies of
planning permission
,
building regulations
and rights of way, however Santander Plc doesn't require this.
If there is an existing charge registered on the property, then the solicitor requests for the mortgage lender to provide a current mortgage statement in order to discharge the balance on completion. 
If there is a mortgage they will then send off the certificate of title to the mortgage lender requesting the release of the mortgage funds in time for completion.
3

Completion and payment of Transfer of Equity Costs
The solicitor sends you a financial statement before completion detailing the legal fees and disbursements. This is an example of a costs statement for a transfer with an existing mortgage of £200,000 and £50,000 consideration:
Cost

Description

£250,000

Mortgage advance from new lender

Less:

£200,000

Existing mortgage

£50,000

Payment for equity to leaving party

£TBC

SDLT payable at current rate

£599

Solicitor Fee INC VAT and disbursements (this varies depending on the property value, if the property is leasehold and if there is a remortgage

£40

Land Registry

£639*

Balance to complete excluding SDLT

* Leasehold financial statements would need to include a notice fee payable to the freeholder to confirm change of ownership and any new mortgage.
Once your mortgage advance is received by your solicitor and you and your solicitor are ready to complete, then your solicitor will redeem your existing mortgage, pay the consideration due to the leaving owner, settle their invoice and any disbursements (online ID check, official copy costs and OS1/bankruptcy). The balance, if any, is then repaid to you. The only amounts left will relate to the Land Registry fees and any costs due to the property being a leasehold.
The process for discharging the old mortgage and registering the new mortgage/owners at the Land Registry can take between 1 to 6 months after completion. The time delay is linked to the Land Registry having a backlog of work. This can be extended further for leasehold properties if the freeholder/managing agent delays in releasing the notice. Delays can be worsened if your service charge and/or ground rent are in arrears so make sure that you have settled these prior to remortgaging otherwise you may have a stand-off, with your freeholder not releasing your notice until your service charge account is settled (read more about
What happens after completion
).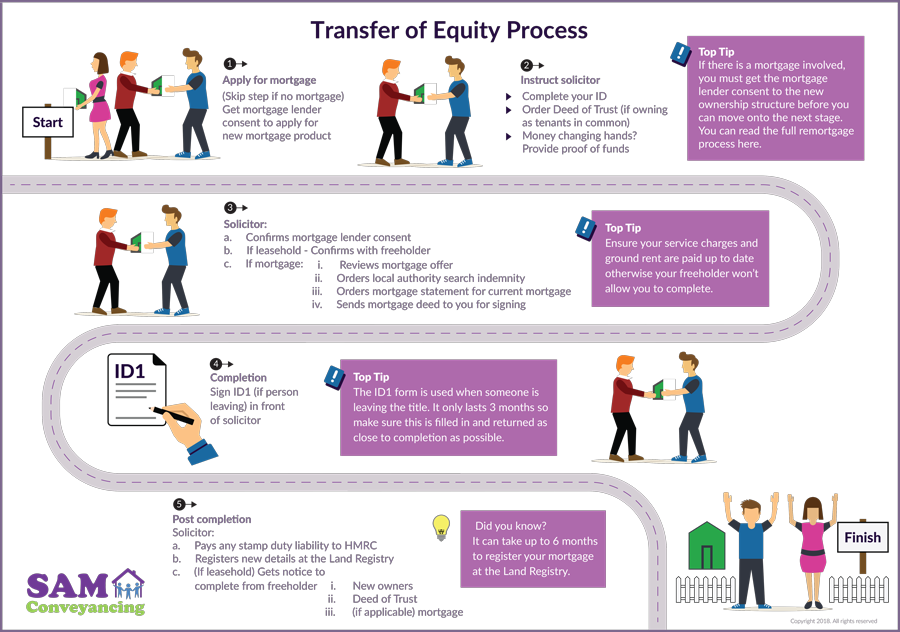 Frequently Asked Questions
This depends on the transaction.
Party A is adding on Party B - one solicitor can act for both parties in updating the legal title and mortgage. Party A may wish to obtain independent legal advice on the equity they are transferring to ensure they are fully aware of the value of the equity and that they are being suitably remunerated for it. Most transfers are for under the market value which could mean that Party A is out of pocket if the relationship breaks down and the parties sell.
Party A is removing Party B - one solicitor can act for party A (remaining on the legal title) and can remove Party B's name and update the mortgage lender. Much like the above, party B will be advised to obtain independent legal advice on the equity they are transferring to ensure they are fully aware of the value of the equity and that they are being suitably remunerated for it. Party A would want to make sure that Party B doesn't have a future claim to the property. The parties would be best placed drawing up a Settlement Agreement to confirm what was agreed.