2

Deed of Gift/Transfer By Way of Gift
The parties leaving the title are unrepresented , unless they choose to get a solicitor, and the process is as follows:
New owners get a solicitor
TR1 is drafted and sent to the current and new owners
Current owners get their ID1 form verified by a solicitor
Completion takes place
The process is completed a lot quicker than a sale and purchase, normally 2 to 3 weeks. The part that can take the longest time is getting thew ID1 verified; especially if the current owner lives overseas. We can get your ID1 form verified so please get in contact if you need any help.
Fixed Fee | Excellent Trustpilot Rating | Gifting Property Specialists | On all Mortgage Lender Panels
Where one or more of the original owners are going to remain on the legal title the transfer can take place as a transfer of equity. The party leaving the title is often unrepresented.
New owners and remaining owner use the same solicitor
TR1 is drafted and sent to the current and new owners
Leaving owner gets their ID1 form verified by a solicitor
Completion takes place
A Transfer of Equity takes a similar time to complete as a deed of gift, however can take longer if the property is leasehold or there is a mortgage that requires the lender's consent to add the new parties onto the mortgage.
Fixed Fee | Excellent Trustpilot Rating | Gifting Property Specialists | On all Mortgage Lender Panels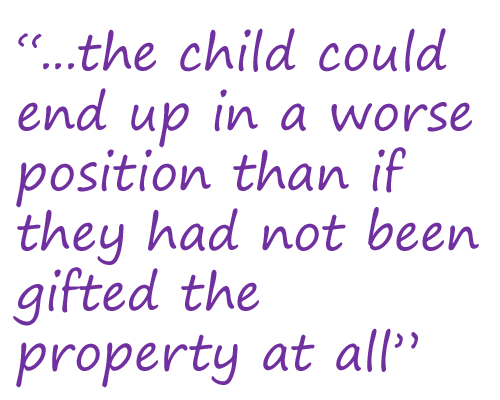 Frequently Asked Questions
What are the risks of gifting property to children?
The child is aiming to take on the property as their own, subject to any restrictive covenants, commercial burdens, environmental defects and financial liabilities that are attached to it. The property may not be able to be sell on the open market, or could be impossible to remortgage, leaving the child with an asset they can do nothing with!
Caveat Emptor , Latin for or 'buyer beware', still applies even if the parent has all the best intentions. Without carrying out due diligence such as searches, investigating title and carrying out the checks a prudent home buyer will do, the child could end up in a worse position than had they not been gifted the property at all.
Undue Influence
A third party could declare that the transaction occurred as a result of undue influence, namely through force, fear or an abuse of power. Where a parent and child have not had separate legal representation or followed appropriate channels to demonstrate the transaction was carried out willingly for both parties, the gifting of property can be set aside as if it had not happened in the first place, leaving the child with nothing.
What are the Tax implications when Gifting Property
HMRC have stated that parents may still be liable to Capital Gains Tax if the property being given is their second home. The only way to avoid this is via the Private Residence Exception (Principal Place of Residence), meaning the property has been/is occupied by the parent as their main home.
Stamp Duty Implications
The child would also attract Stamp Duty whether the transaction is a Transfer of Equity or a purchase. On a Transfer of Equity, if the consideration being paid when added onto half the outstanding mortgage exceeds £125,000, Stamp Duty is charged at the usual rate.
If the child is completing the purchase as a Concessionary Purchase, then stamp duty is payable on the amount stated within the contract. This amount depends on what the mortgage lender states. In most cases the mortgage lender allows for the concessionary purchase price to be used, however some use the full purchase price.
Use our Stamp Duty Calculator for Gifting Property
Online Calculator - No need to provide personal details to get the results
For tax advice on gifting property to family you should always speak to a tax specialist.
Gifting property with a mortgage
Where the buyers are paying some money to the sellers using a mortgage then they'll need to get an undervalue mortgage offer. For example, if the property is worth on the open market £500,000, however the buyers are getting a mortgage for £250,000 and this is all they are paying (the total consideration) then the mortgage lender must be informed this. The mortgage lender will state within the mortgage offer that they are aware the property is being sold under market value.
If the mortgage lender doesn't confirm it is an undervalue mortgage offer then your solicitor will need to reflect the full purchase price in the contract of exchange and SDLT will be payable on the total price. Read more about
Concessionary Purchases
and what you need to do.
Gifting property with a mortgage means that the transaction must be a sale and purcha\se because the mortgage lender will require standard conveyancing protocol to be followed by the purchasing solicitor.
Book a Free Mortgage Broker Consultation
Specialists in Gifting property with a mortgage | 100% Impartial advice | No need for face-to-face meeting | Terms apply
Should Independent Legal Advice be sought by the parents gifting property?
Where parents gift a property to a family member and they remove their names from the deeds in full they can complete the transfer with a deed of gift. As we've seen above, this means the parents aren't required to be legally represented (they can choose not to be). There maybe occasions where they may need to seek
Independent Legal Advice
:
Declaration of Solvency. A gifted transaction can be reversed if you are made bankrupt within 5 years of the transaction. It may be a requirement for the parents to complete a declaration of solvency to confirm they are currently solvent and their assets are greater than their liabilities.
ID1 Form. Whilst it isn't advice, if the parties leaving the legal title aren't represented by a solicitor then they must get their ID verified using an ID1 Form. Our solicitor can help verify ID via Skype so get in contact if you need help - 0333 344 3234.
Why is there so much confusion about how to gift property to children?
Here are 3 independent solicitor's opinions on Gifting Property to children:
Solicitor 1:
'We would treat this as a sale and purchase unless someone who is already on the title would be remaining on the title. If it is a sale & purchase, the father and son each have competing interests, so advising both would mean a conflict of interests. Each party should have separate legal representation so their best interests are considered. It could be in the seller's best interests to not transfer the property and we must advise as such. Plus, this could be set aside as a voidable transaction if a third party later claims it resulted from undue influence and there is no evidence of separate and considered legal advice'.
Solicitor 2:
'If there is no new or existing mortgage, and the transaction is between close relatives, we could complete a Transfer of Equity. We would, however, require the parents to seek
independent legal advice
. However, if a mortgage lender would be involved, the mortgage lender would request this be conducted as a separate sale and purchase'.
Solicitor 3:
'If the property is being given for nil/no value, this could be a Transfer of Equity however the usual rule is that one party must remain on the title deeds. We would ideally prefer clients to have separate legal advice as there could be tax implications and undue influence concerns. If money is involved, we would certainly treat this as a sale and purchase'.
How much under market value can you gift the property?
Property can be transferred for full value, under market value and for no consideration at all. A property can transfer for whatever is agreeable between the seller and the buyer, although there are implications to consider such as capital gains tax, stamp duty land tax and if the buyers need to get a mortgage within the first 6 to 12 months after the property has been gifted.
Mortgage deposit gift from friend - What is the process?
Do you need help transferring property to your children?
To speak to a specialist solicitor in this area and for help in supporting your children into their first property, call 0333 344 3234 for a fixed fee quote.
Get a Conveyancing Quote to Transfer Your Property to Your Children *
* Fixed Fee – No Sale No Fee – On all Mortgage Lender Panels
No time for forms? Call our specialists on 0333 344 3234 (local call charges apply).