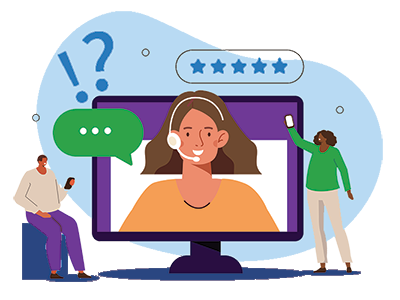 "Had an amazing service. Completed on a house sale in 28 days the quickest ever. Great communication and got the job done. I hope to do business with you again very soon."
1

A service with honesty and integrity
We value you and will always aim to deliver a service to you with honesty and integrity. We take this very seriously and all of our team have regular training to ensure we never let this slip.
Keeping you informed throughout the process is imperative and we pride ourselves on high levels of communication.
Communication by phone - when you ring we pick up the phone within 3 rings or else the call goes to voicemail and a member of our team will call you back on the same working day - often within minutes. You can call us anytime during office hours. If your case handler is on another call or busy, then another member of the team will help you.
Communication by email - if you can't find the time to call, then you can email us directly or to Help@samconveyancing.co.uk. We'll make sure someone comes back to you on the working day you email although most emails are replied to by the team within 1 hour of receipt.
The best advice is that if it has been a week since your last update or since the ETA for the next action you should email your case handler and they'll give you an update.
During your home move you may struggle to find time during a busy working day to call us. This is why we are open from 8.30am to 5.30pm Monday to Friday and 10am to 1pm on Saturday.
4

Specialising in solution finding
We have many years of collective experience working within the conveyancing sector and your individual case handler has helped100s of clients with a wide variety of different transactions. This is what we do and we love it.
Your case handler has on hand a wealth of skills and expertise that they can call upon if they are unsure or need a second opinion. Whether it be a call to a solicitor or to one of our senior team, if it is a conveyancing query we can get the solution - although sometimes it may not be the solution you want to hear.
We have negotiated better than direct prices with all of our service providers. We keep the costs down for you without the loss of our trusted service.
6

You get your case handler
Whether you require a CQS Solicitor for conveyancing or a RICS Surveyor for surveying you have your own Case handler at SAM to look after you from the moment you instruct right through until you complete.
7

We guarantee to always help you where we can
Conveyancing is stressful and we cannot guarantee there won't be hurdles along the way. What we do guarantee is to be on hand to offer guidance and support when you need throughout the whole move.
---
What we expect from you
It is important that we work together and have a good working relationship during the delivery of your service which is why we set out what we are going to need from you.
We rely upon what you tell us which is why it is so important that what you tell us is correct to the best of your knowledge. If at any point during the conveyancing transaction we find you have not been honest then we reserve the right to disengage from providing you with the instructed service.
We understand that conveyancing can be a very difficult and stressful time for you which is why our team work so hard to help you. If at anytime a member of our team encounters abuse from you, whether verbal, physical or written then we reserve the right to disengage from providing you with the instructed service. Abuse includes (but not limited to):
explicit or implied threats;
verbal abuse;
bullying or threatening comments;
racist or sexist language of any kind;
derogatory comments;
offensive or profane language;
making inflammatory statements;
raising unsubstantiated allegations; or
actual or the threat of physical violence.
We have a zero tolerance policy towards unreasonable demands and communication, which may include:
Persistent or unrealistic demands that cause stress to our team or service providers are not acceptable.
insisting on communicating only with a specific member of staff, or
adopting a "capture-all" approach by contacting many staff members and third parties, regarding the same query
There is no excuse for abuse towards any member of our team or any of our service providers and we will take immediate action to protect our team. You can read our
Client Communication Policy
for more information.
SAM Conveyancing Complaint
We take service very seriously so please let your case handler know if you have any concerns regarding the service you receive. Please put your complaint in writing and provide as much detail as possible.
If your complaint is regarding our third party service provider then we will refer your complaint to them to respond to.