Capital Gains Tax on Gifted Property
The capital gains tax on
gifted property
varies depending on the relationship between the owner of the property and the party/ies being gifted the property. 
HMRC will look to the relationship between the seller and the buyer to see how to treat the capital gains tax on gifts. 
Some parents gifting property to their child under market value might mistakenly think HMRC only look at the gain from the sale, whereas the reality is that where the parties are connected the CGT on gifted property is based on the 'market value' regardless of what the actual properties sold for. 
How can you gift a property to your child?
We specialise in gifting property to children and completing the transaction quickly. Call us to ask any questions or click the button below to get a Fixed Legal Fee Quote.
Specialists in Gifting Property - Fixed Legal Fees (no nasty extras!) – Fast Completions
We examine in more detail how parents are affected by capital gains tax on gifts of property to children and include how to calculate the CGT due, however if you are looking for what CGT is paid if you are married, then read this article -
Capital Gains Tax on Property for Married Couples
. 
The good news is that there is no capital gains tax on your Principle Place of Residence (where you live), there is only CGT on second properties (such as a buy to let or a holiday home).
Normally the consideration for the disposal of an asset is what the person who makes the disposal gets for it. 
And the acquisition cost of the person who acquires the asset is the consideration which that person gave. But in certain circumstances the consideration which actually passes between the parties to the transaction is ignored. 
Instead, the consideration is deemed to be equal to the market value at the date of disposal of the asset disposed of. The same figure is used as the acquisition cost of the person who acquires the asset.
Under TCGA92/S17 & TCGA92/S18 it goes on to state: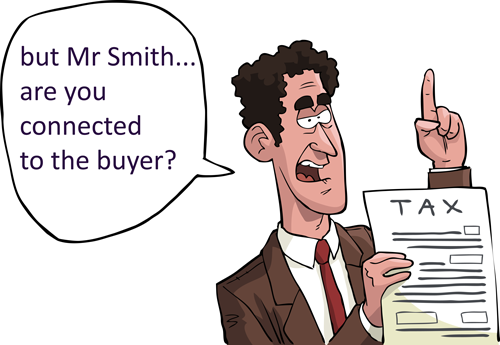 A connected person is defined under
HMRC CG14580+
which states:
A person is connected with an individual if that person is a relative of the individual
and a relative is further defined:
Relative means a brother, sister, ancestor or lineal descendant. 
The term 'relative' does not cover all family relationships. In particular, it does not include nephews, nieces, uncles and aunts". As your children are lineal descendants then if you gift your property to your children then regardless of the actual consideration, the CGT paid by the parents is at market value.
What is the Market Value?
The market value of a property is based on the price 'which might reasonably be expected to fetch on a sale in the open market' and is based on the market value of the date of sale. For assets owned before April 1982, the date for the market value is the 31st March 1982.
What happens if you can't agree the market value?
HMRC have the right to question your market value. Under such circumstances either you or they can complete a CG34 Post-Transaction Valuation Check. HMRC have specialist valuers to value land and you'll be able to discuss your valuations with the HMRC valuer.
How do I sell or transfer a gifted property?
Either sell and buy if there is a mortgage involved with the property.
Gifted transfer. When there is a mortgage to redeem or there is money changing hands, then it needs to be handled as a sale and purchase because standard protocol is required for the mortgage lender. With a simple gifted transfer the process can complete in a matter of weeks - quicker if all parties send their ID and signed documents back as soon as possible.
How can I avoid capital gains tax on a buy to let property?
You should speak to a specialist tax accountant to assist you with any tax planning you have. We have an accountant who can discuss how to avoid capital gains tax which you can call on 0333 344 3234 (local call rates).
Capital gains tax on gift of property to child Example
Mr and Mrs Smith want to gift their buy to let property to their child Roger. The property is worth £500,000 if they sold it on the open market however they are going to gift Roger £300,000 who'll pay for the £200,000 with a mortgage (undervalue mortgage). 
Mr and Mrs Smith are connected to Roger in the eyes of HMRC and have to use the market value of £500,000 for CGT purposes, not the £200,000 actually being paid. They make the declaration for the capital gains tax on their self assessment tax form for the year.



How do you calculate Capital Gains Tax on property?
£

Proceeds from sale of property at Market Value




X




less




Incidental costs of disposal

eg. estate agent's fee, solicitor's fee




(X)




Equals net proceeds




X




less




Original purchase price of property




(X)




Incidental costs of purchase

eg. stamp duty, Land Registry cost, solicitor's fee




(X)




Gain (or loss)




X




Less capital gains tax allowance




X




Amount subject to Capital Gains Tax




X



You should speak to a tax advisor for capital gains tax advice.
What is the rate for capital gains tax?
The current rate for capital gains tax is:
| Rate | Capital Gains Tax Rate |
| --- | --- |
| Basic Rate | 18% for CGT on property sales |
| Higher Rate | 28% for CGT on property sales |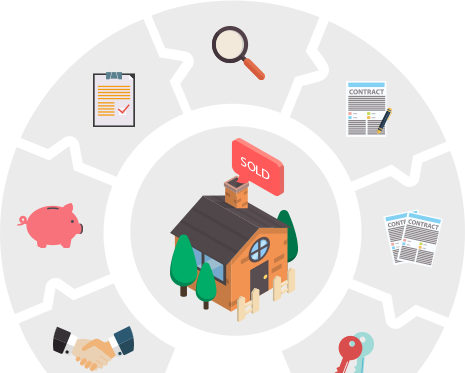 FREE Online Conveyancing Process for Buyers
Includes online checklists, videos, downloads and tips - plus it is completely free to use from start to finish and saves your progress along the way.
Log in