What is rising damp?
Bricks, mortar or sandstone, being porous materials, draw water naturally from the ground (moisture) and absorb it. Builders use damp proofing to protect against this happening by building in a non-porous layer of material which separates the bricks/mortar/sandstone from the ground, stopping the water being absorbed.
Problems occur when this damp proofing either isn't present or has become damaged. This is made worse because sometimes, the signs of damp rising may not appear for a few years.
What are the signs of rising damp?
By the time these signs appear, the porous material/s will have become damp and moist and require speedy attention.
Damaged internal decoration – Damp or discoloured tidemarks on internal walls;
Damaged plaster – Disintegration, salting or blistering;
Rotting skirting boards or floor boards – wet rot with decay;
Localised dampness – Dampness on walls rarely exceeds one metre above ground level, but may go much higher in extreme cases 
What are the main issues which cause damp to rise?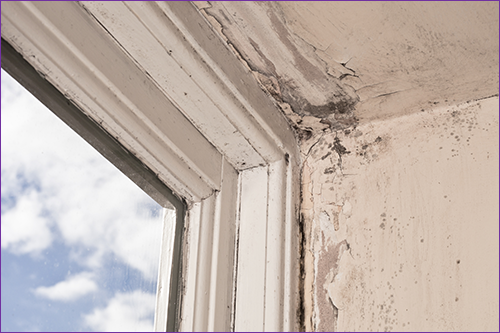 The main factors causing the problem are: 
Existing damp proof no longer works.
No damp proof ever laid.
Ground outside the external wall is higher than damp proof.
Internal plastering bridges the damp proof course.
Build up of rubble inside a cavity wall bridges the damp proof course.
Previous penetrating damp issue has left residual damp at the base of a wall.
Poor circulation causes condensation at the base of a wall.
Leaking water pipes at the base of the wall.
What happens if your surveyor finds you have high damp meter readings?
If your RICS Surveyor suspects that a property suffers from rising damp, you should book a Rising Damp Surveyor to inspect its internal, external walls and floor boards. They test for visible signs of moisture using a moisture meter. The final check is to take a sample from the porous material to find out how damp it is. They get this by drilling into the wall.
Don't just use a damp meter! The rising damp myth…
RICS Surveyor and builder Jeff Howell recently wrote that a damp meter can detect other atmospheric conditions which may not be relevant and therefore you must book a full Damp Survey before you pay out lots of money for new damp proofing. Chemical injection of damp proofing is advised in around 5,000 UK weekly - which costs more than £200 million per year - and much of this is because of the widespread misuse of electrical moisture meters. Jeff also confirmed investigations into other types of damp proofing such as electro-osmosis and atmospheric siphons (eg Wallguard, Schrijver Systeem and Holland Damp Proofing). He has stated that these remedies are often mis-sold to the British public too.
If you have rising damp you can get it fixed but you are strongly advised to get a Damp Specialist to confirm you have the condition first.
The cost of rising damp treatment
Problem

Solution

Terraced House – One Wall

Terraced House – Whole House

Semi-Detached House – One Wall

Semi-Detached – Whole House

Detached House – One Wall

Detached House – Whole House

Ground level is above the existing damp proof course 

Excavate soil only

£204

£268

£262

£594

£437

£1,456

Ground level is above the existing damp proof course  

Excavate soil and lay pre-cast concrete paving slabs

£431

£728

£600

£1,491

£1,036

£3,274

No damp proof course in wall

Inject silicone damp proofing course

 

£221

£350

£384

£769

£600

£1,899

Internal walls are damp

Asphalt tanking to 1.2m height and decorate to full height

 

£1,631

£3,250

£2,435

£6,477

£4,858

£15,366
These quotes come from the Royal Institution of Chartered Surveyors' Building Cost Information Service (December 2011).
If you think you have damp rising and your RICS Surveyor also has suspicions of the issue, book a Damp Survey from a Damp Specialist, wait for the Damp Survey to come back and only then take action.
If you haven't bought the property and the damp survey is conducted while you are doing your due diligence, speak to the seller and negotiate a reduction in the purchase price to account for the costs you are going to incur. This is entirely fair because the damp will have been worsening during their ownership.
Book your Damp Survey
All of our surveyors are RICS regulated with years of experience working on all ages and types of properties throughout England. With over a 100 surveyors we'll have a local surveyor near to your property able to give you the reassurance you need to buy your home.
If you would like to book a damp Survey you can call our head office on 0333 344 3234 and we'll arrange the access and get the survey booked for the earliest possible time.
*RICS Surveyors – Local Knowledge – Same Week Availability
Want help now? Call us on 0333 344 3234 (local call charges apply)