Victorian properties are traditional English homes built between 1830 and 1901.
Many terraced properties in particular were built in this period. Four main styles have been recognised by most experts: Queen Anne, Italianate, Renaissance and Medieval.
They differ from houses built in the
Georgian period
and before in that they are, in the main, less ornate and externally showy but very
sturdy
and
built to last
. Richer properties however are often quite decorative, with many adopting a mock-Gothic or Tudor style.
Rooms most often have high ceilings and properties of this era generally have steep pitched roofs. If you are considering a future loft conversion, for this latter reason a Victorian attic is normally an excellent candidate.
*RICS Surveyors – Local Knowledge – Same Week Availability
Want help now? Call us on 0333 344 3234 (local call charges apply)
What do Victorian properties look like?
Brickwork is often patterned, using what is known as Flemish Brick bond, with alternating headers (small side of brick) and stretchers (long side of brick) on the face of the wall with headers centred on stretchers above and below.
Typically houses are in terraces, with gardens front and back and with the kitchen at the back. You can often find barge boards present (decorative wooden panels on the gable ends of roofs).
The arrival of plate glass in 1832 meant windows could be larger with less panes. So you still have sash windows, similar to the Georgian period, but with just a single glazing bar down the middle. The Gothic revival meant stained glass was popular; it can often be seen in doors and at the tops of windows.
Three-sided bay windows were very popular. Often a ground floor bay window has its own roof above it for ornamentation or the bay continues to the first floor with the bay roof above that.
Each room normally has a fireplace with a stone, marble or wood surround and as a result, you find a lot of terracotta chimney pots on top of these properties.
Porches also were very popular in builds and are often ornate. You also often find date stones – names and dates in stone above doors. You also often have cellars – a considerable advantage in terms of storage space.
What issues are associated with Victorian properties?
Many problems associated with this kind of property are called 'high level problems', because you often need scaffolding or a platform such as a cherry picker to fix them.
Some Victorian properties have rooms with 30ft high ceilings and so are beyond the reach of someone with average DIY experience!
You often find weathered bricks and loose pots. Chimney breasts in the bedrooms and loft space are often stained. If there is no damp course, then chimneys are likely to be affected by
damp
.
This may well be poor and in need of renewing in gulleys etc.
These may not have insulation and no felt under battens. Old roof timbers may distort, 'dish' or sag. Timbers may be affected by dry and wet rot and woodworm.


Gutters and down-pipes may be leaking and if they drain to the soil, they may cause structural problems.
The parapet walls (these stand proud of the roof tiles around the party walls) may be leaking, copings can be loose and rendered sides may be cracked. Click if you need to order a specialist
roof survey
for a Victorian property.
Defective masonry often affects Victorian properties. If bath stone is used for fronting, it absorbs water like a sponge which encourages dry rot. Inside walls can also often be affected by dampness.
Stone and brick-work can be eroded by general weathering or cracked as a result of structural movement. Lintel construction can frequently be poor and walls are often re-pointed using cement mortar or covered with a cement-based render: this can be disastrous because this may require a lime-based mortar, which eradicates damp build-up.
This is key because it may be non-existent, which may be contributory to the damp problems mentioned in other paragraphs of this section.
The additional challenge here is that if a chemical damp proof course has been subsequently injected to make up for the original lack of one – and in particular, if this has been carried out incompetently – any damp issues may be exacerbated.
Click if you need to order a
damp survey
for a Victorian property.
One particular problem here is that you may not get LINK planning permission to install PVC windows – it may be judged that this would interfere with the period character of the dwelling. Previous 'upgrades' may have shoddy workmanship and the original sash windows may be draughty.
Foundations are often found to have problems, which can lead to structural problems and contribute to
subsidence
.
Floors may have dry and wet rot and woodworm. This can often be obscured by the latter placement of hardboard and plywood flooring on top. A RICS surveyor carrying out a building survey is expert at detecting suspicions of rot in these situations.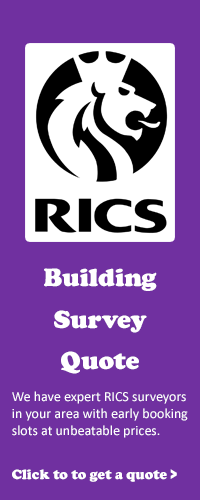 Ceilings may have cracks, particularly if different materials have been used in refurbishment. They also may be very difficult to maintain and repair – ceiling heights may demand the services of professional tradespeople rather than DIY.
9

Sub-standard refurbishment work
These properties will have been in existence for a reasonable period of time – at the very least more than 115 years and counting. There are likely to have been more than a few refurbishments or extensive repairs carried out and there are no guarantees that these were of a consistently high standard.
If a Victorian property has not had its electric comparatively recently rewired, there may be potentially significant issues. You may find, for example, that there's only one socket in each room. You can expect to pay £1,000s for a professional rewire.
Plumbing may consist of lead piping; lead is a cumulative and deadly neurotoxin. Once again, replacing all pipes might you many £1,000s.
If your Victorian property is a listed building, this can be highly problematic regarding
planning permissions
and
building regulations
if you are looking to refurbish, extend or modify your property.
What sort of home buyers survey would this property require?
All chartered surveyor experts would recommend you get a
building survey
if you are considering buying a Victorian property for many reasons referred to above and lots more.
Victorian properties can prove to be an excellent investment because they are, in the majority of cases, built to last for a very long time, but they do need maintenance, sometimes to redo faulty previous work.
Your building surveyor, depending on their findings, may also recommend you get a timber survey from a damp and timber specialist. They might also raise suspicions about sub-standard or out-of-date electrical wiring and may recommend an experienced electrician to remedy this.

Proud of our Reviews


322 Google Reviews FREE Online Conveyancing Process for Buyers
Includes online checklists, videos, downloads and tips - plus it is completely free to use from start to finish and saves your progress along the way.
Log in