Edwardian hosues are traditional English homes built between 1901 and 1918. Builders of the period built houses that are quite varied in all ways. There are a lot of revivalist influences and a lot of mixing and matching. You might, for example, see a home with medieval exterior panelling but sporting the larger dimensions of a 
Georgian home
. It's not uncommon, as another example, to see a Tudor-type first floor – black timbers and white masonry – coupled with red bricks for the remainder.
In the main, homes are less ornate compared to those built in the Victorian era which preceded this period, but this is not exclusively the case. Edwardian Baroque architecture was frequently the style employed used when constructing major buildings; notable architects of the period included Edwin Lutyens, Charles Rennie Mackintosh and Giles Gilbert Scott.
Properties of this period are almost as large as
Victorian properties
and benefit by more modern building techniques while often having other stylish quirks.
We have local RICS Building Surveyors available to help with any project you need support with on your Edwardian house, including:
Level 3: Building Survey;
Plan drawings for extending a Victorian property;
Building control sign off
RICS Surveyors – Local Knowledge – Same Week Availability
Want help now? Call us on 0333 344 3234 (local call charges apply)
What do Edwardian houses look like?
You often see lighter colours used than for Victorian properties; gas and, as time progressed, electric lights were used. Builders felt freer to do this because they did not have to worry about soot building up on walls etc.
Decorations are often present but these are markedly less ornate in the main than for Victorian properties and tend to be grouped, i.e. there is more orderliness and less clutter.
Edwardian houses have wide, spacious hallways and wide, bay fronted windows. Porches around the front door were/are often made of wood.

The size of the houses is generally smaller than for Victorian properties, even though roofs are prominent. There is more of a horizontal look to Edwardian houses and, because they often did not have basements, the main ground floor rooms now have access to the garden.
You find a fair number of these houses in Dulwich, South-East London and 'garden suburbs'.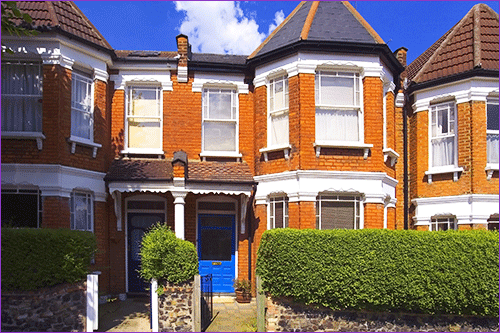 What issues are associated with Edwardian houses? 
Edwardian houses have a reputation for being well-built but nearly all of them are now at least a century old and therefore subject to degradation of materials etc. If you're thinking of buying an Edwardian house, you should definitely include hiring an experienced chartered building surveyor to produce a detailed report on its viability in your costings.
Chimney - chimneys often 'stand proud' and are prominent – this means they are more exposed to the weather, so the pots and mortar need to be checked for defects even if all looks well from the ground. Any unused flues and fireplaces should be capped to prevent the build-up of internal dampness, a common occurrence otherwise.




Flashing - This may well be poor and in need of refurbishment or replacement.




Roofs - Any original tiles, made normally of slate or clay, may need repair or replacement. If concrete tiles have been used to replace these, you may have sagging, because of the increase weight, unless support for this was put in as well. You may get unevenness and spread around the eaves. Click for a quote for a specialist roof survey.




Walls - Similar to what you find in Victorian properties, you often see arches over front entrances, which may have damp issues if materials and mortar are mismatched. Often ground floor and first floor walls do not match up perfectly as builders in this period generally constructed larger kitchens with a higher ceiling compared to the rooms in the floor above, so first floor walls were built off timber floor joists. You can therefore often get deflection, shrinkage and creep which may cause some, but not all, walls to drop. Walls are normally solid so they are colder at the base and patches of mould can appear due to condensation and this can be exacerbated if blocked fireplaces are hindering ventilation.




Damp Proof Course - Generally speaking, you can expect damp proof courses to have been well-installed in these properties but the air bricks may have become covered up by soil or paving over the years, particularly if the level of the garden has been raised, and this can encourage damp to form.




Window Problems - Often, you find that original timber sash and casement windows have been replaced by modern ones framed with uPVC. This can prove problematic if they've been put into bay windows as the original timber ones were built to help carry the load of the walls and roof above. uPVC windows require greater support and if this is not in place, expect to find sagging and leaking bays.




Floors and foundations - Edwardian houses often have shallow foundations; this makes them susceptible to subsidence, particularly if other factors are thrown in such as clay soils, trees and shrubs growing close to the walls and leaking drains.




Eaves - Eaves should allow air to pass into the loft space, but if people have laid loft insulation material carelessly, condensation can build up in Edwardian houses and cause timbers to become damp. Your RICS surveyor will look for signs of leaks around dormer windows and skylights as a suspicion of blocked eaves causing this issue. Roof felt linings also wear and deteriorate with time; this can also lead to damp taking hold. Click if you need a timber survey quote for an Edwardian house.




Sub-standard refurbishment work - Once again, your property may be hampered by less-than-professional prior attempts at maintenance and refurbishment. An experienced surveyor is invaluable for making a judgement on this matter.




Miscellaneous - Original Edwardian doors are built to last but they may not be as secure as they can be and might benefit from modern locks, hinges and glazing. They may also benefit from additional measures to combat draughts such as using sealing strips or even an outer plain glass door.
What sort of home buyers survey would this property require?
Properties in this period were generally built well, however they are nearly all likely to be over a 100 years old.
For this reason alone, if you're thinking of buying an Edwardian house, you should get a
Level 3: Building Survey
and for the additional matters mentioned above. Your RICS building surveyor, depending on their findings, may also recommend you get a timber survey from a damp and timber specialist.
RICS Surveyors – Local Knowledge – Same Week Availability
Want help now? Call us on 0333 344 3234 (local call charges apply)
Proud of our Reviews


322 Google Reviews FREE Online Conveyancing Process for Buyers
Includes online checklists, videos, downloads and tips - plus it is completely free to use from start to finish and saves your progress along the way.
Log in