Some common types of woodworm include:
Common Furniture Beetle (Anobium Punctatum) - this is the most common in the UK and attacks softwood and the sapwood of European hardwoods.
House Longhorn Beetle - only attacks the sapwood of softwood timbers, rare in the UK.
Powderpost Beetle - causes damage to ash, elm and oak (all have a high starch content).
Deathwatch Beetle - prefers European hardwoods, especially oak, ash and chestnut. Larvae tunnel towards the centre of timber so damage may be more extensive than apparent from the exterior.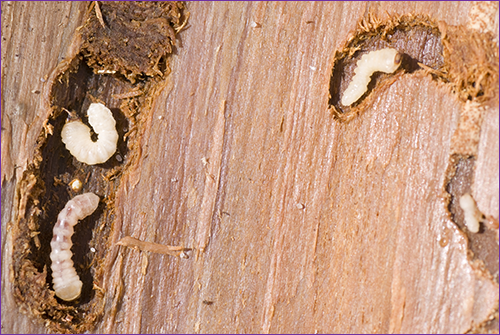 What treatments are available?
As stated, a timber specialist surveyor needs firstly to identify the species of woodworm, determine whether the infestation is still active and identify which timbers need replacing. The specialist removes timber which has been structurally weakened and replace it with pre-treated timber, then treat other affected woodwork.
Methods of woodworm treatment include:
Surface application of pesticides
Freezing - only suitable for items of furniture infested with woodworm.
Fumigation - usually appropriate for Deathwatch Beetle infestation in large structural hardwoods. Adult beetles are literally smoked out during the annual flight season.
Worried about woodworm? Call us on 0333 344 3234 or email help@samconveyancing.co.uk