Treating woodworm: woodworm can cause significant damage to timber in homes and remedying it may cost upwards of £1,000 however replacing the damaged timber can additionally cost many £1,000s depending on the amount of damage. There are many different types of woodworm, each requiring a different technique to remedy.
Booking a home buyers survey is highly important if you are buying a property because an experienced RICS surveyor will have experience and training in spotting signs of woodworm and directing you towards an appropriate damp and timber specialist.
Need advice on treating woodworm? Call 0333 344 3234
*RICS Surveyors – Local Knowledge – Same Week Availability
Want help now? Call us on 0333 344 3234 (local call charges apply)
What is woodworm?
Woodworm is the name given to the larvae of various types of beetle known to bore into wood when an adult female lays eggs in and around timber. The female can lay clusters of perhaps 50 eggs.
The damage is caused as larvae emerge from the eggs and bore into the wood. Most of the life cycle of a woodworm beetle is spent in the larval stage which can last 2 - 5 years.
Some common types of woodworm include:
Common Furniture Beetle (Anobium Punctatum) - this is the most common in the UK and attacks softwood and the sapwood of European hardwoods.
House Longhorn Beetle - only attacks the sapwood of softwood timbers, rare in the UK.
Powderpost Beetle - causes damage to ash, elm and oak (all have a high starch content).
Deathwatch Beetle - prefers European hardwoods, especially oak, ash and chestnut. Larvae tunnel towards the centre of timber so damage may be more extensive than apparent from the exterior.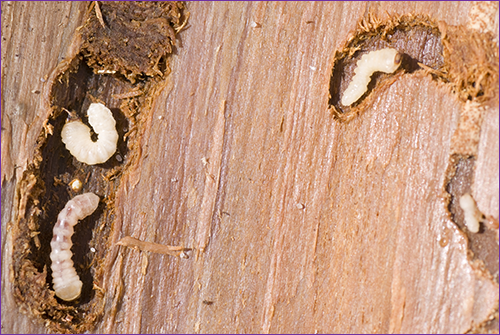 What treatments are available?
As stated, a timber specialist surveyor needs firstly to identify the species of woodworm, determine whether the infestation is still active and identify which timbers need replacing. The specialist removes timber which has been structurally weakened and replace it with pre-treated timber, then treat other affected woodwork.
Methods of woodworm treatment include:
Surface application of pesticides
Freezing - only suitable for items of furniture infested with woodworm.
Fumigation - usually appropriate for Deathwatch Beetle infestation in large structural hardwoods. Adult beetles are literally smoked out during the annual flight season.
Worried about woodworm? Call us on 0333 344 3234 or email help@samconveyancing.co.uk
Proud of our Reviews


322 Google Reviews FREE Online Conveyancing Process for Buyers
Includes online checklists, videos, downloads and tips - plus it is completely free to use from start to finish and saves your progress along the way.
Log in