Infestation definition: in the context of homes, infestation is when a home is inhabited or overrun by pests - normally rats or insects - in large enough numbers to be harmful, threatening or obnoxious.
If you are buying a home which is infested by pests, you require a specialist to advise on remedial action and you may wish to bargain with the vendor to contribute towards the costs involved.
A RICS surveyor is trained in noticing evidence of various forms of infestation - this is another excellent reason to book a home buyers survey.
Infestation Definition: what types of infestation are there and what are the signs?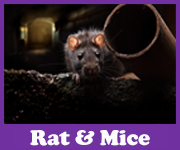 Rats and mice - attack timber, pipes, brickwork, wires. Eat food and can also cause disease, particularly rats (Weil's disease, can be fatal).
Signs - burrowing entrances, droppings, gnaw marks. If in sufficient numbers, can be seen.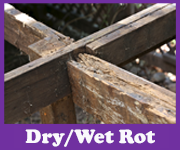 Dry and Wet Rot - attack timber and masonry. Can cause severe structural damage. Spores carried in the air.
Signs - both show white fungus and white strands over timbers and masonry. Dry rot can have a distinct odour. Wet rot does not spread as prevalently as dry rot.
Article continues below...

Woodworm (Beetles) - various types, including Common Furniture Beetle, House Longhorn Beetle, Death Watch Beetle, Wood Boring Weevil, all attack timber and masonry.
Signs - jagged markings from tunnels bored and dust from the boring (called frass).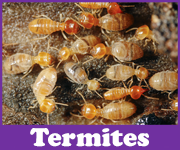 Termites - attack timber voraciously. Rare in the UK but notably present in Devon, they can potentially destroy a house in 2 - 3 years if unchecked.
Signs - flight holes, appearance of white ant workers and soldiers, noise caused by eating, earthen packing and sometimes odour.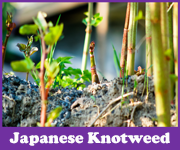 Japanese Knotweed - attacks all building structures. Can grow 20cm per day and grow through tarmac and concrete. Spreads quickly through its rhizomes (underground food storage vessel - similar to a potato, for example) and roots can grow to a depth of 3m.
Signs - red/purple shoots in spring, rapidly form canes. Creamy-white flowers in late summer. Leathery dark brown bark of underground rhizome, snaps like a carrot, under bark is orange or yellow.
What specialists do you need to combat infestations?
Your RICS surveyor, if they find evidence of infestation, will recommend an appropriate specialist to remedy the problem:
Rats and mice - rodent control specialist.
Dry and Wet Rot, Woodworm (Beetles), Termites - damp and timber surveyor.
Japanese Knotweed - Japanese Knotweed specialist.
If you are worried about an infestation problem in your home or a property you are thinking of buying, call one of our experts for further advice - 0333 344 3234
*RICS Surveyors – Local Knowledge – Same Week Availability
Want help now? Call us on 0333 344 3234 (local call charges apply)
Proud of our Reviews


322 Google Reviews FREE Online Conveyancing Process for Buyers
Includes online checklists, videos, downloads and tips - plus it is completely free to use from start to finish and saves your progress along the way.
Log in