How do you spot Japanese Knotweed?
The leaf is very distinctive, but still can be confused with other common plants. For many, the safest solution is to get a RICS surveyor to attend their property as they conduct a RICS HomeBuyer Report or a Building Survey. We have local surveyors throughout England - Call us on 0333 344 3234 if you want to inspect your property or confirm if you have Japanese Knotweed.

You can order an insurance policy to help protect you and your mortgage lender in the event that Japanese Knotweed is identified on the property within 5 years of owning. This highly affordable insurance is provided by CLS Risk Solutions and covers properties of up to 0.5 acres (larger properties quoted on application). It covers up to £20,000 towards financial loss if Japanese Knotweed is found at the property. The policy is designed to be 'consumer friendly' i.e. it limits exclusions and conditions of claims. Click here to read a
Japanese Knotweed Indemnity Policy
.
What if you have a mortgage?
Mortgage lenders are known to be extremely cautious about lending mortgage monies if the plant is detected. If during your
mortgage valuation survey
the surveyor spots signs of Japanese Knotweed, then they will report this to your mortgage lender. The mortgage lender will most likely refuse to lend you the mortgage without the weed being treated and removed prior to completion.
What is Japanese Knotweed?
Japanese Knotweed (Fallopia japonica) is a tall, fast-growing Japanese plant of the dock family and has bamboo-like stems and small white flowers. It was originally brought to the UK, in the mid-19th century, because of its beauty - with red stems and deep green leaves - but it has become a scourge for home owners.
It can grow up to 20cm every day and its roots can go down to 3m deep. It can grow through concrete and tarmac and it has no natural predators. It swamps other plants, denying them light. Although it produces no seeds, it can grow from the tiniest fragments of rhizomes, which are the underground network of stems and roots.
How do I know if I have Japanese Knotweed?
The plant starts growing from early spring and can reach 1.5m by May and 3m by June. It dies back between September and November. Its signs are:
fleshy red tinged shoots when it first breaks through the ground
large, heart or spade-shaped green leaves
leaves arranged in a zig-zag pattern along the stem
a hollow stem, like bamboo
dense clumps that can be several metres deep
clusters of cream flowers towards the end of July that attract bees
dies back between September and November, leaving brown stems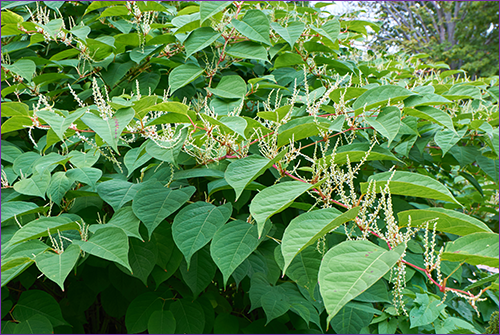 How much can Japanese Knotweed cost in damage?
Japanese Knotweed costs the UK economy £166 million per year for treatment and because of devaluations, according to one source.
A London couple were advised that it would be cheaper to knock down their £300,000 home rather than treat it. One lady who was originally told her Swansea home was worth around £80,000 was subsequently advised that, because of the untamed plant, it would not be worth more than £45,000.
How at risk of Japanese Knotweed are you?
A property is considered as being affected by knotweed if it is found within the boundaries of the property or close to the property boundary on an adjacent property. To help understand and categorise the level of risk that the knotweed presents to the property, the Royal Institution of chartered surveyors (RICS) have created a "risk" table (see diagram on the left). The area around the knotweed is referred to as the "risk zone" and its location in relation to the buildings should be formerly recorded and the risk category accurately assessed.
Japanese Knotweed Removal
Japanese Knotweed Removal
should be handled by professionals
because of how extensive the problem can become and the issue of removing and destroying all traces of the plants' rhizomes. Please read
Japanese Knotweed Removal
to find out more.
Buying a house? Worried about defects including Japanese Knotweed?
Get a RICS Home Buyers Survey to put your mind at rest. Our expert RICS surveyors conduct a thorough inspection of the property and grounds, looking for any suspicions of defects and issues then call you on the day of the survey after the inspection to summarise their findings. 
Often, it is the RICS surveyor's report on a house which gives the first alert to a potential buyer of the presence of Japanese Knotweed.
Your survey report is delivered both email and Royal Mail within 5 working days.
*RICS Surveyors – Local Knowledge – Same Week Availability