A Level 2: HomeBuyers Report is the middle level of inspection carried out for a buyer when purchasing a property by a RICS (Royal Institution of Chartered Surveyors) Building Surveyor.
The other types of survey are a Level 1: condition report and Level 3: Building Survey.
It is a visual inspection undertaken by a RICS Building Surveyor that provides a detailed assessment of issues that effect the value of the property.
Since 2018 you can choose whether you want to include or exclude a current market valuation in it.
Whilst the HomeBuyer survey is the middle level, it doesn't mean that a Building survey is the best service you can buy.
The majority of newer built (1930s onward) properties will only need a HomeBuyer Report and a Building Survey wouldn't identify any additional defects.
What is included in a HomeBuyers Survey?

Example HomeBuyers Survey

Inspection of the roof and loft space
Review of drains
Assessment for suspicions of subsidence or asbestos
Testing for Damp
Property valuation and reinstatement value
Inspects your demise and the communal area nearby
External review of property
Review of utilities (gas and electric)
The scope of work is detailed here: RICS Guidelines for HomeBuyers Survey



The RICS Level 2: HomeBuyer Survey doesn't suit the following types of property:
large properties;
older or rundown properties such as Georgian, Victorian or Edwardian;
unique or altered building such as a cottage or thatched roof; or
if you are planning major works.
The objective of having different levels of survey is to allow home buyers the choice to spend less money for a survey that requires less work - the HomeBuyers Report Cost is considerably less than a Building Survey because the surveyor spends less time completing the service.
This doesn't mean if you did a Building Survey on a flat that the surveyor would spend more time.
It is that on a flat, for example, the service is delivered quicker because there are fewer things to go wrong in a newer built flat and the service takes less time to complete.
If you aren't sure which home buyers survey you need to get for your property then you can read this article
HomeBuyer Report or Building Survey
or speak to one of our home buyer survey specialists on 0333 344 3234 (local call charges apply).
What does a RICS HomeBuyer Report cover?
Sections of the Building Survey

What does a RICS HomeBuyer Report cover?

A. Introduction to the report

Declaration that the HomeBuyer Survey is conducted by a RICS surveyor

B. About the inspection

Details of the property

C. Overall opinion and summary of the condition ratings

General overview of the property

D. About the property

Details number of rooms, age, type

E. Outside the property

Chimney stack, roof covering, rainwater pipes & gutters, main walls, windows, outside doors, conservatory & porches, other joinery & finishes

F. Inside the property

Roof structure, ceilings, walls & partitions, floors, fireplaces, chimney breasts & flues, built-in fittings (kitchens but not appliances), woodwork, bathroom fittings.

G. Services

Electricity, gas/oil, water, heating, water heating, drainage, common services.

It is important to note that the surveyor is not a qualified electrician or plumber and as such cannot test the gas or electrics.

They can however turn appliances, hot water, lights and hob on and comment on any issues, if any.

H. Grounds (including shared areas for flats)

Limitations (reasons why they couldn't be inspected), garage

I. Issues for your legal advisers

Regulation, guarantees. If the surveyor sees the property has been extended then it'll be this section where they inform you of this.

J. Risks

Risks to building, risks to grounds, risks to people

K. Energy Efficiency

Review of energy efficiency of property

L. Surveyor's declaration

Information about RICS Building Surveyor

What to do now

Standard information

Description of the Level 2 RICS HomeBuyers Report Service

Standard information

Typical house diagram

Standard information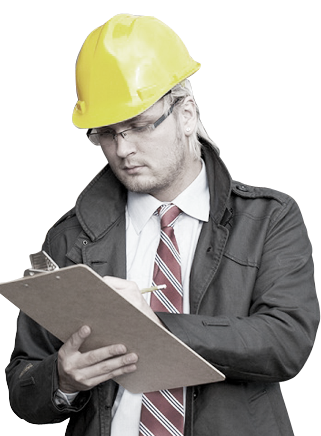 Key points that are inspected are subsidence, damp and any visible sign of infestations.
HomeBuyer Survey Costs
Level 2 RICS HomeBuyers Report Costs vary depending on location and surveyor.
You may find your HomeBuyer Survey cost is based on the size of the property or the length of time the surveyor feels the survey will take.
Our RICS HomeBuyer Report cost is fixed regardless of the area of the country or the size of the property.
We'll review the property with you over the phone and provide a competitive fixed cost for your HomeBuyers Survey.
Call and speak to one of our specialists on 0333 344 3234 (local call charges apply).
HomeBuyer Survey Report Format?
The HomeBuyer Survey is delivered is a standard format and the defects are graded by a traffic light colour.
Condition rating 3 – defects that are serious and/or need to be repaired, replaced or investigated urgently.
Condition rating 2
– defects that need repairing or replacing but are not considered to be either serious or urgent. The property must be maintained in the normal way.
Condition rating 1
– no repair is currently needed. The property must be maintained in the normal way.
NI – not inspected.
If the surveyor is unable to view any parts of the property they'll make a note of this in their report which is why it is important the estate agent and the seller give access to all areas in the property.
In a HomeBuyer Survey the surveyor won't provide cost estimates for making repairs to the property for any of the defects noted.
If you would like to get the costs for repairing defects included in your HomeBuyer Survey call us on 0333 344 3234.
Frequently Asked Questions
Nationwide Building Society require you to get a mortgage valuation when getting a mortgage through them and they offer you the opportunity to upgrade the survey to a HomeBuyer Report.
A Nationwide HomeBuyers Report should be the same as an independent surveyor that you choose from your own search or referral.
RICS set the standards of what should be included within a HomeBuyers Survey so whether or not you use Nationwide's surveyor or your own, you should get the same report back. There are, however, some things to consider:
How independent is the surveyor - the surveyor is employed by the mortgage lender to provide the valuation for them and also you to confirm the defects within the property.

Can Nationwide's RICS surveyor act independently for both you and the mortgage lender.
Can you get it cheaper? - Nationwide's HomeBuyers Report is commonly more expensive than that of an independent RICS Building Surveyor.
The Royal Institute of Chartered Surveyors (RICS) regulate the delivery of RICS surveys by Building Surveyors. Where there is a Non RICS Report provided by a surveyor with a different qualification then these are things to note:
Cannot provide the RICS Report - only RICS surveyors can provide the HomeBuyer Report in the RICS format. Whilst a Non-RICS Surveyor can provide a similar service they cannot use the prescribed RICS Report format.
May not carry professional indemnity insurance - All RICS surveyors must carry in date professional indemnity insurance - they even have to keep paying this for 6 years after they retire.

Professional indemnity insurance can be called upon if the surveyor is negligent in the delivery of the service to you.

A Non-RICS surveyor may not carry such an insurance premium.
A Groundsure HomeBuyers Search is a brand name for an Environmental search, similar to the Landmark Environmental search.
It isn't a HomeBuyers Survey supplied by a RICS Building Surveyor it is a conveyancing search ordered by your solicitor and the search reports on contaminated land, flood risk data and ground stability data.
The name of the report can be very confusing to first time buyers because you might think you've organised your HomeBuyer Report Survey, when in fact you only have a search.
The HomeBuyer Report is faster to write than a Building Survey if the surveyor uses the RICS template software.
The surveyor can log all of the information from the survey using the templates within the software whilst on-site doing the survey.

With this part populated report the surveyor needs to then proof read and send back to you via email.
Our HomeBuyer Reports are issued within 5 working days after the survey has taken place, however often are sent within 2 to 3 days.
There can be a delay, however, with obtaining the valuation and reinstatement value.

The surveyor calculates this using their local knowledge, data from RICS and in some occasions (especially where there aren't many/any recent sold properties of the same type in the same area) they need to speak to local estate agents.
When the Building Surveyor is waiting on information from an estate agent, it could take the full 5 working days to deliver the report.
Proud of our Reviews


322 Google Reviews FREE Online Conveyancing Process for Buyers
Includes online checklists, videos, downloads and tips - plus it is completely free to use from start to finish and saves your progress along the way.
Log in