RICS Building Survey by a local Building Surveyor
A Level 3: Building Survey is the highest visual inspection carried out by a RICS (Royal Institution of Chartered Surveyors) Building Surveyor. The type of survey you choose depends on the style of property you are buying and RICS state a Building Survey is suitable for:
larger properties;
older properties built around Edwardian/Victorian and older or rundown;
unique or altered buildings such as a cottages or thatched roofs; or
if you are planning major works.
Whilst was is included within the report is similar to a HomeBuyer Report, the key difference is the level of detail a surveyor will write about within the report vs a HomeBuyer Survey.
A run down property will take lonbger for the surveyor to inspect and write about so you would choose a Building Survey. If you chose a HomeBuyer Report and the RICS surveyor agreed to do it then RICS states "The inspection is not exhaustive, and no tests are undertaken.
Concealed areas normally opened or used by the occupiers are inspected if it is safe to do so (typical examples include roof spaces and cellar areas). There is, therefore, a risk that certain defects may not be found that would have been uncovered if a more substantial inspection had been undertaken" - by substantial, RICS means a Building Survey.
What is included in a Building Survey?

Example Building Survey Survey

Inspection of the roof and loft space
Review of drains
Assessment for suspicions of subsidence or asbestos
Testing for Damp
Property valuation and reinstatement value
Inspects your demise and the communal area nearby
External review of property
Review of utilities (gas and electric)
The scope of work is detailed here: RICS Guidelines for HomeBuyers Survey



The Level 3: Building Survey used to be called a
Full Structural Survey
or
Full Building Survey
. The focus of the service is to provide a thorough review of any current or potential defects and are
non-intrusive
(this means that a surveyor won't be pulling up floorboards or drilling holes in walls unless they get prior written consent from the seller allowing them to do so and agreeing to make good any damage). We run through in detail below what a RICS Building Survey covers.
There are some properties that the RICS Building Survey isn't suitable for and these include:
a flat; or
a bungalow; or;
a standard construction house built after 1930.
For these types of property you need to get a HomeBuyer Report and you can read more about it here -
Level 2: HomeBuyer Report
. If you aren't sure which home buyers survey you need to get for your property then you can read this article
HomeBuyer Report or Building Survey
or speak to one of our home buyer survey specialists on 0333 344 3234 (local call charges apply).
Building Survey Cost
The full building survey cost is more than the HomeBuyer Report due to the additional work which is included within the survey. The cost can also vary depending on where your property is and which surveyor you use. Surveyors normally decide on the Building Survey cost by how much the property is being sold for, the condition and how large the property is. You can read more here -
How to save money on your Full Structural Survey
Our Building Survey cost from £599 Inc VAT and are fixed regardless of the area of the country. We'll review the property with you over the phone and provide a competitive fixed cost for your property survey along with a confirmation of when the survey is likely to take place - subject to access.
What does a RICS Building Survey cover?
| | |
| --- | --- |
| Sections of the Building Survey | What does a RICS Building Survey cover? |
| A. Introduction to the report | Declaration that the HomeBuyer Survey is conducted by a RICS surveyor |
| B. About the inspection | Details of the property |
| C. Overall opinion and summary of the condition ratings | General overview of the property |
| D. About the property | Details number of rooms, age, type |
| E. Outside the property | Chimney stack, roof covering, rainwater pipes & gutters, main walls, windows, outside doors, conservatory & porches, other joinery & finishes |
| F. Inside the property | Roof structure, ceilings, walls & partitions, floors, fireplaces, chimney breasts & flues, built-in fittings (kitchens but not appliances), woodwork, bathroom fittings. |
| G. Services | Electricity, gas/oil, water, heating, water heating, drainage, common services. |
| H. Grounds (including shared areas for flats) | Limitations (reasons why they couldn't be inspected), garage |
| I. Issues for your legal advisers | Regulation, guarantees |
| J. Risks | Risks to building, risks to grounds, risks to people |
| K. Energy Efficiency | Review of energy efficiency of property |
| L. Surveyor's declaration | Information about RICS Building Surveyor |
| What to do now | Standard information |
| Description of the RICS Building Survey Service | Standard information |
| Typical house diagram | Standard information |
Does the survey inspect for subsidence or asbestos?
The surveyor will aim to identify if there are any signs of subsidence or asbestos inside the property. If there are signs of either, then this is flagged in your report and you will be advised to seek specialist advice. Read more about
Subsidence
and
Asbestos
here.
RICS Building Survey Template
The RICS Full Building Survey Report can be delivered in one of two formats. It is either hand written in the surveyor's own chosen format or it it is delivered in the RICS standard format that has defects are graded by a traffic light colours.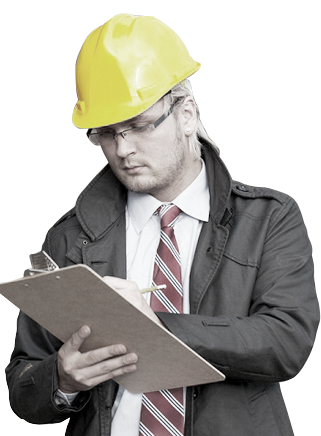 Condition rating 3 – defects that are serious and/or need to be repaired, replaced or investigated urgently.
Condition rating 2 – defects that need repairing or replacing but are not considered to be either serious or urgent. The property must be maintained in the normal way.
Condition rating 1 – no repair is currently needed. The property must be maintained in the normal way.
NI – not inspected.
If the surveyor is unable to view any parts of the property they'll make a note of this in their report which is why it is important the estate agent and the seller give access to all areas in the property.
The surveyor provides a list of work required to be completed on the property. Some surveyors will include the cost of repairs, and others won't. Make sure to check with you building surveyor to confirm if they include the costs within their quote or if they charge an extra fee.
Book a Building Surveyor
All of our surveyors are RICS regulated with years of experience working on all ages and types of properties throughout England. With over a 100 surveyors we'll have a local surveyor near to your property able to give you the reassurance you need to buy your home.
If you would like to book a Building Survey you can call our head office on 0333 344 3234 (local call charges apply) and we'll arrange the access and get the survey booked for the earliest possible time.
Frequently Asked Questions
What is the difference between a Building Surveyor and a RICS Surveyor?
A RICS surveyor has been trained to deliver RICS Building Survey in the prescribed format, can practice as a member of the RICS and carries professional indemnity insurance. RICS are a world recognised brand and their members are regulated to ensure the RICS standard is met. The RICS guidelines for its members are here -
RICS Rules of Conduct
There are non-RICS surveyors who provide building/full structural surveys however they cannot used the RICS format to deliver the report to you. With this flexibility, the building survey costs can be more competitive.
Why is a Building Survey suitable for a listed building?
A listed building is of an age and style where a Building Survey would be needed. The big question is whether the surveyor you choose is competent enough to deliver the service because of the complexities of a listed building. RICS states:
However, the surveyor needs to be familiar with the nature and complexity of the property type and the region in which it is situated. This is likely to include most of the following knowledge:
common and uncommon vernacular housing styles, materials and construction techniques; particularly important for older and historic buildings where the surveyor must understand the interaction of different building materials and techniques
general environmental issues where information about them is freely available to the public, including flooding, radon, aircraft noise, typical soil conditions, important landfill sites, etc.
the location of listed buildings and conservation areas/historic centres, and the implications of these designations
local and regional government organisations and structures; and
an awareness of the socio-historical/industrial development in the area

Do you book a Building Survey or a HomeBuyer Report for a Victorian property?
A Building Survey does suit a Victorian property and for most home buyers they want the highest visual inspection you can get. There are however buyers who want a HomeBuyer Report instead - so can a Building surveyor deliver a HomeBuyer Report on a Victorian Property? The answer is yes and no because RICS state the following:
This level of service suits a broader range of conventionally built properties, although the age and type will depend on the knowledge and experience of the surveyor. This level of service is unlikely to suit:
...unique or older historic properties – although survey level two services may be appropriate for some older buildings, the decision will depend on the surveyor's proven competence and the nature of the building itself. For example, a survey level two report on homes with traditional timber frames or those built much before 1850 is likely to be inconclusive and be of little use to the client
In such cases, a survey level two service will often result in numerous referrals for further investigations: an outcome that many clients find disappointing.
Victorian properties are traditional English homes built between 1830 and 1901, so whilst RICS state the property will be 'inconclusive' if older than 1850, there are some Victorian properties that are newer than 1850 to 1901. You must also consider that some Building surveyors will not be competent to undertake a HomeBuyer Report on a Victorian property.
Does a Full Structural Survey test the electrics?
A RICS Building Surveyor is not a qualified electrician so they cannot take apart electrical equipment in any intrusive way. They can test the electrics however the word test is defined by RICS to mean:
"For the purposes of this guidance note 'tests' are taken to mean measures to check the quality, performance, or reliability of parts of the building. For example, 'tests' will typically include taking samples of the building fabric (plaster, brick, and concrete) or checking the performance of a service system (checking the safety and performance of heating appliances, electrical system, or underground drainage). The use of a moisture meter, opening and closing windows and doors, and the normal operation of service systems are not 'tests'."
The surveyor will comment on the electrics within the survey report and advise whether a buyer should employ the services of a qualified electrician to test the electrics.
Get a Building Surveyor Quote
Book our local Building Surveyor to inspect the property using their years of specialist experience. With same day calls to flag major issues and availability within days of booking you can see why we get an Excellent rating on Trustpilot.
Proud of our Reviews


322 Google Reviews FREE Online Conveyancing Process for Buyers
Includes online checklists, videos, downloads and tips - plus it is completely free to use from start to finish and saves your progress along the way.
Log in