| | |
| --- | --- |
| Sections of the Building Survey | What is inspected? |
| A. Introduction to the report | Declaration that the HomeBuyer Survey is conducted by a RICS surveyor |
| B. About the inspection | Details of the property |
| C. Overall opinion and summary of the condition ratings | General overview of the property |
| D. About the property | Details number of rooms, age, type |
| E. Outside the property | Chimney stack, roof covering, rainwater pipes & gutters, main walls, windows, outside doors, conservatory & porches, other joinery & finishes |
| F. Inside the property | Roof structure, ceilings, walls & partitions, floors, fireplaces, chimney breasts & flues, built-in fittings (kitchens but not appliances), woodwork, bathroom fittings. |
| G. Services | Electricity, gas/oil, water, heating, water heating, drainage, common services. |
| H. Grounds (including shared areas for flats) | Limitations (reasons why they couldn't be inspected), garage |
| I. Issues for your legal advisers | Regulation, guarantees |
| J. Risks | Risks to building, risks to grounds, risks to people |
| K. Energy Efficiency | Review of energy efficiency of property |
| L. Surveyor's declaration | Information about RICS Building Surveyor |
| What to do now | Standard information |
| Description of the RICS Building Survey Service | Standard information |
| Typical house diagram | Standard information |
Does the survey inspect for subsidence or asbestos?
The surveyor will aim to identify if there are any signs of subsidence or asbestos inside the property. If there are signs of either, then this is flagged in your report and you will be advised to seek specialist advice. Read more about
Subsidence
and
Asbestos
here.
Building Survey Costs
The costs are more than for a standard HomeBuyer Report due to the additional work which is included within the survey. The cost can also vary depending on where your property is and which surveyor you use. Surveyors normally decide on the Building Survey's cost by how much the property is selling for or how many rooms it has.
Our Building Surveys cost from £600 Inc VAT and are fixed regardless of the area of the country. We'll review the property with you over the phone and provide a competitive fixed cost for your property survey along with a confirmation of when the survey is likely to take place - subject to access.
Building Survey Report Format?
The Building Survey can be delivered in one of two formats. It is either hand written in the surveyor's own chosen format or it it is delivered in the RICS standard format that has defects are graded by a traffic light colours.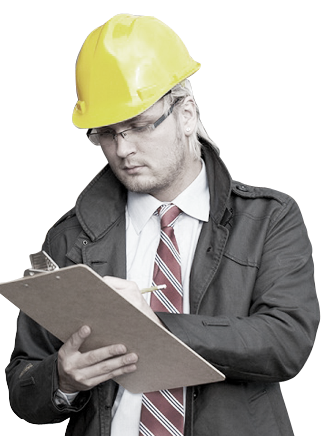 Condition rating 3 – defects that are serious and/or need to be repaired, replaced or investigated urgently.
Condition rating 2 – defects that need repairing or replacing but are not considered to be either serious or urgent. The property must be maintained in the normal way.
Condition rating 1 – no repair is currently needed. The property must be maintained in the normal way.
NI – not inspected.
If the surveyor is unable to view any parts of the property they'll make a note of this in their report which is why it is important the estate agent and the seller give access to all areas in the property.
The surveyor provides a list of work required to be completed on the property. Some surveyors will include the cost of repairs, and others won't. Make sure to check with you building surveyor to confirm if they include the costs within their quote or if they charge an extra fee.
Book your Building Survey
All of our surveyors are RICS regulated with years of experience working on all ages and types of properties throughout England. With over a 100 surveyors we'll have a local surveyor near to your property able to give you the reassurance you need to buy your home.
If you would like to book a Building Survey you can call our head office on 0333 344 3234 (local call charges apply) and we'll arrange the access and get the survey booked for the earliest possible time.
*RICS Surveyors – Local Knowledge – Same Week Availability
Want help now? Call us on 0333 344 3234 (local call charges apply)