What issues are associated with Georgian properties?
Many problems associated with this kind of property are called 'high level problems', because you often need scaffolding or a platform such as a cherry picker to fix them.
You can often find weathering of the pointing to the chimneys, ridge tiles and perimeter.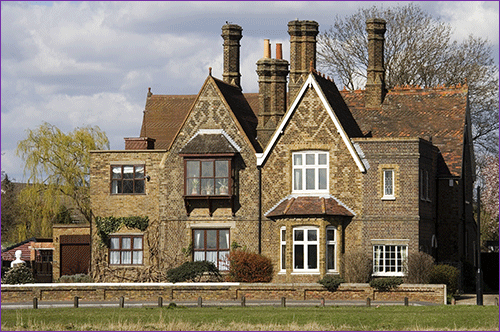 Flashings are often replaced with a cement wedge; it is often advisable to return them to their original lead material.
Where roofs are tiled, they are traditionally fixed with wooden pegs; these can deteriorate and can be replaced by nails but the nails should be galvanised so as not to rust.
Where roofs are thatched, they need regular maintenance. You can find out their state of repair by booking a
thatched roof survey
.
For properties which have been extended, you often find that where the junctions occur on the roof, valley gutters form.
You frequently find issues with a rotting lintel adjacent to a bay window roof, caused by a leaking roof. This can lead to severe structural problems. Rendered parapet walls can also cause blocked box gutters.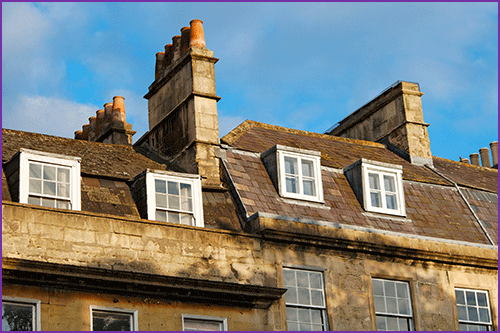 The comparatively soft red brick used is not as hard as modern equivalents and is prone to weathering damage, particularly from frost. Over time, the rain washes away the mortar.
Builders commonly started instituting damp proof courses from the
1770s
, so those built before this are often more prone to
rising damp
.
6

Window problems – lintels
The frames of large bay windows are susceptible to rot as are sliding sash windows including their sills. Poor replacement can compound matters if frames are ill-fitted or the wrong weight of glass is used.
Often there is no foundation which makes these properties susceptible to
subsidence
, particularly if there are leaking pipes present or if clay soil predominates. You can instruct a Structural Engineer to conduct a subsidence survey to investigate further, if a returned home buyers survey details suspicions of the condition.
A similar situation often afflicts the drainage systems of these homes because there wasn't any dedicated drainage originally and there may be issues with ill-planned drainage that was gradually installed over the years. Often this can mean frequent blockages. One option if the situation is severe is to instruct a surveyor to carry out a
CCTV drainage survey
8

Lath and plaster ceiling issues
Problems can arise because original ceiling work is constructed of lath and plaster but refurbished sections may be of plasterboard. Where these combine, there can be cracking.
9

Sub-standard refurbishment work
Quite simply, the original construction of the property may be very good but subsequent refurbishments may not be as high quality – this is where the skill and experience of your surveyor is at a premium in terms of judging structural soundness etc.
What sort of home buyers survey would a Georgian property require?
Given the age of these properties and the materials involved, if you are considering buying one, you would be strongly advised to instruct a chartered surveyor to carry out a
Building Survey
or Full Structural Survey on it. The thorough, in-depth nature of the inspection and report should give you a much clearer idea of the actual viability of the property.
Your building surveyor, depending on their findings, may also recommend you get a
timber survey
and if appropriate, a
thatched roof survey
. Bear in mind that thatched roofs need regular maintenance and may have to be entirely replaced every 30-50 years.
*RICS Surveyors – Local Knowledge – Same Week Availability
Want help now? Call us on 0333 344 3234 (local call charges apply)