Deed of Trust or Loan Agreement
Giving money to help someone buy a home is common practice, however the question of whether it is a gift or a repayable loan is important to confirm - especially if you want the money back. If the latter then to ensure you do get repaid your money you need to protect the investment with a Deed or Declaration
 of Trust or a Loan Agreement.
You need to choose whether you get a Deed of Trust or Loan Agreement if you pay money toward someone's house purchase that you want to see repaid to you - often a parent helping their son or daughter (Bank of Mum and Dad), a partner in a relationship or a friend. Whilst in some cases you can give a
gifted deposit
and want to see the money repaid often with some interest/gain.
There are tax issues for being a beneficial owner of a property which can make the granting of interest to a non-legal owner in a deed of trust costly for the purchaser of the property, however does a
loan agreement
offer the same protections and return that a
Deed of Trust
offer?
Deed of Trust or Loan Agreement?


Deed of Trust

Loan Agreement

Confirm the beneficial interest
Share any gain
Terms of the sale
Property obligations




Declare loan amount
State interest rate
Terms for repayment
Debt secured as second charge









Do you need to inform the mortgage lender?
Whilst you can agree between yourselves how the investment is to be repaid, if you are obtaining a mortgage then you'll need to obtain mortgage lender consent if you are getting a loan. For some deeds of trust you don't need to so read more on why here -
Does a declaration of trust affect the mortgage lender?
The mortgage lender will not allow any arrangement that effects their security over the property such that it will stop them obtaining an order of sale should they require to repossess the property. The mortgage will be registered as a first charge over the property which means it is repaid first before any other debt. Whilst a second charge is repaid after the first charge, it often is not repaid in full if the property is sold under market value.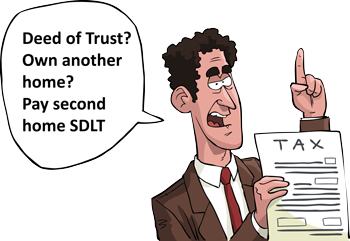 Why do a loan agreement instead of a deed of trust?
Where a deed of trust grants a beneficial interest in property to someone who owns another property this can effect the stamp duty land tax you pay in the following ways:
First Time Buyer Relief - you will lose the ability to get the benefit of first time buyer relief if you are buying a property.
Additional Home SDLT - on purchases over £40,000 there is an additional 3% stamp duty land tax to pay on top of the normal SDLT for the purchase.
Frequently Asked Questions
What interest rate can I have in the loan?
The benefit of a beneficial interest is that it can provide a vastly advantageous increase in your investment into the property upon sale. For example, £20,000 invested by mum and dad alongside £20,000 from their son is a 50% equitable beneficial interest. On sale if the net proceeds of sale are £80,000 then mum and dad with get 50% of this which is £40,000 - 100% return on investment.
The challenge that we have explained above is that you are penalised with extra stamp duty for owning a beneficial interest in land if you already own a property. In the example above, if the property was worth £400,000 then the stamp duty would be £22,000 (that's £10,000 normal SDLT plus 3% of the £400k at £12,000).
A loan however is not an interest in land, it is a loan that may or may not be secured over land.
Does a deed of trust or loan agreement need to be registered?
How long do I have to wait before I get my money back?
Can I transfer the loan to someone else?
Proud of our Reviews


322 Google Reviews FREE Online Conveyancing Process for Buyers
Includes online checklists, videos, downloads and tips - plus it is completely free to use from start to finish and saves your progress along the way.
Log in