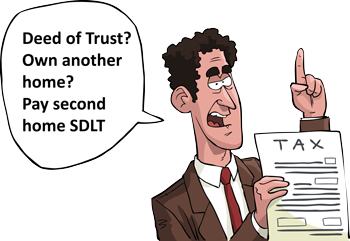 Why do a loan agreement instead of a deed of trust?
Where a deed of trust grants a beneficial interest in property to someone who owns another property this can effect the stamp duty land tax you pay in the following ways:
First Time Buyer Relief - you will lose the ability to get the benefit of first time buyer relief if you are buying a property.
Additional Home SDLT - on purchases over £40,000 there is an additional 3% stamp duty land tax to pay on top of the normal SDLT for the purchase.
Frequently Asked Questions
What interest rate can I have in the loan?
The benefit of a beneficial interest is that it can provide a vastly advantageous increase in your investment into the property upon sale. For example, £20,000 invested by mum and dad alongside £20,000 from their son is a 50% equitable beneficial interest. On sale if the net proceeds of sale are £80,000 then mum and dad with get 50% of this which is £40,000 - 100% return on investment.
The challenge that we have explained above is that you are penalised with extra stamp duty for owning a beneficial interest in land if you already own a property. In the example above, if the property was worth £400,000 then the stamp duty would be £22,000 (that's £10,000 normal SDLT plus 3% of the £400k at £12,000).
A loan however is not an interest in land, it is a loan that may or may not be secured over land.
Does a deed of trust or loan agreement need to be registered?
How long do I have to wait before I get my money back?
Can I transfer the loan to someone else?