December 2016 Review - House prices start to fall
With 2017 on our doorstep and Christmas taking centre stage, property prices have finally started to fall: we questioned why this hadn't happened already in our previous report. There will be more sighs of relief from buyers' side of the housing market rather than cries of fear as the demand for property is more than 10% down from January to August compared to the same period last year.
There were 70,954 registered property sales in England and Wales in August 2016, a fall of 19% compared to August 2015. The table below shows how the upheavals of 2016 have affected the demand for house purchases. The year-on-year declines since March have been telling, however the most worrying has been the slowdown of the monthly growth since the stamp duty changes for second homes were rolled out (read more about the
second home stamp duty changes
).
The effects continue to hit London harder with a 39.3% fall year-on-year to 6,607 house sales which means in the period January to August London saw a total of 61,960 sales, a fall of 21.2% compared to the same period in 2015 (78,587).
Monthly Sales Volume Variances for England & Wales
Month

Sales Volume
2015
Sales Volume
2016
Annual
Variance
Monthly
Variance
January


60,900


63,751


+4.7%



-32.5%




February


62,329


67,867


+8.9%


+6.1%


March


70,924


117,255


+65.3%


+42.1%


April


67,784


47,405



-30.1%





-147.3%




May


78,582


52,391


-33.3%


+9.5%


June


89,201


60,683


-32.0%


+13.7%


July


97,643


70,395


-27.9%


+13.8%


August


88,590


70,954

-19.9%

+0.8%

September





Data released 
in January 2017
Year to Date 
Sales Volume
(August 2016)
615,953


550,701


-10.6%
(65,252)


Property prices start to fall
House prices are reacting to the fall in demand in 2016 - this started with the rate of increase in prices month-on-month - which has been remarkably high for the last few years, particularly in London - slowing down. In October 2016 the average house price was £227,613 a fall of just £13. In London the fall was greater month-on-month at -1.2% (£5,539).
We are set to see a greater fall in property prices in November and December as the housing market reacts to the lower number of properties being sold.
Monthly Property Price Variance for England & Wales
Month

Sale Price
2015
Sale Price
2016
Annual
Variance
Monthly
Variance
January


£199,028


£215,638


+8.3%



+0.3%




February


£199,522


£216,083


+8.3%


+0.2%


March


£199,435


£217,901


+9.3%


+0.8%


April


£201,968


£219,187



+8.5%





+0.6%




May


£204,179


£223,037


+9.2%


+1.8%


June


£205,747


£226,115
+9.9%


+1.4%


July


£209,200


£227,081


+8.5%


+0.4%


August


£211,391


£226,593

+7.2%

-0.2%

September


£211,916


£227,626



+7.2%

+0.5%

October


£212,268


£227,613



+7.2%

0.0%

November


£213,673


Data released 
in January 2017


December


£215,023


Data released 
in February 2017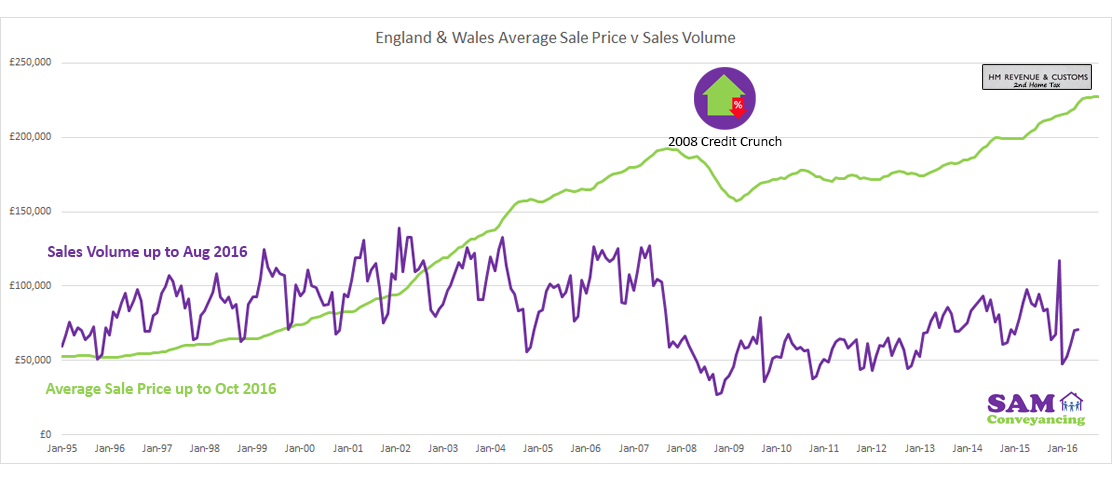 NAEA reports 84% of properties sold under asking price in November
The National Association of Estate Agents reported that over 4 out of 5 houses were sold under the asking price in November (something we speculated might happen in last month's housing market report). This positive sign was overshadowed by the disturbing news that the number of house hunters fell by 22 percent from 440 to 344 per branch.
We would expect to see an increase in buying appetite in the first quarter of 2017 as long as property prices continue to fall to more affordable levels.
Mortgage approvals tip-toe upwards
The trend for mortgage approvals is following a similar trend to that found in overall sales. According to the Bank of England, year-on-year mortgage approvals were down by -3.8% to 67,518, however they were up compared to last month by 5.8%.
Remortgaging has remained strong with year-on-year growth of 9.2% to 43,513 and a bounce-back to a month-on-month increase of 2.5%. The increase in the number of remortgages ties into the statistic that we are no longer moving as often as we used to and as such there'll be less properties for first time buyers to buy.
In 2009 we moved home every 15.8 years, it is now 17.5 years
Hope for first time buyers in 2017...well, at least for 10,000 of them
The Government is injecting £60 million a year to support first time buyers with affordable housing. The aim is to get 10,000 first time buyers onto the housing ladder in areas where second home movers need to move on.
Many experts fear that, much like criticisms made of the existing Help to Buy schemes, this new scheme is going to force up property prices, something which will detrimentally affect the very first time buyers whom the scheme is apparently aimed at helping.
Help to Buy Equity Loan supports FTB
The Government's Help to Buy Equity Loan scheme helped 26,471 buyers up to 30th September, 79% (20,940) of these were first time buyers. This is an increase of 26% in overall completions compared to the same period last year.
It is clear that the Help to Buy scheme has a place in supporting FTBs however it needs help from other affordable housing solutions if real progress is to be made in terms of satisfying first time buyer demand for housing, which has been frustrated for so long by property prices being too high. In 2015 there were 564,000 FTB of which only 4.5% used the HTBEL scheme. Additionally, and as so often stated, without a large increase in the supply of houses, in the medium term, any demand-side scheme such as Help to Buy will simply drive prices up further.
London is showing larger falls in sales volume and house prices which many are linking to a disruption in the top end of the market caused by the second home stamp duty changes.
Are we seeing a crash in property prices?
The slight fall in property prices shows a market that is realigning to the drop off in overall sales volume. The increases in house prices in 2016 have meant that demand fell and the only way for the market to adjust would be for property prices to come down.
With the news from the NAEA showing that asking prices are finally dropping to attract buyers we expect to see a fall in average sale prices in November and December which will stimulate fresh appetite in January and February.
Andrew Boast, Co-founder of SAM Conveyancing says "2016 has been a crazy year with too many changes to the housing market - Stamp duty, Brexit, Trump, to name but a few. The first affected was the volume of sales and now this is filtering through to average house prices. I expect to see a fresh appetite in the first quarter of 2017 as property prices come down which will drive new buyers to the market.
I am excited to see the new Lifetime ISA launch in 2017 to help first time buyers continue to save for their first home in years to come.
We will only ever email you our monthly housing market update; we never release these details to any third party.
Proud of our Reviews


322 Google Reviews FREE Online Conveyancing Process for Buyers
Includes online checklists, videos, downloads and tips - plus it is completely free to use from start to finish and saves your progress along the way.
Log in