Monthly Sales Volume Variances for England & Wales
Month

Sales Volume
2015
Sales Volume
2016
Annual
Variance
Monthly
Variance
January 2016


60,900


63,751


+4.7%



-32.5%




February 2016


62,329


67,867


+8.9%


+6.1%


March 2016


70,924


117,255


+65.3%


+42.1%


April 2016


67,784


47,405



-30.1%





-147.3%




May 2016


78,582


52,391


-33.3%


+9.5%


June 2016


89,201


60,683


-32.0%


+13.7%


July 2016


97,643


70,395


-27.9%


+13.8%


August 2016


88,590


70,954

-19.9%

+0.8%

September 2016


86,348


67,803

-21.5%

-4.6%



October 2016

94,494


62,268



-34.1%




-8.9%



November 2016

83,325


Released in
Mar 2017


-
-
December 2016

84,496


Released in
Mar 2017


-
-
Year to Date 
Sales Volume
(October 2016)
796,795


680,772


-17.0%
(116.023)


Property prices showing signs of slowing
December 2016 saw the highest recorded average house prices in England & Wales with the average property costing £231,205. London also posted a new record highest average house price of £483,803. Despite these record high prices in both areas however, price growth has slowed down to 7.5% year-on-year for both.
It is surprising to see that property prices are still continuing to rise with the fall in sales volumes clearly affecting the market. By now we would have expected to see a fall in house prices to accommodate the National Association of Estate Agent's (NAEA) reported glut of potential house buyers. The rules of supply and demand clearly have no place within the housing market at the moment.
Monthly Property Price Variance for England and Wales
Month

Sale Price
2015
Sale Price
2016
Annual
Variance
Monthly
Variance
January


£199,028


£215,638


+8.3%



+0.3%




February


£199,522


£216,083


+8.3%


+0.2%


March


£199,435


£217,901


+9.3%


+0.8%


April


£201,968


£219,187



+8.5%





+0.6%




May


£204,179


£223,037


+9.2%


+1.7%


June


£205,747


£226,115
+9.9%


+1.4%


July


£209,200


£227,081


+8.5%


+0.4%


August


£211,391


£226,593

+7.2%

-0.2%

September


£211,916


£226,768



+7.0%

+0.1%

October


£212,268


£225,951



+6.4%

-0.4%

November


£213,973


£226,043



+5.6%

0.0%

December


£215,023


£228,002



+6.0%

+0.9%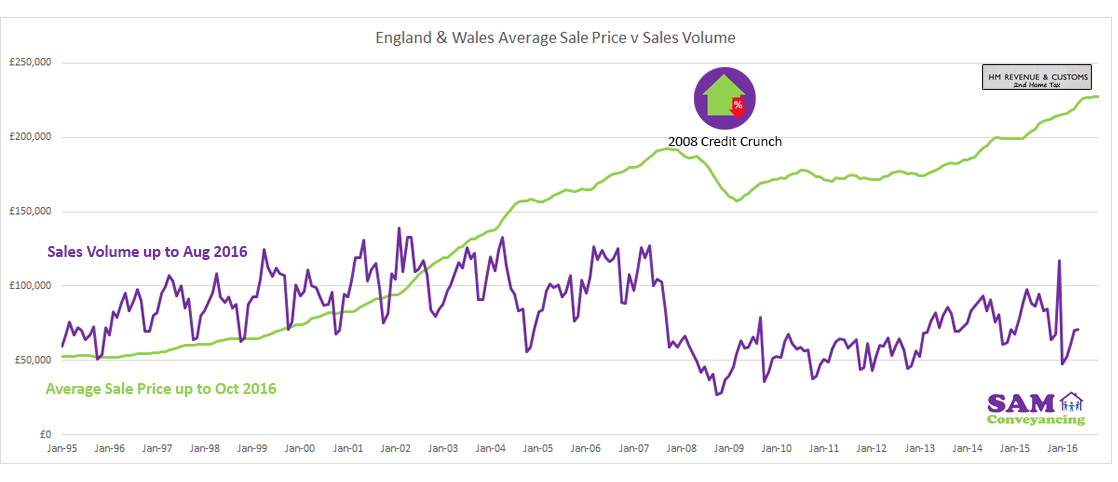 Remortgage growth eclipses new mortgage sign ups
The remortgage market is booming with year-on-year growth of 15% to 47,721, which overshadows the declining house purchase mortgage approvals of -3.9% (67,898). This is strong evidence that many home owners are choosing to 'dig in' and secure beneficial mortgage rates following the fall of the base rate to 0.25% in August last year.
The knock-on effect will hit the first time buyer market however because members of this group are crying out for more properties to buy, especially following the NAEA's most recent report.
In 2009 we moved home every 15.8 years, it is now 17.5 years
Surge in house hunters means 11 buyers chasing every property...but what about the fall in properties to buy?
The NAEA's housing market report highlights a glut of buyers looking to buy, however the number of available properties to buy in January was at its lowest since July 2016. This level of competition will only aid in pushing up house prices as the war of the offers rages with what little properties there are for sale.
New home starts on the up, completions on the down
New housing starts had a surge in the last quarter of 2016 with 41,620 new homes started, taking the total number of starts for 2016 to £153,800 (up 5% on 2015). The sad news for buyers is the decline in completions in 2016: these fell by 2% to 140,880; a far cry from the estimated 250,000 needed to meet the demand for new buyers.
Andrew Boast, Co-founder of SAM Conveyancing said: "2017 was set to be the year of the buyer with many experts anticipating a sharp fall in house prices making properties more affordable. With 11 buyers chasing every property, it is clear that the buyers are doing their bit and showing their intent. The overriding challenges remain the limited stockto choose from along with second home movers digging in and remortgaging and the huge and growing gap between the desired and actual number of house completions, the housing market is stuck with a high and rising demand for property and ever-increasing house prices.
We wait to see the effects of the new year on the housing market next month, however we expect to see much of the same as house prices continue to rise, regardless of factors which should normally influence them.
We will only ever email you our monthly housing market update; we never release these details to any third party.