Housing Market Report - January 2017
Sales volumes down 12%
The news for New Year 2017 is that sales volumes for England & Wales' housing market are down 10%, something which shows just how difficult it is to give a forecast on the sector month-on-month. The temporary respite from rising prices which buyers had a taste of looks to have disappeared in the short term. Compared to the same period for the year before, January to September, sales volumes were 12% down in 2016.
There were 67,803 registered property sales in England and Wales in September 2016, a fall of 21% compared to September 2015. We have previously commented on the various turmoils which affected the housing market in 2016; these latest monthly figures if anything point to a continuing fall in sales volumes - there were only 3 months in 2015 which had lower sales volumes, for example.
London saw a continuation of the previous months' trends; there was a 39.5% decline in sales volumes year-on-year to 6,698 house sales. For the period January to September London saw a total of 68,658 sales, a fall of 23.4% compared to the same period in 2015 (89,652).
Monthly Sales Volume Variances for England & Wales
Month

Sales Volume
2015
Sales Volume
2016
Annual
Variance
Monthly
Variance
January 2016


60,900


63,751


+4.7%



-32.5%




February 2016


62,329


67,867


+8.9%


+6.1%


March 2016


70,924


117,255


+65.3%


+42.1%


April 2016


67,784


47,405



-30.1%





-147.3%




May 2016


78,582


52,391


-33.3%


+9.5%


June 2016


89,201


60,683


-32.0%


+13.7%


July 2016


97,643


70,395


-27.9%


+13.8%


August 2016


88,590


70,954

-19.9%

+0.8%

September 2016


86,348


67,803

-21.5%

-4.6%

October 2016

94,494


Released in
Feb 2017


-
-
Year to Date 
Sales Volume
(September 2016)
702,301


618,504


-11.9%
(83,797)


Property prices rising again
Housing Market Report - January 2017: Some were expecting the £13 fall in average house prices (England & Wales), even though slight, to presage larger falls after property prices had risen for so long. Instead, most recent prices (for November) rose to their highest level ever - at £229,100 - £2,019 above the previous peak reached in July.
Notably London also experienced a recovery after the declines in March, August and October. Average prices in the capital have now reached £481,648, their highest ever. Year-on-year price growth for London for each month in the period August to November is still lower than for the earlier months in the year but remains buoyant and continues to be near double figures.
It appears that the current housing market can absorb decreasing sales volumes for periods without any accompanying price decreases - more perversely, sales volumes can continue slowing down but prices actually increase.
Housing Market Report - January 2017: Monthly Property Price Variance for England and Wales
Month

Sale Price
2015
Sale Price
2016
Annual
Variance
Monthly
Variance
January


£199,028


£215,638


+8.3%



+0.3%




February


£199,522


£216,083


+8.3%


+0.2%


March


£199,435


£217,901


+9.3%


+0.8%


April


£201,968


£219,187



+8.5%





+0.6%




May


£204,179


£223,037


+9.2%


+1.8%


June


£205,747


£226,115
+9.9%


+1.4%


July


£209,200


£227,081


+8.5%


+0.4%


August


£211,391


£226,593

+7.2%

-0.2%

September


£211,916


£226,768



+7.0%

+0.1%

October


£212,268


£226,722



+6.8%

0.0%

November


£213,973


£229,100



+7.1%

+1.0%
December


£215,023


Data released 
in February 2017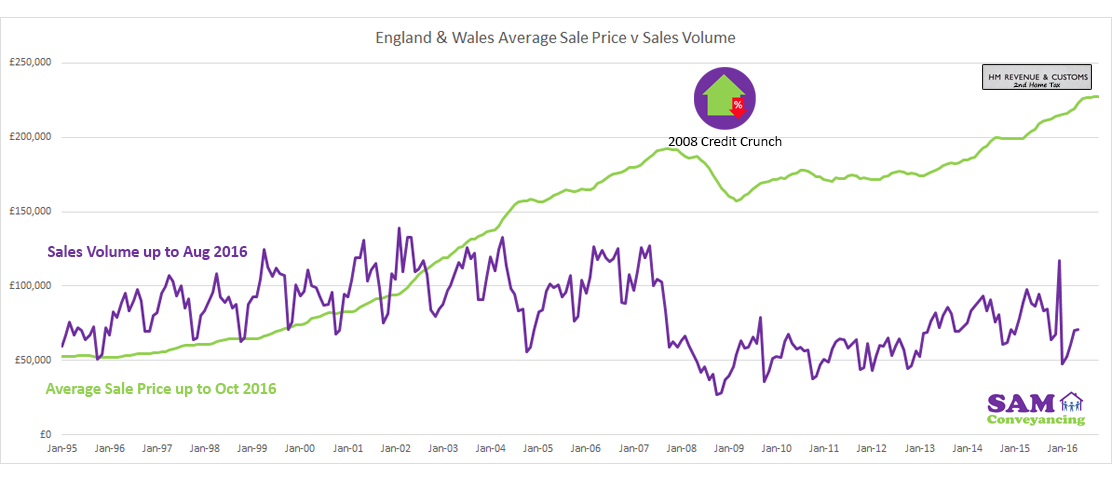 Mortgage approvals slightly increase but remortgage approvals strongly increase
Mortgage approvals, according the Bank of England's figures, have increased slightly month-on-month; there were 67,505 in November, an increase of 0.2% month-on-month, although year-on-year, the figures showed a decrease of 4.0%, more in line with the general decline in sales.
Remortgaging has, if anything, strengthened further from October to November with year-on-year growth of 15.7% to 45,683 and a month-on-month increase of 4.2%, nearly double the 2.2% for the previous month. The increase in the number of remortgages provides more evidence of people 'digging in', possibly a reaction to perceived uncertainty of where the housing market is headed.
In 2009 we moved home every 15.8 years, it is now 17.5 years
Hope for first time buyers in 2017...well, at least for 10,000 of them
The Government is injecting £60 million a year to support first time buyers with affordable housing. The aim is to get 10,000 first time buyers onto the housing ladder in areas where second home movers need to move on.
Many experts fear that, much like criticisms made of the existing Help to Buy schemes, this new scheme is going to force up property prices, something which will detrimentally affect the very first time buyers whom the scheme is apparently aimed at helping.
First time home buyers at highest level since 2007, says Halifax
Halifax has stated that there were more first-time home buyers in 2016 than at any time since the financial crisis started. It estimated that there were 335,750 first time buyers  in the year, which was the highest yearly number since the 359,900 in 2007.
The most recent Housing Market Report from the National Association of Estate Agents (NAEA) - for December 2016 - somewhat bolstered this claim, noting that sales to first time buyers, at 32% of all sales, hit its highest figure for a December since 2001.
Halifax conceded two telling points, however, namely that:
The average first time buyer deposit has doubled since 2007: now it is more than £32,000; and
The average price of a first home has broken through the £200,000 for the first time.
Halifax attributed the increase in first time buyers to factors such as continuing low mortgage rates, high levels of employment and the Government's Help to Buy scheme helping affordability.
Context, as always, is extremely important, however. In the year 2004-05, there were 815,000 first time buyers, still more than double the number for 2016. Additionally, they are taking out longer and longer mortgages. In 2016, 60% of first time buyers took out a mortgage of 25 years or more and more than a quarter - 28% - took out a 30 to 35-year mortgage.
Demand is clearly present but sales have dropped, says NAEA
The NAEA's housing market report January 2017 proved interesting reading. This is because the estate agent's body, while noting that registered prospective buyers per branch were at their highest for 13 years for December 2016 at 386 per branch - a 12 % rise from November 2016 (344), also stated that actual sales agreed dropped by 25% from November 2016 to just 6 per branch.
Additionally, the NAEA found that 82% of properties sold in December were sold under asking price, a 9% increase year-on-year. Houses available per branch increased slightly in the month from 39 to 41.
Andrew Boast, Co-founder of SAM Conveyancing says "The continuing decline in overall sales volumes is the overall trend; what is unexpected is the increase in prices at the end of the year after a brief decline. This might indicate that there is underlying confidence from investors and lenders that prices will generally rise, however inflation seems to be creeping its way back into the UK's economy, which might put pressure to bear on property prices again.
"At present, the next big event on the horizon is the coming Brexit announcement due 31 March and even though the Government is giving out steadily more information about the expected timetable, there may be a flood of hedging activity in the run-up to the announcement. If anything, this activity is likely to have a negative affect on the price level.
"I welcome the evidence that first time buyer numbers are increasing, however the mortgages of increasing length they are taking out are a matter of concern. Schemes such as the coming new
Lifetime ISA
may help them, but clearly the Government needs to do much more to ensure that the housing market works as well for new entrants as it does for home owners and home movers."
We will only ever email you our monthly housing market update; we never release these details to any third party. FREE Online Conveyancing Process For Buyers
Our conveyancing process area includes:
online checklists
videos
free downloads
useful tips
It is completely free to use - from start to finish - and saves your progress along the way.