Will the rate rise kill off the fragile housing market recovery?*
Most borrowers are on fixed rate mortgages
According to the Bank of England, some 43% of homeowners are on variable or tracker rates, so most of these will see a rise in their monthly repayments resulting from the Bank's move (those who won't include those on capped rate mortgages).
However that leaves a much larger 57% of borrowers who are on fixed-rate deals, which will not be affected immediately, meaning that any pain is going to be offset for the present.
Additionally a massive 90% of new home owners are on fixed deals, with these taking on the largest loans. They will, however, face higher repayments eventually when their fixes come to a finish.
The following graph, from Nationwide, estimates how much more people will have to pay in mortgage repayments given the rate rise. It's worth bearing in mind that the average first time buyer loan (not including those using Help to Buy) is currently around £217,000 according to Money Supermarket; the actual rises might not seem significant, but many people's household budgets are already stretched.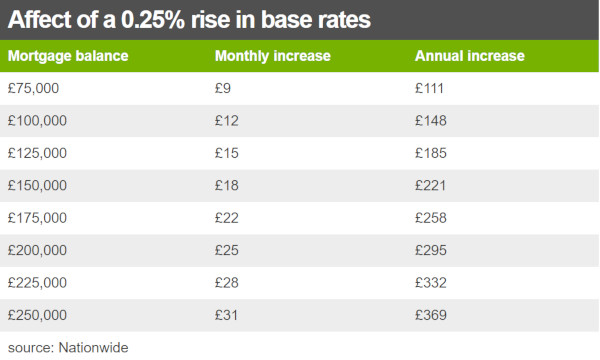 Average house prices in England and Wales have hit a new peak, at £237,884 for May (the most recently month's available figures), and, notably, sales volumes have also recovered by 6.1% month-on-month, to 61,571 for March (the most recent month's available figures). However this volume increase must be treated cautiously: these are the fourth lowest monthly sales volumes since January 2017. Year-on-year, March's sales volumes were down 21.4%.
Average house prices in London rose to £478,853, a marginal rise of 0.1% month-on-month and still considerably lower than July 2017's peak of £487,225 as well as being 0.4% down year-on-year. Sales volumes, however, showed a considerable 4.9% month-on-month rise, to 6,180 for March – the largest since June 2017 (14.2%) – but still down 28.6% year-on-year.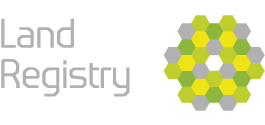 Buying power increasing
Wages are marginally increasing, to £26,884 (gross) per year (for March, the most recently available month's figures, from the Office for National Statistics, and inflation is currently steady, with the consumer price index for June, 105.9, unchanged from May (the most recently available month's figures from ONS). Consumer buying power might therefore be recovering, if weakly.
Mortgages increasing, remortgages decreasing
Mortgages have shown a small monthly increase (1.4%), with 65,619 approvals for June (most recently available figures for the Bank of England) whereas remortgages have declined 4.5% month-on-month, falling back to 47,895. This is the largest month-on-month fall since December 2017 (14.4%). However, the year-on-year trends must be taken into account: by this measure, mortgages have fallen for the 9th month in a row and remortgages have increased for the 6th month in a row.
So what's the overall picture using all the metrics?
SAM Conveyancing and many other commentators have taken the view that an increase in mortgage lending tends to run alongside an increase in sales activity in the housing market and equally that remortgage activity represents the inverse i.e. people staying put rather than moving.
Once again, in parallel with this month's sales volume and price increases in both England and Wales and the capital, these mortgage/remortgage figures may indicate a recovery of sorts in the industry, however the trend would have to be continued and with greater amplification.
SAM's Regional Housing Market Reports
SAM Conveyancing continues to examine the housing market scene in diverse locations in England and Wales in that area in terms of up-to-date figures.
Read on for more up-to-date housing market analysis...
First time buyers on the rise, buy to let mortgages falling
The National Association of Estate Agents' most recent housing market report, for June, flagged up that the proportion of sales to first time buyers had increased, by 5%, to 29%, the highest amount recorded since February.
According to figures from UK Finance, a lobby group for the financial services industry, there were 32,200 new mortgages completed for first-time buyers over the month of May, an increase of 8.1% year on year, and the £5.4bn of new lending was up 12.5%.
However, the number of new buy-to-let mortgages fell by 9.8% in May compared with a year earlier to 5,500. Lending was £700m, 22% lower than for May 2017.
Buyer demand decreasing
The NAEA's report, while providing further evidence that sales volumes were increasing, also noted that demand from prospective buyers decreased from 351 in May, to 308 in June. This was the lowest number of buyers recorded by the NAEA since March this year and 20 per cent lower than June 2017, when 384 buyers were registered per branch.
Nearly four fifths of all properties sold for less than asking price
The NAEA also noted the continuation of the trend for most houses being sold at less than asking prices, with some 79% falling into this category.
Self-employed mortgage volumes on the increase
A prominent large UK lender noted that mortgage products it had sold to self-employed applicants doubled during the six months to 30th June 2018, giving more evidence that lenders have successfully started to develop products to this growing sector.
Additionally, 40% of all mortgages on offer are now arrangement fee-free, up from 33% two years ago, according to Moneyfacts.


Radical proposals for leaseholds from Law Commission
The Law Commission released a number of radical proposals for leaseholds during the month, with a full consultation paper set to be released in September. The proposals are thought to be linked in particular to perceived abuses associated with the 1.4 million leasehold houses in the UK, including the matter of
doubling ground rent
. However the suggested measures are wider and consider general matters such as lease extensions.
The stated proposals were as follows:
options for reducing the price that leaseholders pay to the landlord such as by changing the formula used to calculate the cost, following the Government's request to set out ways that the price could be reduced
improving the right for leaseholders of houses to buy the freehold from their landlord
introducing an alternative right to purchase unlimited longer lease extensions without a ground rent – of (say) 125 or 250 years

making the enfranchisement procedure simpler to understand, to minimise disputes and prevent leaseholders falling into legal traps

removing the requirement that leaseholders must have owned the lease of their house for two years before making a claim

potentially scrapping whether leaseholders should contribute to their landlord's legal costs, and if not, capping the contribution at a fixed maximum amount

Andrew Boast, co-founder of SAM Conveyancing, said:
" We are now seeing an increase in sales volumes alongside price rises in the housing market, something that will please most housing market professionals. Additionally there is good news for first time buyers, with their relative and absolute numbers increasing and those who have bought recently have enjoyed the stamp duty waiver.
" However the rise in base rates might prove to be a retardant in the medium term, particularly if there are further rises. And with no-one really sure of the Brexit path, this temporary uplift in the market mood might prove to be short-lived.
" We particularly welcome the Law Commission's proposals for the leasehold market, particularly if they address the many abuses which accompany leasehold houses. Swift action would be ideal, however it's accepted that realistically nothing will happen 'overnight'. "
* all figures quoted are the most recent from the Land Registry unless otherwise stated.
We will only ever email you our monthly housing market update; we never release these details to any third party.
Proud of our Reviews


322 Google Reviews FREE Online Conveyancing Process for Buyers
Includes online checklists, videos, downloads and tips - plus it is completely free to use from start to finish and saves your progress along the way.
Log in