November 2016 Review - We are losing our first time buyers
As we march towards the end of 2016 we are seeing a shift in the housing market, but in ways that defy the continuing annual decline in overall sales.
As we highlighted in our
October 2016 report (read it here)
, the housing market has had to fight through some huge changes in 2016 and with the new release of overall sales data from the UK Housing Market (Land Registry) we see that the year-on-year fall continues but average house prices have hit record highs. Although an increase in house prices is great for home owners, is it good for first time buyers?
Are first time buyers being priced out of the market or have they simply given up?
There were 70,395 registered property sales in England and Wales in July 2016, a fall of 28% compared to July 2015. As you can see from the table below, the fall has been considerable since the stamp duty changes for second homes were rolled out (read more about the
second home stamp duty changes
).
The effects continue to hit London harder with a 43.3% fall year-on-year to 7,074. Although the month-on-month numbers are showing growth following the March Buy to Let rush, which would indicate some confidence coming back to the market, the overall fall for the year to date shows the true effect in the post-Brexit market.
Monthly Sales Volume Variances for England & Wales
Month

Sales Volume
2015
Sales Volume
2016
Annual
Variance
Monthly
Variance
January


60,900


63,751


+4.7%



-32.5%




February


62,329


67,867


+8.9%


+6.1%


March


70,924


117,255


+65.3%


+42.1%


April


67,784


47,405



-30.1%





-147.3%




May


78,582


52,391


-33.3%


+9.5%


June


89,201


60,683


-32.0%


+13.7%


July


97,643


70,395


-27.9%


+13.8%


August


88,590


Data to come in
December 2016






Year to Date
Sales Volume
(July 2016)
527,363


479,747


-9.03%
(47,616)


When will house prices fall given the slow-down in sales?
The statistics relating to the housing market at the moment most remarkably attest to the continual growth in average house prices. September 2016 saw the highest average house prices in England & Wales of £229,048 and £487,649 in London; increases on last year of 8.1 % and 10.9% respectively. Although the increases are slowing down compared to earlier in the year, there still seems to be no sign of a drop in house prices to make properties more affordable and thus increase the number of overall sales. This is clearly a sign that the underlying desire to buy property is there - but who is buying? It clearly isn't first time buyers.
Is it because of the fall in first time buyers?
The fall in first time buyers has been huge over the last 10 years. The Office For National Statistics (ONS) stated in its English Housing Survey that there were 815,000 first time buyers in 2004-5 and this has now dropped to 564,000 in 2014-15 - a fall of 31%. The decline in first time buyers is unsurprising considering the average house price in England & Wales rose from £137,430 in January 2004 to £215,638 in January 2016 (up 56.9%); whereas the average salary only increased from £18,876 to £25,844 (up 36.9%) in the same period. This in turn has pushed up the average age of a first time buyer from 31 in 2004 to 33 in 2015, which is why 46% of those in the 25 to 34-years-old age group rent (a far cry from the 21% in 2003).
Finding solutions which help first time buyers save their deposits is top priority for the Government, however the badly thought through
Help to Buy ISA
had too many restrictions that the new
Lifetime ISA
looks to have addressed and which may assist the next generation of buyers. It is unlikely however that we'll see positive results from this new scheme for a number of years.
Other Government initiatives have focused on various affordable housing schemes to help boost the number of first time buyers by making properties more affordable but these have not had overwhelming success. The Help to Buy Mortgage Guarantee scheme that ends next month has seen 86,431 completions since its launch in October 2013 up to the latest quarter for which details have been made available (to the end of June 2016). So far there have been only 12,837 completions in 2016.
However the
Help to Buy Equity Loan Scheme
has experienced a greater take-up, with 91,759 completions since its launch in May 2013. This year it has assisted in 17,946 completions. The total number of first time buyers helped by both Help to Buy Schemes (Equity Loan and Mortgage Guarantee) is 24,176. If this run rate continues for the rest of 2016 and the number of first time buyers remains the same as the previous year (564,000), then Help to Buy is set to make up just 8.6% of all first time buyer completions - a far cry from the impact the Government would have hoped for.
Shared Ownership will need to fill in where Help to Buy is failing, however without any headline statistics this will be difficult to monitor - in-depth countrywide statistics for shared ownership have not yet been measured and consolidated to the same detailed level as for Help to Buy by organisations such as the ONS.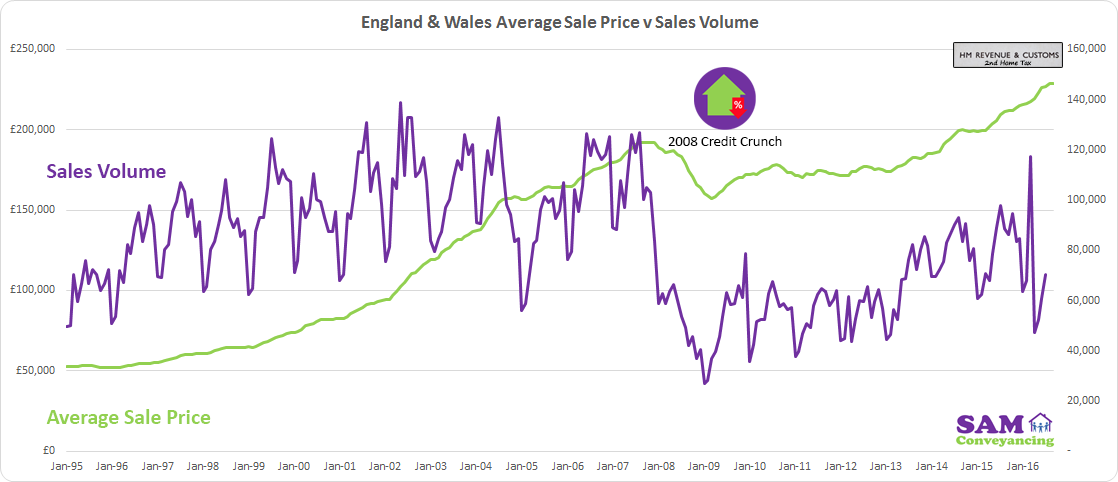 Developers are starting to cut their house prices
We predicted last month that developers will need to cut their asking prices to entice more first time buyers and this month
the Telegraph reported that Barratt homes are doing just this in London
. Barratt have 20 developments in London, making up just 5% of their overall stock and a third of these will rely upon the Help to Buy London (Equity Loan) scheme to sell them. With such a decline in the number of overall sales in London and a slow uptake of the Help to Buy London Scheme, developers are left with no other option but to sell their stock at lower prices.
NAEA reports a fall in first time buyers
The National Association of Estate Agents reported decline of 5% in sales to first time buyers in their
September Report
compared to August 2016. The number of available properties also declined per branch from 41 in August to 40 in September. The drop is marginal, but is showing signs of a market looking to dig in for Christmas and then see what the New Year holds.
Mark Hayward, Managing Director of the NAEA, made an intriguing statement when he said: "This month's (September 2016) report proves that buyer confidence is growing, which is obviously reassuring, given that we expected uncertainty following Brexit". Although true in the sense that the month-on-month price data shows growing confidence since June 2016, the dramatic fall in sales volume and the fall in first time buyer purchases are certainly slowing the recovery in the housing market and make any endorsement of growing overall housing market confidence more questionable.
Mortgage approvals tip-toe upwards
The trend for mortgage approvals is following a similar trend to that found in overall sales. According to the Bank of England, year-on-year mortgage approvals are down by 9.6% to 62,932, however they are up compared to last month by 3.1%.
Remortgaging has remained strong with year-on-year growth of 3.3% to 42,440 and a bounce-back to a month-on-month increase of 4.9%. The increase in the number of remortgages ties into the statistic that we are no longer moving as often as we used to and as such there'll be less properties for first time buyers to buy.
In 2009 we moved home every 15.8 years, it is now 17.5 years
What is going on?
The fall in overall sales has hit the housing market hard, however there are tentative signs that confidence is increasing. What is most concerning is the fall in the number of first time buyers and developers are acutely aware of this. Although there are signs of growth in other areas of the country, the house-building community know that the South East is still prime location and perhaps pricing has become a little too steep for first time buyers.
The Government is trying to lure more first time buyers to the housing market with its new
Own Your Home
initiative which encompasses all of the existing
affordable housing options
(click to find out more). It is interesting to note that on the home page there is a question "Why buy?" as it appears that the recent ONS numbers detailing the fall in the number of renters who think they'll ever buy a home from 61% to 57%, and also the overall fall in home ownership from 71% in 2003 to 63% in 2015, further signs that many renters are giving up on the prospect of ever actually becoming first time buyers.
Andrew Boast, Co-founder of SAM Conveyancing says "With so many changes happening in such close proximity to each other, the average house price at record highs and with Christmas now on our doorsteps, first time buyers are likely to wait out the winter and see what the New Year has in store for them. What is clear is that we need more affordable solutions and the Lifetime ISA needs to do better than the controversial Help to Buy ISA - the returns of which we won't see for many years to come."
We will only ever email you our monthly housing market update; we never release these details to any third party. FREE Online Conveyancing Process For Buyers
Our conveyancing process area includes:
online checklists
videos
free downloads
useful tips
It is completely free to use - from start to finish - and saves your progress along the way.