Housing Market Remains Open...for now! | October 2020
London

England and Wales

Average House Price

Most recent Land Registry data August 2020

£489,159

Record High - up 3.4% YOY

£251,439

Record High - up 2.8% YOY

Average Sales Volume

Most recent Land Registry data June 2020

3,722

down 48% YOY

40,920

down 45% YOY
Headlines for October 2020
Average house prices reach record high in September
Estimated to see over 100,000 sales in September
Mortgage approvals up to 91,454 in September - highest month for over 12 years
8% of properties sold over asking price and 53% under asking price
NAEA reports housing demand rose by a third in September to highest level for 16 years
Number of sales made to FTBs fell to 19% in September
Number of prospective buyers registered per estate agent branch rose by 33% from 396 in August, to 525 in September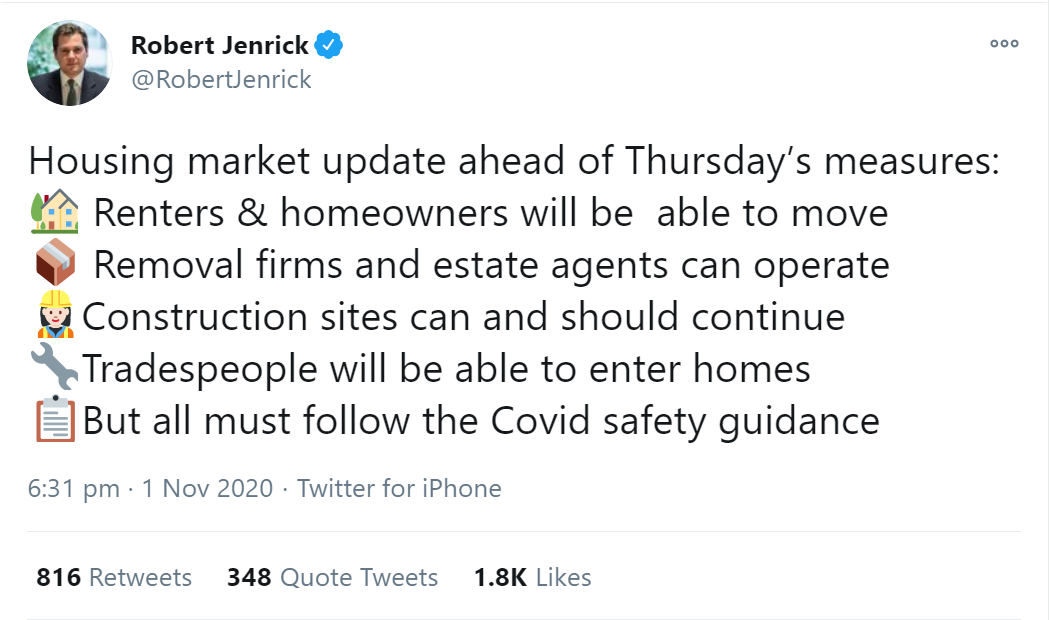 "The housing market will remain open throughout this period" stated Robert Jenrick MP, however whilst we may be able to carry on some industry experts fear we are in the middle of a perfect storm caused by:
a surge in buyers (buy to let and second home movers return)
low delays caused by capacity issues with solicitors, estate agents, mortgage brokers, local authorities
a low base rate for lending
a deadline of the 31st March 2020
Risk of infection increases
Add to all of this the worry that if further measures do stop house viewings and offices are asked to close with furlough and redundancies on the cards, how can the backed-up pipeline get to completion in time for the 31st March 2021 SDLT holiday deadline. The Telegraph reports that "325,000 will miss out on tax savings of up to £15,000 because they won't transact before March 31".
SAM Conveyancing
was asked to quote on different measures to help speed up the conveyancing process within this article, how ever for buyers currently with offers agreed it is most likely they will complete before. The worry is for offers in the new year which will be faced with tight deadlines and most law firms will get a their client to sign a waiver to protect them in the 4event of failing to meet the deadline.
Transactions take longer so case loads are higher
In
August 2020
we reported the conveyancing sector couldn't cope and 2 months on this has gotten worse. Accord to
Zoopla HPI
transactions are taking
over 100 days from sales agreed to completion
. Whilst this means a transaction takes longer it means that there is a lot of 'waiting time' where there is nothing to of on a file.
The knock on effect of lots of waiting time is that solicitors file counts have increased. The challenge with so many buyers and sellers waiting is when the external delays are no longer there and the solicitor is the only part of the chain left with the work to do. No longer can the blame be passed onto a delayed local search or a mortgage offer, the law firms will be left needing to find the extra resource to open up the bandwidth.
Mortgage approvals hit record high
Whilst the Land Registry data has yet to be released the Bank of England reported lending approvals for house purchases increased to 91,454 in September the highest for over 12 years. Last year the figure was 65,780 and the number of completed sales was 72,748 in Sept 2019 so based on this we expect September 2020 volume to be in the region of 101,000 sales - volume not seen since March 2016 with the rush to complete before the second home stamp duty was implemented.

Stamp duty holiday extension
There are cries from the industry to have an extension to the stamp duty holiday for a further 6 months and to develop a method to help smooth the end of an extended Stamp Duty holiday to prevent another cliff edge. Home Buying and Selling Group have
written a letter
to Rt Hon Rishi Sunak MP, Chancellor of the Exchequer, on this point.
New Help to Buy scheme announced
The old Help to Buy Equity Loan Scheme ends on the 31st March 2021 and is going to be replaced with a new Help to Buy scheme to run from April 2021. The key differences between the schemes are:
It is restricted to first-time buyers; and
includes regional property price caps
As with the current scheme, the Government will lend buyers up to 20% of the cost of a newly built home, and up to 40% in London.
NAEA reports record highs
8% of properties sold over asking price and 53% under asking price
NAEA reports housing demand rose by a third in September to highest level for 16 years
Number of sales made to FTBs fell to 19% in September
Number of prospective buyers registered per estate agent branch rose by 33% from 396 in August, to 525 in September
The NAEA CEO Mark Hayward states, "This boom has been hugely beneficial for the housing market; however, with a stamp duty cliff edge on the 31st March, we are calling on Government to rethink these timings"
FTB down...replaced by second home movers?
September saw a further fall in first time buyer numbers, however in our opinion this is a sign of an increase in volume of buy to let and second home movers diluting the percentage, rather than a fall in first time buyers. Landlords are buying up out of London property to attract the city leavers following the last lockdown. The potential £15,000 SDLT holiday helps them and the second home movers - if they can get completed in time.
Andrew Boast, co-founder of
SAM Conveyancing
, said:
"The main thing to note is that whilst the housing market is open for business those buyers and sellers who have already got their offers agreed will most likely have plenty of time to get their completion through before the end of the SLDT holiday which is just under 5 months away. The risk of missing it will be an issue for those agreeing offers from the 4th January onward; especially if the property is leasehold."
Get your FREE Subscription to our Housing Market Report
Keep up to date with our once a month Housing Market Report which is packed full of information for anyone working or investing in the property market.
We will only email you our monthly housing market update. No email marketing. Keep updated now!
Links and Sources
NAEA - Housing Market Report
Land Registry HPI
Bank of England
Ministry of Housing, Communities & Local Government
Proud of our Reviews


322 Google Reviews FREE Online Conveyancing Process for Buyers
Includes online checklists, videos, downloads and tips - plus it is completely free to use from start to finish and saves your progress along the way.
Log in