The risk of a cheap building surveyor
(Last Updated: 17/11/2021)
With all of the other
conveyancing costs
you may be lured into looking a cheap building surveyor for either your HomeBuyer Report or Building Survey.
So what's wrong with trying to get a bargain when looking for a home buyer's survey? The frequently observed truth of 'you get what you pay for' is relevant once again here.
Cheap surveyors do more surveys in a day
Surveyors typically get paid between £400-£1,500 INC VAT to carry out a home buyers survey. The challenge is that for some surveyors the rising coasts of travel, insurance and equipment means that the cheaper the survey, the more surveys they'll need to do.
Undertaking more surveys in a day can lead to not having adequate time to investigate all issues which could lead to the report not having the same level of detail.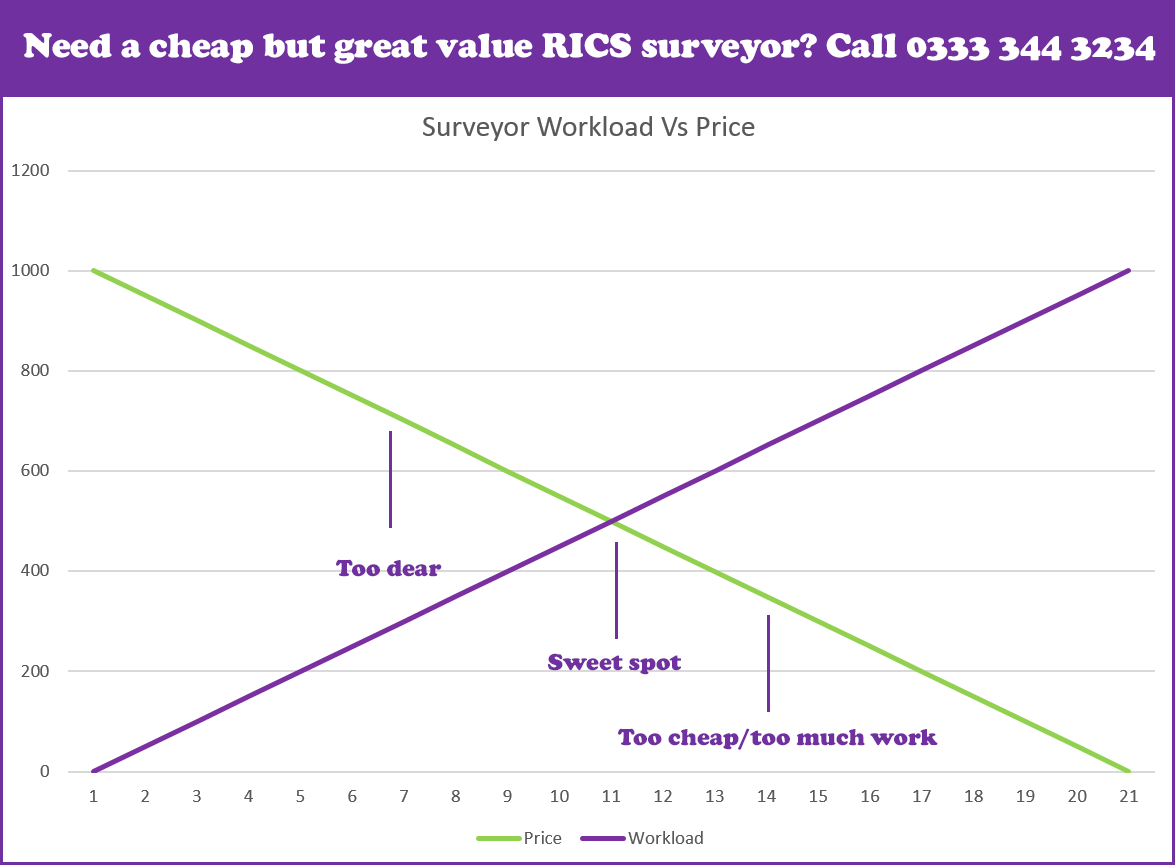 Frequently Asked Questions
Report Lacks Detail. The survey report could lack detail around issues at the property because the surveyor didn't spend an adequate time there.
Report is caveated. A surveyor may choose to caveat part of the report to avoid the risk of future claims using general phrases such as "I was not able to inspect the roof, rooves with a slope should be regularly cleared". This type of report doesn't tell you the issues found at your specific property.
Availability. Cheap surveyors often have poor availability with bookings 2 to 3 weeks ahead.
It depends on the size and style of the properties being surveyed however one in the morning and one in the afternoon is fairly standard.
Prices will depend on the location of your property and the availability of the surveyor. Contact us today to get a quote as we have a national panel of local RICS surveyors - 0333 344 3237 (local call charges apply).
There are 4 types of RICS survey you can get when buying a property and these are listed in order of the cheapest:
Level 1 - Condition Report
Level 2 - HomeBuyer Report with no valuation
Level 2 - HomeBuyer Report with a valuation
Level 3 - Building Survey

Written by: Andrew Boast
Andrew started his career in 2000 working within conveyancing solicitor firms and grew hands on knowledge of a wide variety of conveyancing challenges and solutions. After helping in excess of 50,000 clients in his career, he uses all this experience within his article writing for SAM, mainstream
media
and his self published book
How to Buy a House Without Killing Anyone
.

Reviewed by: Caragh Bailey
Caragh is an excellent writer in her own right as well as an accomplished copy editor for both fiction and non-fiction books, news articles and editorials. She has written extensively for SAM for a variety of conveyancing, survey and mortgage related articles.