Cheap surveyors: the (false) economies of scale
Looking for cheap surveyors to cut down on some of the costs you incur when buying a house is understandable but might end up proving the be a false economy.
A house purchase for most is the largest amount of money they'll spend in their lives. It's entirely sensible, given that you're committed to spending possibly hundreds of £1,000s, to get an independent professional to investigate your proposed purchase before you hand over the money.
So what's wrong with trying to get a bargain when looking for a home buyer's survey? The frequently observed truth of 'you get what you pay for' is relevant once again here.
Read on to find out why getting a home buyers survey which is 'too cheap to be true' might prove to be just that...
RICS Surveyors – Local Knowledge – Same Week Availability
Want help now? Call us on 0333 344 3234 (local call charges apply)
More surveys in a day means more money for a surveyor…
Surveyors typically get paid upwards of £350 to carry out any sort of home buyers survey.
For a surveying firm which has recently started business, it is unlikely that it will be getting the well-paid word-of-mouth referral work which an established – and respected – surveyor might expect to get.
Given that surveyors get paid per job, then one strategy a new firm can use to pull money in is to offer services cheap (thus competing on price with more established practitioners), then get as many jobs done in a day as possible.
It's a version of the classic 'economies of scale': the sheer volume of work you do means that you'll make money even though your prices are low.
You can also look to write up your surveys as quickly as possible so that you can complete more jobs.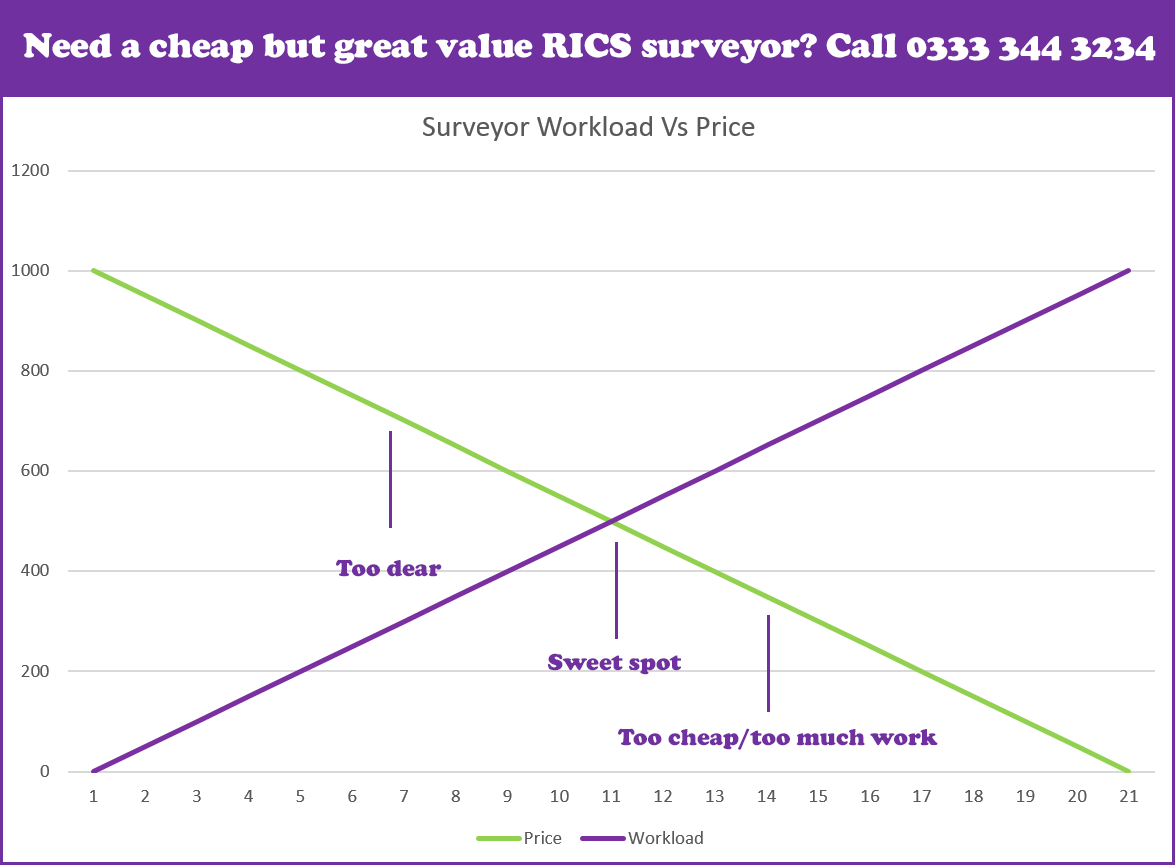 …But surveys take time to conduct AND to write up
The trouble with this approach is that surveys are exacting and time-consuming if they are done properly.
There is not only the inspection to carry out properly, but just as important is the write-up; after all, the written words constitute professional advice to be used by a home buyer, the home buyer's solicitor and possibly the vendor involved and their solicitor.
To get something wrong through lack of care or attention therefore is not only extremely unprofessional but positively dangerous.
A home buyer's survey, whether a RICS HomeBuyers Report or a RICS Building Survey, requires a surveyor to complete various tasks in a prescribed way and to gather evidence to support their write-up.
Cutting corners on the inspection leaves open the possibility that critical defects in a property might be missed, which might give a prospective buyer a confidence in wishing to buy a home which is built on falsehood.
For example, if a surveyor fails to notice the signs of Japanese Knotweed, they might, if there are no suspicions of apparent defects, not find fault with a property, but subsequently the Knotweed might decimate the value of that building.
Although surveyors must be indemnified to the value of a property, the buyer might have to go through court cases before they receive any compensation, while their property is literally falling around them.
Additionally, cutting corners on writing up findings from an inspection correctly is just as bad and might compound and worsen hasty and incomplete work.
Professional surveyors: 2 appointments per day maximum
It would be wrong to talk of how long a surveyor takes to carry out an inspection on average, because each house is unique.
However, a professional surveyor working full time will look to completing 2 house inspections per day, one in the morning and one in the afternoon.
A surveyor might take 2 hours doing an inspection for a HomeBuyers Report and more than that for a Building Survey, because of the more exacting standards which accompany the latter report.
The surveyor will also have to travel by car with their equipment to the site and then travel to another job after lunch.
It's highly unlikely that a professional surveyor would or could fit in more than two inspections and any operative doing this regularly may well be cutting corners.
Avoid false economies when economising
Paying a price which is massively under the market cost for a survey therefore can prove to be a false economy.
That cheap surveyor may not just be cheap in price: the quality of the report you receive may well prove to be cheap too, but in the sense of 'not worth the paper it's written on'.

You are advised to do you normal due diligence when looking for a surveyor – check reviews online, see if your friends can give you positive recommendations etc. – but be exceptionally wary of a quote which is 'too good to be true': the chances are it probably is.
Get a great value quote for our (minimum 8 years) experienced RICS surveyors – call 0333 344 3234.
RICS Surveyors – Local Knowledge – Same Week Availability
Want help now? Call us on 0333 344 3234 (local call charges apply)
Proud of our Reviews


322 Google Reviews FREE Online Conveyancing Process for Buyers
Includes online checklists, videos, downloads and tips - plus it is completely free to use from start to finish and saves your progress along the way.
Log in