Homebuyers Report vs Building Survey
Level 2: HomeBuyer Report

Level 3: Building Survey

Commonly called a structural survey or a full building survey

This level of survey suits a wide range of conventionally built properties such as bungalows, flats or houses, although the age and type will depend on the knowledge and experience of the surveyor. It can be purchased with or without a current market valuation and a reinstatement value. This level of service is unlikely to suit:




complex buildings, for example those that have been extensively extended and altered
unique or older historic properties – although survey level two services may be appropriate for some older buildings, the decision will depend on the surveyor's proven competence and the nature of the building itself. For example, a survey level two report on homes with traditional timber frames or those built much before 1850 is likely to be inconclusive and be of little use to the client
properties in poor condition; or
those where the client is planning to carry out extensive repair and refurbishment work.




This level of survey suits any residential property in any condition depending on the competence and experience of the practitioner. It does not include a current market valuation and a reinstatement value, however the surveyor may provide this for an additional fee. Considering the detail in the report it is most likely undertaken on:




large properties;
older properties built Edwardian or older or rundown;
unique or altered buildings such as a cottages or thatched roofs; or
if you are planning major works.



Property Defects Covered
Whether you choose a homebuyer or building survey the surveyor will look for all of the following defects. There are a number of defects that a survey aims to identify as potential risks so that you are made aware of these when proceeding with your purchase. The defects may even require further investigatory work with another specialist surveyor. These are some of the main defects your survey will identify if they spot visual signs:
Subsidence Inspection

The surveyor will look for signs of subsidence within the property paying special attention to signs of cracking internally and to the external walls. As a rule, if you can fit a 50p into a crack in a wall, it could be a sign of subsidence. Our surveyors will flag in their reports if they feel you need to instruct a structural engineer to review a crack further. Read more about

Subsidence

.

Damp Testing

There are numerous reasons why a property can be affected by damp. The Surveyor will take samples in the property using a damp meter and assess the condition of the property to provide a report on whether they feel the property is affected by damp. Further investigations maybe suggested including getting a damp and timber specialist. Read more about

damp testing and repairs

.

Identify Infestations

Woodworm, mice, rats and ants are infestations that your don't want in your home. Your surveyor will look for visible signs of mouse droppings, damage to floor boards (when visible) and damage to wiring, carpets or skirting boards.Read more about

infestations

Asbestos

Before its use was banned, asbestos was a

commonly used building material

, particularly as part of cement products, floor tiles and roofing shingles. Asbestos was used for its durability and resistance to heat and is commonly found in artex ceilings, garage roofing and chimney stacks. Your surveyor will confirm if they suspect any materials in the property have asbestos and if so, suggest getting an asbestos surveyor to intrusively taking samples of the asbestos to confirm the type. Read more about

asbestos
If you're buying a home which shows the signs of damp, or any other defects then you MUST get a home buyers survey, whether a HomeBuyers Report or a Building Survey. The costs for making good or repairing some of these defects can run into thousands of pounds; however, If identified within a survey you can get quotes for fixing it and either share the costs with the seller, or, in worst case examples, choose not to proceed.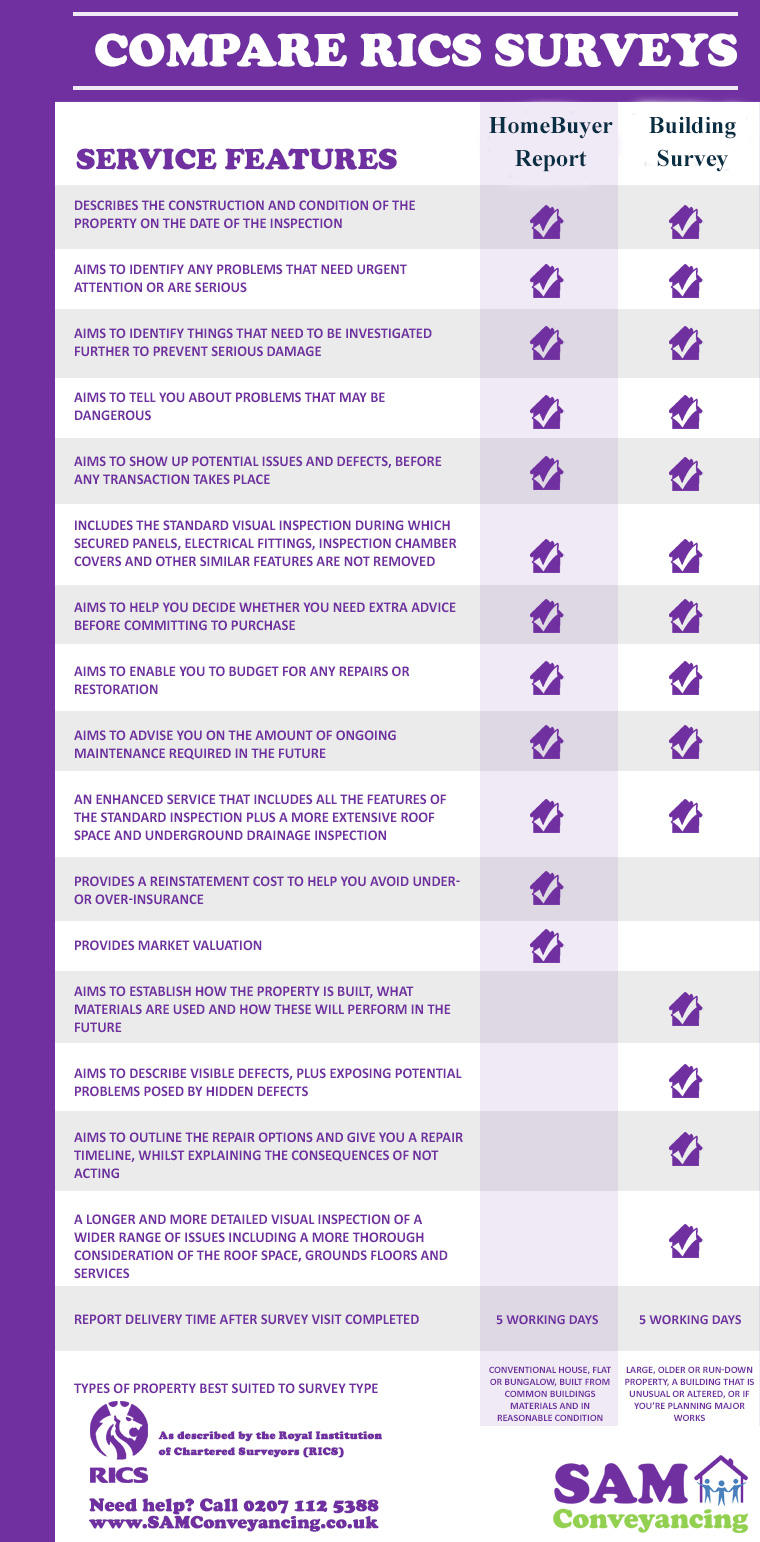 | | |
| --- | --- |
| Sections of the HomeBuyer Report | What is inspected? |
| A. Introduction to the report | Declaration that the HomeBuyer Survey is conducted by a RICS surveyor |
| B. About the inspection | Details of the property |
| C. Overall opinion and summary of the condition ratings | General overview of the property |
| D. About the property | Details number of rooms, age, type |
| E. Outside the property | Chimney stack, roof covering, rainwater pipes & gutters, main walls, windows, outside doors, HomeBuyerconservatory & porches, other joinery & finishes |
| F. Inside the property | Roof structure, ceilings, walls & partitions, floors, fireplaces, chimney breasts & flues, built-in fittings (kitchens but not appliances), woodwork, bathroom fittings, |
| G. Services | Electricity, gas/oil, water, heating, water heating, drainage, common services, |
| H. Grounds (including shared areas for flats) | Limitations (reasons why they couldn't be inspected), garage |
| I. Issues for your legal advisers | Regulation, guarantees |
| J. Risks | Risks to building, risks to grounds, risks to people |
| K. Valuation | Market valuation and reinstatement value |
| L. Surveyor's declaration | Information about HomeBuyer surveyor |
| What to do now | Standard information |
| Description of the RICS HomeBuyer Service | Standard information |
| Typical house diagram | Standard information |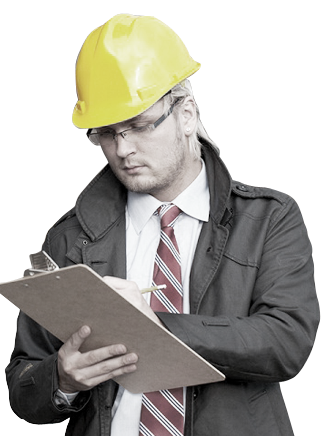 The Building Survey report in comparison is bespoke in format for each individual property although it always contains a section on legal information, which is directed particularly at conveyancing solicitors.
The inspection is particularly looking for serious property defects including subsidence, damp, dry and wet rot and any visible sign of infestations.
Home Buyer Survey Costs
Home buyer survey costs vary depending on location and surveyor. You may find your home buyer survey cost is based on the size of the property or the length of time the surveyor feels the survey will take.
Our home buyer survey costs are fixed regardless of the area of the country or the size of the property. We'll review the property with you over the phone and provide a competitive fixed cost for your survey
.
HomeBuyer Report - "Traffic Light" ratings
The HomeBuyer Report is delivered in a standard format and the defects are graded by traffic light colours.
Condition rating 3 – defects that are serious and/or need to be repaired, replaced or investigated urgently. 
Condition rating 2 – defects that need repairing or replacing but are not considered to be either serious or urgent. The property must be maintained in the normal way. 
Condition rating 1 – no repair is currently needed. The property must be maintained in the normal way.
NI – not inspected. 
If the surveyor is unable to view any parts of the property they'll make a note of this in their report which is why it is important the estate agent and the seller give access to all areas in the property.
In a home buyers survey the surveyor won't provide cost estimates for making repairs to the property for any of the defects noted. If you would like to get the costs for repairing defects included in your survey, call us on 0333 344 3234.
Book your Home Buyers Survey
All of our surveyors are RICS regulated with years of experience working on all ages and types of properties throughout England. With over a 100 surveyors we'll have a local surveyor near to your property able to give you the reassurance you need to buy your home.
Local RICS Surveyors Near You – Over 15 years of Experience – Same Week Availability - Low Cost
No time for forms? Call us on 0333 344 3234 (local call charges apply - Mon-Fri 8am to 6pm Sat 11am to 1pm)