Land surveying is a highly technical service requiring the surveyor to have an extensive set of skills including understanding land law, geometry, trigonometry, engineering and even meteorology.
Land Surveyors are involved in most construction and engineering projects, however for this article we are focusing on the work undertaken in measuring boundaries.
Boundary disputes can be incredibly contentious and can cause rifts between neighbours costing thousands of pounds to remedy.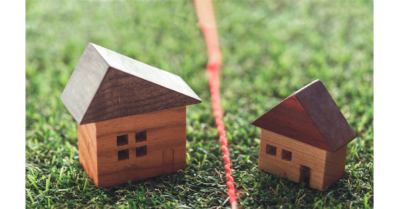 The most common disputes arise out of extensions being built up to and/or over the boundary line and physical boundaries changing (or in the case of fences, being moved - read more about
How to resolve a Boundary Dispute
).
You can be forgiven for thinking that your boundary should be clearly marked out in red on your title plan, however this is not the case.
The title plan is created by the Land Registry using the Ordnance Survey mapping system which adopts the General Boundaries system which shows the boundary of the property in relation to other physical features on the ground such as hedges, trees or walls.
This is why you cannot rely upon a Land Registry title plan on its own when you are in a boundary dispute (read more about the
Land Registry Title Plan
).
Boundary survey cost
We have a national network throughout England of land surveyors who can provide:
Land and Topographical Surveys
Measured Building Surveys
Building Elevations
Setting Out
River Studies
Service Tracing
RICS Surveyors – Local Knowledge – Same Week Availability
Want help now? Call us on 0333 344 3234 (local call charges apply)
What types of Land Survey do you need?
It is very common to have a dispute with your neighbour over your boundary; with fences being moved or hedge rows growing wider, many home owners fear losing part of their land.
Home owners are right to worry about this, especially with the law of Adverse Possession (the rules for this are different if your land is
registered
at the Land Registry or if it is
unregistered
).
There is no special meaning in law to the word boundary, however in land ownership it is understood in two ways; Physical Boundary and Legal Boundary.
The Physical Boundary:
A registered title almost never shows ownership of individual boundary structures such as walls, fences and hedges.
There may, however, be some relevant information on the register or in Land Registry's files. For example, Land Registry may have kept a copy of a deed that refers to a boundary declaration or agreement, or to the ownership or maintenance of boundaries.
You would measure your physical boundary if you were planning works.
The Legal Boundary:
A legal boundary deals with the precise separation of ownership of land. It is an invisible line dividing one person's land from another's.
It does not have thickness or width and usually, but not always, falls somewhere in or along a physical boundary feature such as a wall, fence or hedge.
The exact positions of the legal boundaries are almost never shown on registered title plans.
You would measure your legal boundary for the purposes of protecting your land.
What happens during a Legal Boundary Survey?
The land surveyor for boundaries will provide an accurate survey using a Total Station to measure and locate the current legal boundaries on site.
They will need to investigate all source data to aid in their delivery of the service including, but not limited to:
The boundaries for the property will be measured as accurately as possible using a standard laser measuring device and tape measure.
The report will only deliver a plan of the physical boundary, not the legal boundary (although in some cases these maybe the same) Plans:
Floor plan
Title plan
Site plan
Original title deeds including original registered plan - your current Register of Title that is registered at the Land Registry may not contain the original title plan so you may have to do some research and contact the solicitor who acted for you on your purchase to get this document.
You need to provide as much information as possible in order to ensure the accuracy of a legal boundary survey. Limited information can lead to challenges from your neighbours in the future.
How much does a land survey cost?
The costs vary depending on whether you get a physical boundary survey or a legal boundary survey.
The former is a cheaper survey and depending on the size of your property can be completed within a few hours at a cost ranging from £350 up to £500 INC VAT.
A Legal Boundary Survey requires much more work and can take days to complete. The research into the legal boundary needs to be thorough and there may be several site visits to ascertain the exact legal boundary.
Getting this wrong can lengthen boundary disputes or, if going to court to get your boundary determined, could cause your application to be denied.
The cost of a legal boundary survey can escalate depending on the size of the site where the boundary line is being found.
For a bespoke quote, call our Land Survey Dept on 0333 344 3234.
RICS Surveyors – Local Knowledge – Same Week Availability
Want help now? Call us on 0333 344 3234 (local call charges apply)
Proud of our Reviews


322 Google Reviews FREE Online Conveyancing Process for Buyers
Includes online checklists, videos, downloads and tips - plus it is completely free to use from start to finish and saves your progress along the way.
Log in