Getting a Self Employed Mortgage - Our 5 Top Tips
A self employed mortgage is known to be challenging; from detailed income checks to historical declared earnings. All this adds weeks onto the mortgage application process and can cause your offer to the seller to fall through because of this
(read our complete mortgage guide)
.
All lenders have taken a more cautious approach to loaning money following the credit crunch and the Mortgage Market Review rules as well as action from the Bank of England's Financial Policy Committee have combined to formalise this.
Nowadays, if you want a mortgage you not only have to go to considerable lengths to prove your income – and therefore your ability to repay the loan – but your income is also tested to see if you can make repayments if interest rates rise. For the self-employed, this can create considerable hurdles to clear before a lender will cooperate.
In this article, we cover:
Download your free Self Employed Mortgage checklist
Don't leave it to chance: getting organised right from the start is the key to a successful self-employed mortgage application
FREE To Use – Your Progress is Saved – Complete To-Do Lists – Guides you through the whole conveyancing process
What's the main challenge for Self Employed seeking mortgages?
When you're self-employed, your income can vary considerably month to month. In theory, you should be able to get similar mortgage products as those employed if you can show 2 or 3 years' worth of receipts. This is not the case in the real world, however.
Self-employment is a broad sector with many different types and therefore many different ways of being assessed. For example, a company director is treated differently in the eyes of the taxman from a sole trader and both of these are treated differently from a contractor. Teachers doing supply work are often classed as self-employed as well and would once again be assessed differently.
Self Employed mortgage applications: the devil in the detail
Mortgage lenders normally use a bespoke underwriting device to assess applications; annual gross income is calculated on a day rate assuming the self-employed work meets certain criteria, for example that it involved a working contract of at least 3 months.
If you're a company director, your wages and dividends drawn are more likely to be assessed. You can, however, be disadvantaged if you leave most of your profits in your company account to decrease your tax bill.
It can help you here, however, if you can find a lender who will judge your application on your company's net profits. Only a handful of 'high street' lenders will do this, however, and what these will lend will differ according to the nature of the underwriting device they're using in-house.
Some high street lenders' staff may be unused to dealing with self-employed mortgage applicants which can mean that negotiations take longer and they may be more cautious about lending because of fear of default risk. They may, for example, place too much value a company's most recent income figures rather than on a longer trading period. If most recent figures show a dip, an applicant may think themselves treated unfairly if a loan is refused.
5 simple steps to get a Self-Employed Mortgage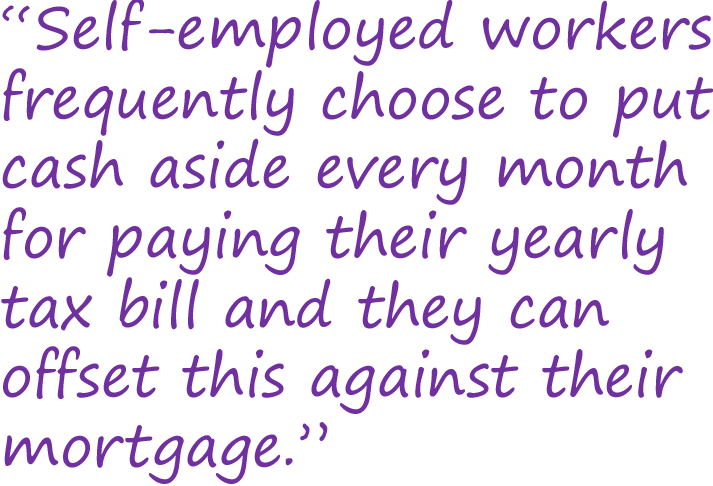 1. Have you been in business for enough time?
You're unlikely to get a mortgage if you've been in business for under a year; after a year, some lenders will refer your case to an underwriter for risk consideration. After 3 years' trading, your income will normally be judged as stable enough to lend against.
2. Check your credit score
If you've already bought a home and are a home mover who has been a mortgagor for a long time, you are likely to have a good credit score and more chance of securing another mortgage. If you only have a small deposit and are a first time buyer, you may find that your credit score is too low.
3. Think about applying for an offset mortgage
If you manage to get a self-employed mortgage, if you have a bank account with the same lender you can reduce your mortgage interest payments. Self-employed workers frequently choose to put cash aside every month for paying their yearly tax bill and they can offset this against their mortgage.
This can particularly suit you in situations where you don't have a steady income stream. You deposit cash in the account which reduces your mortgage interest payments and you still have access to the money you've put away. The downside here is that you'll normally be paying a higher interest rate on your mortgage than you would with other types of mortgage products.
4. Hire a mortgage broker
Some brokers charge directly for their services but not all. If a broker can set you up with a self-employed mortgage with the minimum of hassle, it may well be worth you paying them to do this. Your broker should be knowledgeable about self-employed products available and may have relationships with lenders which allow them to access better rates.
We have a number of mortgage brokers who have access to exclusive products through leading high street mortgage providers. Call us on 0333 344 3234 to organise your mortgage appointment today.
5. Get your previous years' accounts
Getting a mortgage when self employed generally involves more work than if you're employed, however this doesn't mean that you can't succeed at getting a mortgage in a good space of time. The key information you need to have ready are your previous 3 years of financial accounts (if company) or 3 years of tax returns.
 This means you'll have more forms to fill out which will take more time. Patience and diligence pay!
Access to whole of the market – 100% Impartial advice – No need for face-to-face meeting
*Initial meeting is free. Some mortgage applications will attract an application fee. See our mortgage terms for further information.
Proud of our Reviews


322 Google Reviews FREE Online Conveyancing Process for Buyers
Includes online checklists, videos, downloads and tips - plus it is completely free to use from start to finish and saves your progress along the way.
Log in