The process for buying a house
If you are a first time buyer, the chances are you'll need a mortgage to buy property. If you do, you'll need to make sure your credit score is in order and crunch the numbers to see what sort of mortgage you can afford.
Then we recommend that you speak to an independent mortgage broker. The mortgage broker will guide you through potential mortgage opportunities, run a credit check and assess your affordability. Our mortgage brokers provide options from the whole of the market and have exclusive deals that are not available by going direct to lenders.
Once you have a mortgage in principle you can go to market and start the next part of the home buying process which is finding your new home. Don't worry if you have already been looking for properties to buy, this is quite usual, however the best advice is always to make sure you can afford to buy a property before going to look for one.
Conveyancing process for buying a house
The conveyancing process, although complicated, does follow a path that you can keep track of using our Buying a Home guide. The info-graphic below shows what the buyer, seller, solicitors, estate agents and bank should be doing and what happens next when you buy property.
The speed of the process to buy property depends on a number of factors and a key factor is how many people are involved. If you are buying a freehold property then you'll be working with your solicitor, seller's solicitor, seller, estate agent and local council. If you are buying a leasehold property then you can add the freeholder, freeholder's solicitor and managing agents. There are a lot of people in this loop and if one person goes on holiday, only sends by post or has a delay then everyone else is affected.
On top of all this, if you are in a chain of sales and purchases, the whole chain could be affected by one slow party in the chain. Organising all these people and getting everyone to work harmoniously is the job of your conveyancing solicitors so make sure you choose wisely.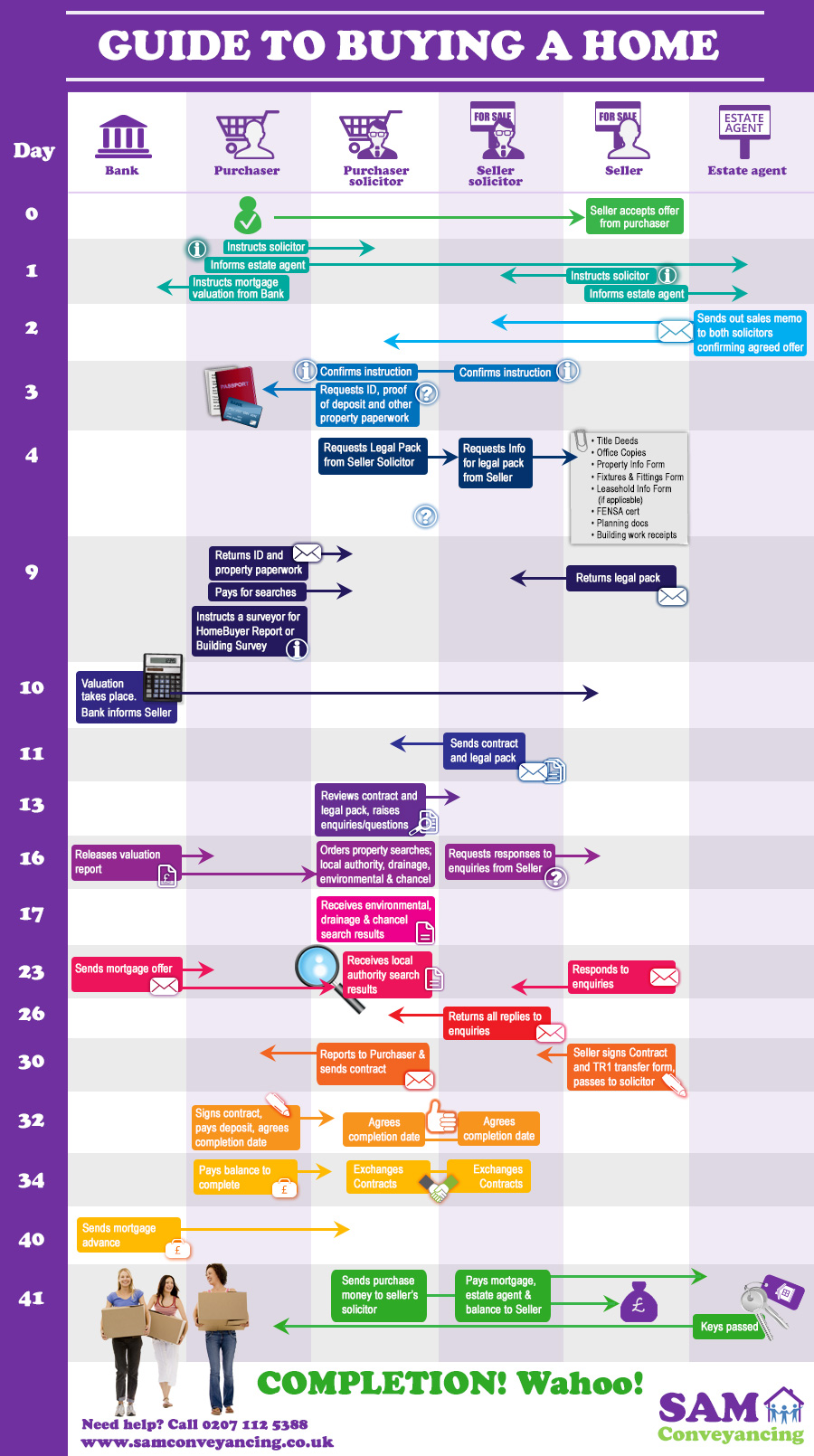 What are the key stages in buying a house?
What follows is primarily intended to explain the process to buy property to a first time home buyer. If you are a home mover and you have not bought a property for a long time, it should refresh your knowledge.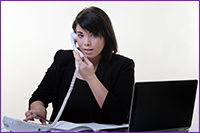 1 Instruct solicitor, surveyor and searches, order mortgage valuation
To start your home move process off, you have a number of things to schedule at around the same time. You instruct your
solicitor
and book your survey - we can advise you on whether you need a
Building Survey or a HomeBuyer Report
. You must also order your
mortgage valuation
if you are not a cash buyer. You can find out more about property searches
here
. If you are a cash buyer we recommend you read this article -
Buying a house without a mortgage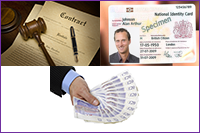 2 Receive contract paperwork and submit ID, proof of funds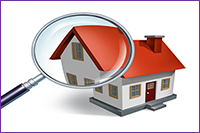 3 Valuation, survey and searches returned; solicitor makes enquiries
You must ensure that you pass on the result of your valuation, the survey report and the searches returned to your solicitor so they can raise enquiries. This is a critical part of the process when buying a house and where it really pays to have an experienced solicitor. They may raise an enquiry with the otherside solicitor on the basis of some issue found in the environmental search returned, for example, or they may notice a problem with the title of the property itself or some restrictive covenant.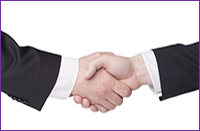 4 Exchange of Contracts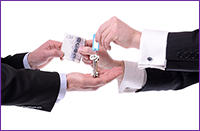 5 Completion
Congratulations! This is the point where you move in. Or it should be...Unfortunately, completions can be delayed, normally due to parties not producing the correct paperwork or transferring the required monies. You can find out more about completion and what the pitfalls are here:
What happens on Completion Day?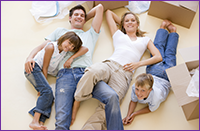 6 Post-completion
Can you get a faster conveyancing process?
There are many reasons why your house purchase might slow down. However, most of these can be avoided. If you are looking to buy property quickly these are some of the things you can do:
Costs of Buying a House
Although amassing a deposit is the major initial cost involved in securing a mortgage and buying a house, other upfront costs are considerable, and are examined as follows:
Mortgage set-up fees
Lenders frequently impose a mortgage booking fee or similar, ostensibly to reserve funds for a fixed or capped rate product. This may vary in cost, but in most situations will be at least £99, which may not be refundable.
Mortgage arrangement fee
The vast majority of mortgages involve an upfront, or arrangement fee, this as distinct from the set-up fee. Depending on the lender and interest rate charged, this will be invariably be at least £900 and may be more than £2,000. This can be added to the mortgage principal, but will then incur interest throughout the life of the mortgage.
Valuation fee
Lenders charge this fee to check whether a property is worth the mortgage sum. This can be between £150-£1,500, depending on the value of the property. As part of some deals, lenders may themselves pay this. Remember, a valuation fee is not a Property Survey as it does not check for defects.
Mortgage account fee
A lender charges this one-off fee to cover set-up, maintenance and closing down costs. Separate to the arrangement fee, this will typically cost at least £100.
Higher lending charge
When a borrower is lent most of the value of the property, the lender may charge a fee to take out insurance against a borrower defaulting on the loan and the lender having to sell the property at a loss. The lender may still attempt to recover any shortfall from the borrower.
This is particularly relevant when a borrower presents a comparatively small deposit. The cost is normally around 1.5% of the sum borrowed. If buying a house worth £350,000, this would cost around £5,250 (1.5% of £350,000).
Searches
Fees for searches to the local council to check whether there are any planning or local issues that might affect the property's value. The key searches obtained by Conveyancing Solicitors are:
These typically cost around £265 in total for all four.
Legal costs
These are paid to a solicitor or Licensed Conveyancer to fulfil the legal work stipulated for buying or selling property. Both buyers and sellers require a solicitor. These typically cost between £500-£750 and additionally incur paying 20% VAT.
Stamp Duty
The stamp Duty Tax Bands are as follows:
Up to £125,000 0%
£125,000 - £250,000 2%
£250,001 - £925,000 5%
£925,001 - £1,500,000 10%
£1,500,001 - upwards 12%
(as of December 2014)
Land Registration
When the ownership of a property changes, the new beneficial owner is registered at the Land Registry. The Land Registry charge a fee for updating their records and the fee increases based on the price of the property.
The Land Registry Bands for transferring the whole title are as follows:
£80,000 £20
£100,000 £40
£200,000 £95
£500,000 £135
£1,000,000 £270
£1,000,001+ £455
The pricing reduced in March 2014 to the above (a saving of half the original cost!).
(as at 9th April 2014)
RICS Property Survey
A Homebuyer Report involves an examination of a property, both inside and out. It includes a valuation, which, if a lender agrees is valid for its own purpose, might be used to cut costs. It will typically cost at least £400, but increases based on the property value.
A Building or Structural Survey, the most comprehensive survey, is done when buying an older or non-standard property, for example, a property which is more than 70 years old or a structure made of wood. This will cost typically at least £600, but increases based on the property value.
Moving costs
A removal firm will move, and sometimes pack, possessions to a new property. For a small 2 bedroom flat you can expect to pay £800 to move your possessions and £320 to have them packed. If you are paying more than this call us for a comparable quote.
Buildings insurance fee
Lenders may charge customers who take out buildings insurance with a different company, normally around £25 or above.
When you buy a Leasehold property, the Freeholder will normally arrange the Building Insurance leaving you to get contents cover; however if you are buying a Freehold, you will need to have Building Insurance in place before you purchase the property. Building insurance will vary depending on a number of different factors but can range from £300 upwards.
Typical upfront costs for buying an average UK property
Not including the considerable sum required for a deposit the costs of purchasing a house are considerable. Taking the lowest typical values above and upfront mortgage costs for a property in England being bought for £250,000 the cost are as follows:
| | |
| --- | --- |
| Cost of Purchase | Average Cost for a £250,000 Property |
| Mortgage set-up fees | £99 |
| Mortgage arrangement fees | £900 |
| Valuation fee | £150 |
| Mortgage account fee | £100 |
| Higher lending charge | N/a |
| Searches | £250 |
| Legal costs | £600 |
| Stamp Duty | £2,500 |
| Land Registration | £135 |
| RICS property survey | £480 |
| Moving costs | £1,120 |
| Building insurance | £300 |
| Total | £6,634 |
Buying a house?
Proud of our Reviews


322 Google Reviews FREE Online Conveyancing Process for Buyers
Includes online checklists, videos, downloads and tips - plus it is completely free to use from start to finish and saves your progress along the way.
Log in