Lifetime ISA - help for first time buyers?
The Government has announced the launch of a new Lifetime ISA (or LISA), from April 2017, from which savers can receive a 25% bonus which can be put towards buying a home and retirement savings. Declaredly the Government wishes 'to help young people save flexibly for the long-term throughout their lives'.
The assistance towards buying a home makes it have some similarities with the
Help to Buy ISA
, but there are also notable differences, please click on  
Lifetime ISA vs Help to Buy ISA
to see our handy infographic which compares both.
Who is eligible for the Lifetime ISA?
You must be between 18 and 40 years old to open a Lifetime ISA account.
How does the Lifetime ISA work?
You save up to £4,000 each year and the Government pays you a bonus of 25% of the amount saved. There is no minimum or maximum monthly contribution but you cannot put in more than £4,000 per year.
You can make contributions and have the bonus added from 18 years old up to age 50.
Over a lifetime, this means you could save a maximum £128,000 which would mean you receive a maximum £32,000 Government bonus and you stand to receive investment growth both on your contributions and on the bonus.
How do ISAs work?
An ISA, which means Individual Savings Account, is a savings account for which you never have to pay tax on the interest - the Government ostensibly constructed these accounts to encourage people to save. Each year, the Government sets a limit as to how much money you can put into ISA form to take advantage of the tax break - for the tax year 2018 - 2019, the figure has been set at £20,000.
You are well advised to visit
HM Government's ISA information page
to find out authoritatively what the current rules are, however when last updated, the broad rules for ISAs were as follows:
You can open up one new cash ISA per year - NB the Help to Buy ISA counts as a cash ISA but the Lifetime ISA does not (read on) so you could choose to open up both at the same time (assuming you haven't already opened up a different cash ISA already for the tax year)
There are four different types of ISA, namely:


cash ISAs;
stocks and shares ISAs;
innovative finance ISAs; and
Lifetime ISAs

You can save up to your maximum allowance for the tax year (£20,000 for 2018/19) and you have free choice as to how you divide up your allowance e.g. you might put it all in one stocks and shares ISA or divide it between all 4 types (but please note, you are restricted as to the maximum you can put into either a Help to Buy ISA (£1,200 per year or £2,400 if starting it up with the £1,200 maximum initial deposit) or a Lifetime ISA (£4,000 per year))
You have to be a minimum 16 years old to open a cash ISA, 18 years old to open a stocks and shares or an innovative finance ISA and between 18 and 40 to open a LISA
You have to be resident in the UK or a Crown servant (for example diplomatic or overseas civil service) or their spouse or civil partner to open any ISA.
*Fixed Fee – No Sale No Fee – On all Major Lender Panels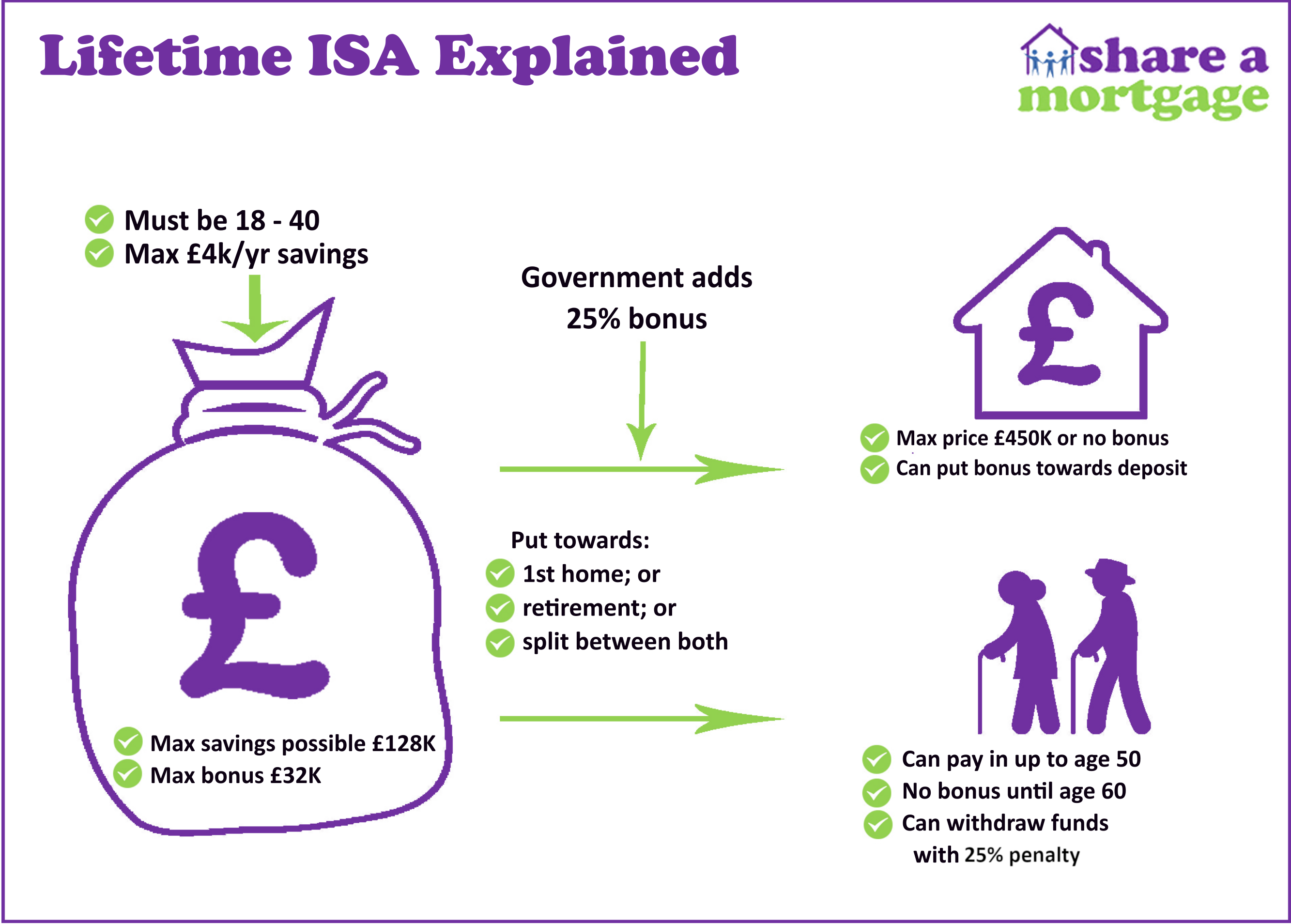 How can you use the Lifetime ISA to save for a first home?
You can combine your savings and bonus towards a deposit on a first home worth up to £450,000 across the country.
NB This differs from the Help to Buy ISA where for properties outside London, you are restricted to a £250,000 maximum purchase price .
You can only dedicate Lifetime ISA funds towards buying a home from 12 months after you've opened the account.
How do you get the money if you're putting it towards buying a home?
The money is paid directly to your conveyancer: you ask your LISA provider to pay the money across to them.
After you've instructed your LISA provider ("made your declaration"), the funds take 30 days to draw down.
If the purchase falls through, the funds are simply returned to your bank or building society. Any repayment will also not affect your £4,000 maximum annual contribution allowance.
You are only supposed to use the ISA to buy a property you'll live in and the Treasury has indicated it will seek to claw back the bonus if it is clear you have bought to let. It has tempered this by stating that if your professional or personal circumstances change after you've bought, then you will be able to rent out your property.
Can you and your partner both get Lifetime ISAs and put them both towards buying a home?
Yes. Like the Help to Buy ISA, Lifetime ISAs are limited to one per person NOT per home, so 2 first time buyers can both receive and use their own bonus when buying together.
Can you put your Lifetime ISA bonus towards purchasing a home as a first time buyer with others who may not be?
Yes. Any other first time buyers purchasing with you can also put their own Lifetime ISA bonus towards the buying the home if they also qualify. There is nothing to stop you purchasing alongside a home mover, however.
Can you transfer funds from your Help to Buy ISA to your Lifetime ISA?
Yes. You can do this or simply continue saving into both BUT you can only put the bonus from one of these toward buying a home.
Can you put some of the savings towards a home and some towards retirement?
Yes. You can take out any savings you have remaining in the ISA tax-free after your 60th birthday. You can withdraw the money before you turn 60 but:
a.you won't get the Government 25% bonus (and any interest/growth associated with this); and
b.you'll have to pay a 25% charge.
Are there going to be Investment LISAs as well as cash LISAs?
Yes. Unlike Help to Buy ISAs which are cash savings only, with LISAs you also have the option to invest in stocks and shares. As always, the risk profile is higher for investment ISAs but many recommend them as better longer-term investments than cash ISAs.
Can you change LISA providers?
Yes, so you can always look for a better performing LISA provider.
Where can you find comprehensive details of the scheme?
*Fixed Fee – No Sale No Fee – On all Major Lender Panels
Proud of our Reviews


322 Google Reviews FREE Online Conveyancing Process for Buyers
Includes online checklists, videos, downloads and tips - plus it is completely free to use from start to finish and saves your progress along the way.
Log in