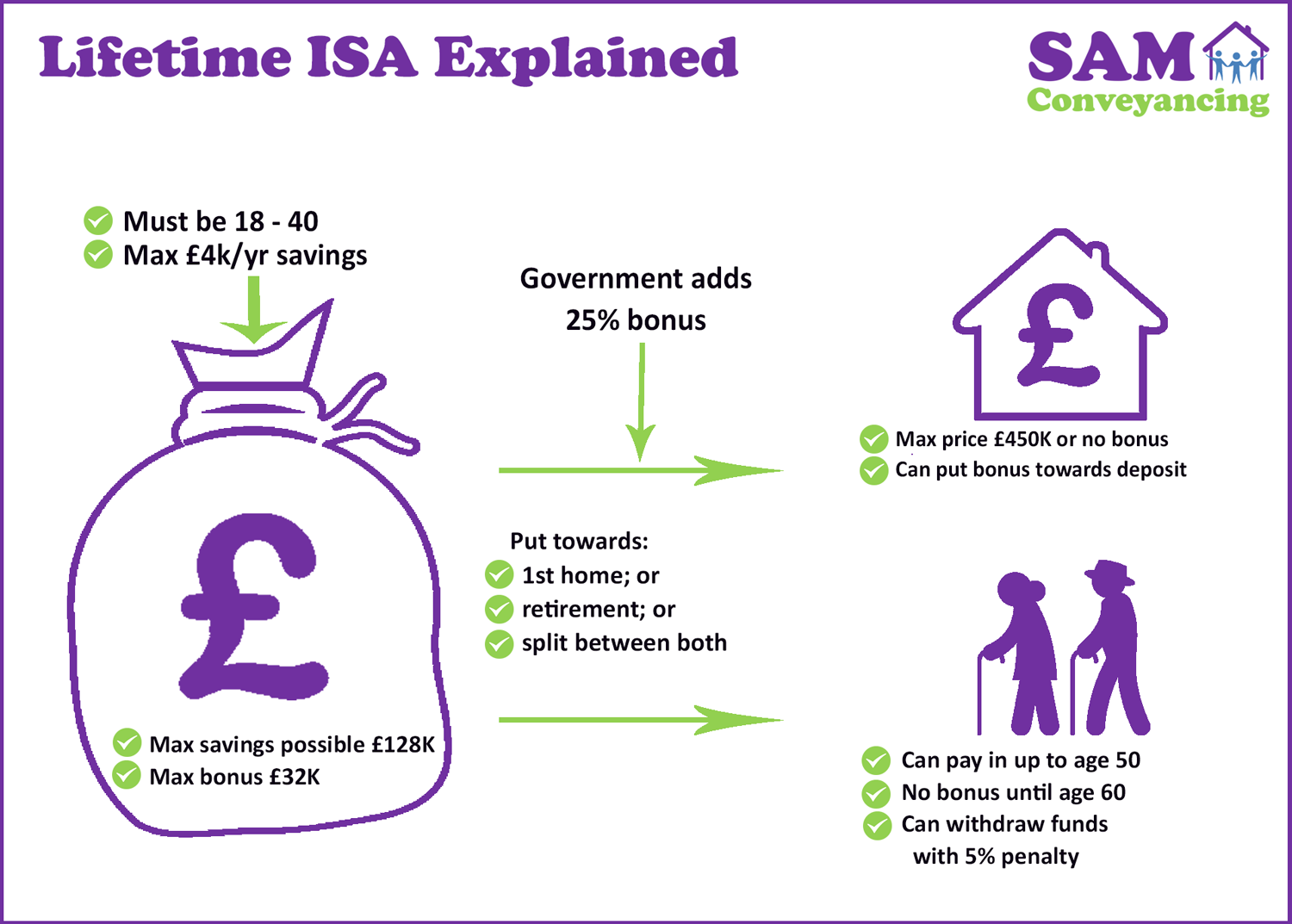 How can you use the Lifetime ISA to save for a first home?
You can combine your savings and bonus towards a deposit on a first home worth up to £450,000 across the country.
NB This differs from the Help to Buy ISA where for properties outside London, you are restricted to a £250,000 maximum purchase price.
You can only dedicate Lifetime ISA funds towards buying a home from 12 months after you've opened the account.
How do you get the money if you're putting it towards buying a home?
The money is paid directly to your conveyancer: you ask your ISA provider to pay the money across to them.
If the purchase falls through, the funds are simply returned to your bank or building society. Any repayment will also not affect your £4,000 maximum annual contribution allowance.
You are only supposed to use the ISA to buy a property you'll live in and the Treasury has indicated it will seek to claw back the bonus if it is clear you have bought to let. It has tempered this by stating that if your professional or personal circumstances change after you've bought, then you will be able to rent out your property.
Can you and your partner both get Lifetime ISAs and put them both towards buying a home?
Yes. Like the Help to Buy ISA, Lifetime ISAs are limited to one per person NOT per home, so 2 first time buyers can both receive and use their own bonus when buying together.
Lifetime ISA (LISA) vs. Help to Buy ISA compared
 
LIFETIME ISA (LISA)



HELP TO BUY ISA
How much can you save?
£4,000/yr
£2,400/yr (£3,400 in year one)



Can you put lump sums in?
 Need to save monthly



What's the maximum bonus?
£32,000 (assumes max contribution over 32 years)
£3,000 (assumes max contribution over 4 years and 8 months)



When is the bonus paid?
Annually in the 2017/18 tax year, then monthly from April 2018
On completion when you buy a home



Can you invest as well as save?
 with cash & shares LISAs
 Cash only



What's the maximum property price?
£450,000
£250,000 (£450,000 in London)



When can you use it to buy a home?
After LISA has been opened for 12 months
Once you've saved £1,600+



Who can open it?
Anyone aged 18-39
Any first time buyer aged 16+



Can I withdraw money if not buying a home?
 At age 60+, if earlier you don't get the bonus
and have to pay a penalty
 At any time, you just don't get the bonus



Can you transfer funds from your Help to Buy ISA to your Lifetime ISA?
Yes. You can do this or simply continue saving into both BUT you can only put the bonus from one of these toward buying a home.
You can only transfer money put in a Help to Buy ISA before 6 April 2017 without impacting your yearly allowance and you have until 5 April 2018 to transfer it across.
If you are intending to buy a property before April 2018 you should opt for opening a Help to Buy ISA if you are eligible, because, as stated, you need to have your LISA up and running for a year before you can dedicate savings within it towards buying a home.
Can you put some of the savings towards a home and some towards retirement?
Yes. You can take out any savings you have remaining in the ISA tax-free after your 60th birthday. You can withdraw the money before you turn 60 but:
a. you won't get the Government 25% bonus (and any interest/growth associated with this); and
b. you'll have to pay a 5% charge.
Are there going to be Investment LISAs as well as cash LISAs?
Yes. Unlike Help to Buy ISAs which are cash savings only, with LISAs you also have the option to invest in stocks and shares. As always, the risk profile is higher for investment ISAs but many recommend them as better longer-term investments than cash ISAs.
Can you change LISA providers?
Yes, so you can always look for a better performing LISA provider.
Where can you find comprehensive details of the scheme?
*Fixed Fee – No Sale No Fee – On all Major Lender Panels