Buying a home: a simple day-to-day guide
Here's a brief and simple day-to-day guide to buying a home which explains what to expect - and when to expect it. Our guide to buying a home starts at the point where your offer is accepted by the seller and you instruct a conveyancing solicitor. We finish at the point when you collect your keys and move in - yippee!
There are a couple of essentials that must happen post-completion - paying Stamp Duty tax and Land Registry fees - we shall cover those elsewhere to keep an involved topic as simple as we can.
Actual timings may vary depending on your individual case but this gives you a general overview:
Day 1 of Buying a Home
Instruct a solicitor and a property valuation
All that research and those house viewings have paid off, but leave the champagne on ice until you collect your keys as you are about to start the conveyancing journey.
You'll need to inform the (seller's) Estate agent firstly, and then:
Instruct a conveyancing solicitor (they'll do the necessary legal stuff) and confirm their details with your estate agent.
Instruct a property valuation from the lender - the lender requires a valuation to make sure that the house's value is in keeping with the sum the lender will lend you.
We provide Fixed Conveyancing Fee quotes with a no move no fee – call 0207 112 5388 or 01344 567 887 to get a quote.
[Notes continue after diagram]
*Fixed Fee – No Sale No Fee – On all Major Lender Panels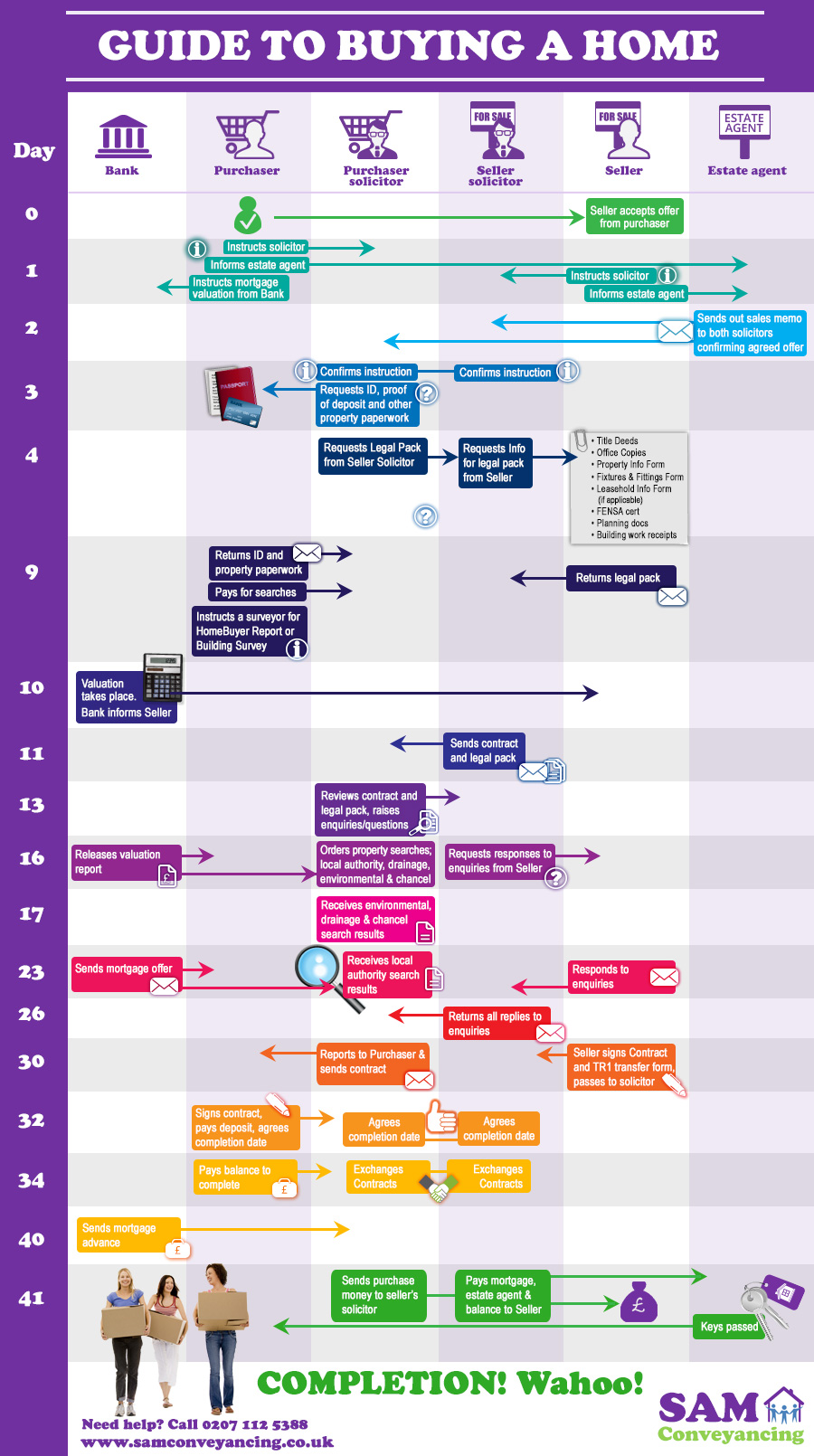 Day 3 of Buying a Home
Get ID and other forms back to your solicitor
Once the estate agent has both yours and your seller's solicitor's details they will issue the sale memorandum to both solicitors.
The sales memo 'gets the ball rolling', removing the property from the market so the matched parties can contract exclusively. Your solicitor will then send you various forms to complete. These include proving who you are and where your deposit money will come from.
Get these completed and sent back as quickly as possible and send everything needed - if your solicitor has to ask you for more information, this will delay things.
Day 9 of Buying a Home
Pay for Searches, Raise Enquiries, Book a Survey
The lender will most likely have considered its valuation by now and, hopefully, will have approved it and informed you. The approval is your cue to:
Pay money to your solicitor for your property searches and when this is received, they will order these (click for more information about
Property Searches
Raise any questions or concerns you have about the property with your solicitor. They in turn will raise these with the seller's solicitor.
Instruct a RICS surveyor to a Building Survey or at least a HomeBuyer Report to check if your house has any structural problems. To find out more about these, click
Property Surveys
.
You need an expert eye to check for potential issues which could prove very expensive to correct further down the line and which may even make you think twice about buying. Buying a house is probably the most expensive purchase most people make in their lives, you really want to be absolutely sure about what you're buying!
SAM Conveyancing employs many excellent, experienced RICS surveyors and our coverage is countrywide.
Contact us
for more details.
Day 13 of Buying a Home
Further Enquiries
Your solicitor may contact you at this point to discuss any enquiries to be made in the light of the seller's contract and legal pack. They will pass these on to the seller's solicitor.
Day 16 of Buying a Home
Searches
Your lender will send its valuation report to you and your solicitor. Your solicitor will then order property searches, which broadly examine if there are any important matters to be considered, regarding the land and surrounds your house is built on.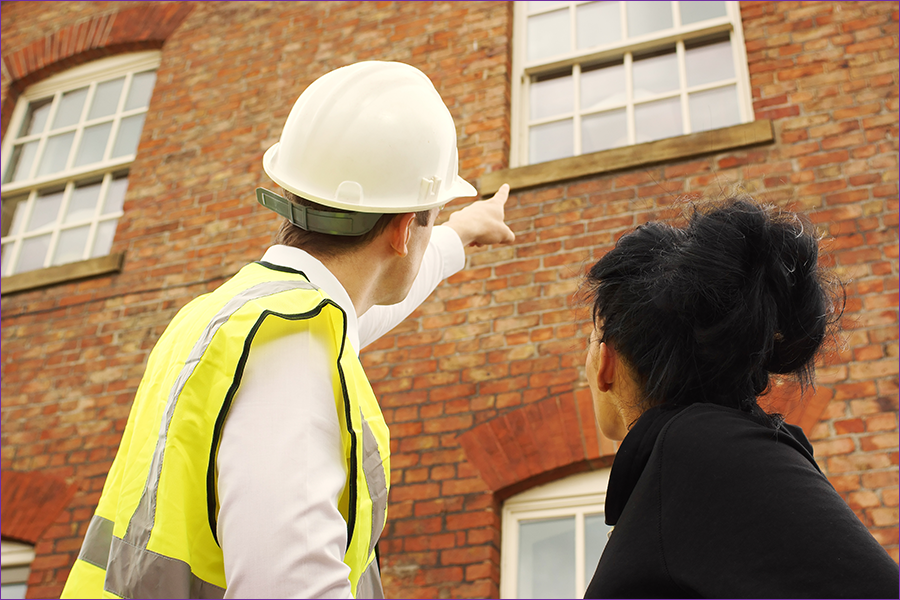 These will normally at least include these four:
Local Authority
Drainage
Environmental
Chancel
Day 23 of Buying a Home
Search results in
The lender will send its mortgage offer to you and your solicitor. By this time, your solicitor should have received all the search results: should any critical issues have arisen from these, your solicitor will raise them with you.
Day 26 of Buying a Home
Enquiries returned
The seller's solicitor will return replies to all outstanding enquiries.
Day 30 of Buying a Home
Solicitor makes final report
At this point, your solicitor will contact you to make a final report, tying up all loose ends before you sign your contract.
Day 32 of Buying a Home
Contract signing day!
You will now sign your contract and pay your deposit. The seller will have also signed their corresponding contract. From this point you are committed to completing the purchase: should you pull out now, as well as not buying a home, you will lose your deposit.
Your solicitor will agree the completion date - when you get your keys - with the seller's solicitor.
Day 34 of Buying a Home
Pay the remaining balance
You will now pay the rest of the purchase price for your home. Your solicitor will exchange contracts with the seller's solicitor.
Day 41 of Buying a Home
COMPLETION!
You will now receive your keys and will be able to move in.
*Fixed Fee – No Sale No Fee – On all Major Lender Panels
Proud of our Reviews


322 Google Reviews FREE Online Conveyancing Process for Buyers
Includes online checklists, videos, downloads and tips - plus it is completely free to use from start to finish and saves your progress along the way.
Log in