(Last Updated: 24/04/2023)
Our fixed fee conveyancing supports you and gives clarity to know what they will pay their solicitor during a standard conveyancing transaction. Within our quote we include all of the solicitor's legal fees for a standard conveyancing transaction and do not hide legal fees in our terms that should be told you you up front.
We tailor your quote to your needs and factor in all the standard legal work based on if the property is leasehold or freehold, if you have a mortgage or if you are using a Government housing scheme. If something arises that we weren't told about or that you weren't aware of then our solicitors will discuss this with you. In most cases a solicitor can provide you with a fixed price conveyancing quote if you provide them with:
Property price - if it is an undervalue property then give the full market price as if it was being sold on the open market.
Tenure - a solicitor's fee is higher for a leasehold or share of freehold because there is more work to do. Leasehold and share of freehold take longer to complete and cost more.
Mortgage - dealing with a mortgage lender takes more time and makes the quote higher.
Schemes - Help to Buy, Right to Buy, Shared Ownership, Discount Market Sale, New Build - these all take longer to complete and the solicitor will charge a much higher fixed quote. If you fail to state this on instruction then we will re calculate your quote to include this work.
Postcode of the property - some areas require coal mining searches
What types of work do we provide a Fixed Cost Conveyancing Fee for?
At
SAM Conveyancing
we make sure we deliver a price that doesn't change for any of the following types of work:
Buying
Selling
Remortgage
Transfer of Equity
Shared Ownership Staircasing
Help to Buy Equity Loan Repayment
| | | | | |
| --- | --- | --- | --- | --- |
| | | | | |
| Fixed Fee Conveyancing | No Sale No Fee | CQS Accredited Solicitors | On all mortgage lender panels | Rated Excellent on Trustpilot |
Will fixed price conveyancing quotes go up?
1

Estimate, not a quote - An estimate is not fixed, whereas a quote is.

2

Incorrect information - If you provide incorrect information when getting a quote, for example stating a property is freehold instead of leasehold, will mean your original fixed fee is incorrect.
What do fixed fees cover in conveyancing?
While we fully advise that you should always secure fixed quote, you need to 'drill down' into any individual firm's terms and conditions to be assured that any particular quote will give you all the services you'll need to complete your home move.
Property lawyer firms vary greatly in terms of the services they offer as standard in their quotes and some are more transparent than others. With this in mind, the following table illustrates clearly what services should be included as standard in your quote:
Fixed Fee Conveyancing for Buying / Purchasing
What is included?
We have a strict Fixed Fee policy which means your quote includes all the legal work for your purchase based on what you have advised us. This means if what you stated is correct then the Fixed Fee is all you will have to pay.
We build your Fixed Fee quote based on the following variables: Purchase Price*, Tenure, Mortgage, Purchase Scheme. The complexity and time it takes to complete each of the above differs and as such the Fixed Fee reflects this.
The Fixed Fee is covered under a No Sale No Fee** so if you do not proceed with the transaction for any reason you will be invoiced a percentage of the Fixed Fee for the work completed. The abortive fee will not exceed the total Fixed Fee or Additional Fixed Fee.
Free use to our online conveyancing process
No Sale No Fee (see terms)
Client ID checks
Money laundering checks for proof of funds

Review the legal documents from the seller and raise legal enquiries



(If Leasehold) Raise enquiries regarding the lease
Review mortgage offer and reply to any of the lender's enquiries
Raise enquires on issues flagged within the 'Legal Advisor' section of the Building Survey or HomeBuyer Report- please note the solicitor doesn't review or comment on any other part of the report. You should speak to your surveyor for further clarification.
Order conveyancing searches, advise on additional searches required such as mining and report on the results of the Local Authority Search
One bank transfer fee for sending completion money on a purchase
Provide a detailed report on the property being purchased based on the information received by the solicitor (Report on Title)
Execute exchange of contracts
Execute completion
File stamp duty land tax return to HMRC
Registering the property at the Land Registry
(If Leasehold) Paying any service charges and ground rent
(If Leasehold) Paying the notice fee to the landlord's solicitor
Our Fixed Fee is tailored to your needs based on the above scope of work, however you may choose to get some other legal work along the way.
The good news is that whatever help you need, we can support you and as such we list below the circumstances this work may arise, how we can help and what the Additional Fixed Fee is.
Type of Work

What's Included

Fixed Additional Fee INC VAT

Bridging Loan

The work includes reviewing the loan offer, handling the enquiries of the bridging finance company, drawing down the loan and register restriction at the Land Registry.




The work does not include the independent legal advice required by the bridging loan company. We have an independent solicitor if you require so please get in contact for a quote.




£299

Additional gifts

If you are receiving gifts from more than one person.




The work includes a review ID, proof of funds, gift letter and (if applicable) obtain mortgage lender consent.




£55

(per gift)

Additional loan or mortgage




(other than your first charge mortgage and (if Help Buy) equity loan)

If you want to get more than one loan or mortgage, other than the first charge mortgage and equity loan, we will charge this fee.




Review mortgage offer, confirm satisfactory enquiries for the specific mortgage lender, check special conditions of the offer, send Certificate of Title (COT) and register the mortgage lender's charge at the Land Registry. It does not include work for special conditions such as independent legal advice or occupier consent form.




£240

Change/Amend Mortgage Offer

If your bank provides a mortgage offer and you choose to change to another mortgage offer, either with the same lender or a new one, then we will charge to review the mortgage offer and provide our report to you.




£99

Deed of Covenant

Some leasehold titles have a requirement for the new leaseholder to enter a deed of covenant with the freeholder.




The work includes a review of the deed of covenant provided by the freeholder, addressing any enquiries, submitting the deed to you for signing and registering the deed at the Land Registry.




£120

Deed of Trust

If you are looking to get a deed drafted to confirm your beneficial interest split in the property. Read more here:

What is a deed of trust

.




The work includes reviewing your intentions and drafting a deed (you have one free revision), submitting the deed to you for signing and registering the deed at the Land Registry.




£299

Deed of Variation to your lease

If you want to vary the terms of the existing lease you are buying then you need to obtain the consent of the freeholder, agree the cost and fees for the freeholder (you will be liable for the freeholder's costs).




The work includes reviewing the deed of variation, confirming the costs of the freeholder. Provide an undertaking for their costs (you must pay these before this can be given), submitting the deed to you for signing and registering the deed at the Land Registry.




£360

Defective Title or Reconstruction of Title

If you are selling/buying or re-mortgaging and are not able to provide a clear line of ownership, then we will charge for the work involved in obtaining evidence and producing Land Registry documents to ensure the transaction can proceed.




If you are buying and there are issues within the legal title of easements (access) issues that we need to amend, or restrictive covenants that have been breached and or need amendment then we will charge for the documents that need completing and the work involved with the Land Registry in rectifying the title to allow the transactions to proceed through to completion.




£799

Epitome of Title




(Unregistered title at the Land Registry)

If you are buying or selling a property which is not registered with the Land Registry we must draft an Epitome of Title (if we are selling) or review the Epitome of Title and the Root of Title if we are buying. We must ensure there is a clear line of ownership through various title deeds to ensure we can sell the property or register you as the new owners on completion of a purchase.




If there is a gap in any ownership due to missing deeds, we may have to look at how we can move the matter forward under the defective title route.




£120

Help to Buy ISA

If you are redeeming a Help to Buy ISA there is a mandatory charge set by the Government for the solicitor to charge for handling this for you.




The work includes obtaining ISA documents from you, filling in request form and obtaining the bonus funds.

£60 per ISA

Lifetime ISA (LISA)

If you are redeeming a LISAA there is a mandatory charge set by the Government for the solicitor to charge for handling this for you.




The work includes obtaining first time buyer declaration from you, filling in request form and obtaining the bonus funds.

£60 per ISA

Management Company




(freehold only)

If you are buying a freehold house that has within its title has a management company, such as to manage the grounds, then your freehold requires a management.




The work includes a reviewing the management pack provided by the seller, raising legal enquiries, confirm settlement of current owners' liabilities and obtain consent to transfer.




£240

Passing on of the right to extend your lease




(serving section 42 notice, but not finalising the extension on completion)

The seller is serving a section 42 on the Freeholder to pass the right to extend the lease to you after completion.




The work includes reviewing the section 42 notice, advising you of the risks including the costs to extend and the negotiations regarding the premium. It is the responsibility of the seller to ensure the Section 42 Notice is registered at the Land Registry. We do not undertake negotiations and you should seek advice from a qualified RICS surveyor as to the value of the premium.




£600

Premium Expedition Fee

Under the fixed fee quote your transaction will be handled in line with a standard conveyancing process or in line with the auction or new build timeframe.




If you require your transaction to complete within a certain timescale, we offer an expedited service which will ensure correspondence received is worked on within the day it was received (unless this falls out of office working hours).




No guarantee for completion dates can be agreed as we are reliant on third parties, but this service ensures that your solicitor remains on the front foot on transactions at all time placing your file as a priority above standard transactions.

£300

Lease Extension




(whether formal or informal)

The seller is serving a section 42 and the extension is completed alongside your completion.




The work includes reviewing the new lease, raising enquiries regarding additional terms, reporting the terms of the new lease to you and registering the new lease/deed of variation at the Land Registry.




£600

Purchase of Freehold

The seller is agreeing to sell the leasehold and the freehold as part of the same transaction.




The work includes reviewing the freehold title, confirming the freehold is able to be transferred to the leaseholder solely, reviewing freehold title for any restrictions, ensuring all charges are removed, sending you TR1 to sign, exchange, completion and register the new title ownership at the Land Registry. We charge extra for setting up a freehold management company.

£600

Solar Panels




(owned outright)

The seller owns the solar panels.




The work includes checking building and electrical sign off/paid and any deposit scheme is settled.

£150

Solar Panels




(leased)

The seller leases the solar panels.




The work includes checking building and electrical sign off/paid and ensure the tariff and ownership is completed/updated on completion.

£300

Will

If you would like us to draft your will then we can help with this for you.

£399
Fixed Fee Conveyancing for Selling
What is included?

What isn't included?

No Sale No Fee (see terms)
Client ID checks
Submitting protocol forms for you to complete
Preparation of draft contracts
Issuing contracts to the buyer's solicitors
Reply to legal enquiries
(If Leasehold) Obtain leasehold information pack
Contacting your mortgage lender and obtaining your redemption statement
One bank transfer fee for sending completion money on a purchase
Provide a detailed report on the property being purchased based on the information received by the solicitor
Execute the exchange of contracts
Execute completion
Discharge the mortgage
Send deeds and other documents to the buyer's solicitor




Our solicitors can help you with more than just standard conveyancing work. Please ask us if you need any help with any of the following:




Drafting a will - We can draft you a single will for £180 INC VAT (per will) and a mirror will for £299 INC VAT;
Deed of variation to a lease - This work is priced based on the based on what is being varied;
Lease Extension - We can help with a lease extension at a cost of £600 INC VAT for a section 42 notice and £720 INC VAT for the registration and reviewing of the new lease. Read more about lease extensions
Purchase the freehold - This work is priced based on the number of leaseholders so call for a bespoke quote. Read more about purchasing the freehold




If you would like us to undertake any of the above then we can help. Call us on 0333 344 3234 and we'll provide you with a quote for the additional work.
Frequently Asked Questions
Fixed fee conveyancing is as it sounds - your property lawyer firm presents you with a quote which is guaranteed to be what you pay on completion with no hidden extras.
You request a quote from them, giving them essential details such as whether you're buying a freehold or a leasehold; using a mortgage or buying with cash, how much the property you're buying - or selling - costs and whether you're using a scheme such as Help to Buy or Shared Ownership, and your quote is calculated using these - and possibly other - parameters.
As referred to, you need to research carefully what is covered within the quote, however the best price conveyancing quotes will provide for all the legal services you'll need to complete your purchase. Some firms might charge extra if you're using a gifted deposit as part of a purchase (our solicitors do not), but even in this case, the matter is covered from the outset and your charge is included within the quote you're offered.
Normally you pay a portion of your total bill upfront - your deposit - and you only have to pay the balance of your fees once you've completed.
The advantages are clear: you know how much you have to budget for from the outset and even if things are protracted or become complicated, you don't have to worry about your fees increasing.
For most services, solicitors charge 'on the clock', which means you have to pay them an hourly rate for their time. This is still the case when you take up an estimated conveyancing quote. There, the potential problem is that although your initial estimate might be lower than for a fixed price conveyancing, it never stays at this initial level as 'extras' are added on as your conveyancing continues.
If your conveyancing encounters any serious complications, such as exhaustive enquiries having to be made, your bill continues to rise, possibly to frightening levels.
So given the sheer number and magnitude of costs involved in buying or selling a home (or both), fixed price conveyancing fees allow you to cap one essential cost and defer having to pay in full for it until your move has completed.
A conveyancing quote should include, for the fee quoted, all legal work involved in your conveyancing and any standard disbursements.
Disbursements are funds paid to third parties on your behalf. In conveyancing terms, this includes, for example, payment of your land tax to HMRC or transferring your deposit funds to the otherside solicitor for payment to the seller or transferring your purchase funds to a receiving bank.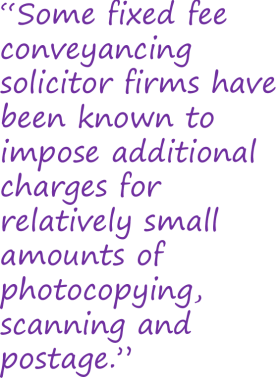 Are fixed conveyancing fees fully fixed?
A quote should be set from the outset to include all the legal services you'll need to complete your conveyancing should be included in your quote and you should end up paying exactly that figure and no more once your move has completed.
Your quote provider should have asked you about all the particular details that make up your particular conveyancing - let's say for example you want to exercise your Right to Buy your council house or buy a shared ownership property - and factored these to provide you with an all-in figure.
You should be aware, however, that conveyancing third party costs can vary. If you're selling a leasehold property, for example, you have to pay for a leasehold pack from your management company and this can vary greatly in price. Your quote never normally covers this kind of fee.
Searches are another common third party cost, however our solicitors can advise you on how much these cost from the outset as well.
From time to time, however, you might need to change the nature of your conveyancing or require a service which you didn't discuss when you first requested a quote. You might, for example, want an additional telegraphic transfer - perhaps to divert the proceeds of a sale to a third party - and you would then be charged a small additional fee.
This occurrence is likely to be very rare, however. The best solicitors for buying a home will ensure that, as much as possible, they've found out everything you'll reasonably require at the beginning and your quote will reflect that.
Here are some extra charges to watch out for that get added on top of online estimates:
One firm quoted £30 extra for an 'HMLR Electronic Application Fee'. What this firm is doing is charging clients £30 extra for updating the Land Registry online. While the LR must be updated and paid for by purchasers in all cases, it is cheaper to do it online than by post - by 50%. It is also relatively simple to do and a standard procedure. At the very least it should form part of the core legal fee quote.
Another quoted £20 extra twice for 'Telegraphic Transfer Fees' for both sale and purchase. These are a requirement in every purchase and nearly every sale. Why would the firm not simply include these charges in the core fee?
One firm had an item 'E Conveyancer fee' and charged £25 extra for it.
One firm charged £23 extra for a 'Lawyer Checker/Lender Monitor'. This is ostensibly to carry out due diligence on the otherside solicitor.
It is a moot point in most scenarios whether a lawyer would need to conduct this check on another professional and in many cases, they will already know either the firm they're dealing with or the conveyancing solicitor or both. Failing this, it's a very simple matter to investigate using the websites of either the Law Society or the Council of Licensed Conveyancers.
You no longer need to find a local solicitor near you to handle your conveyancing. Historically your estate agent would refer the local high street solicitor, however the lack of competition meant the cost was high.
Shopping online you can find a conveyancer to handle your sale or purchase for a fraction of the cost.
* The current market value of the property and the actual consideration you are paying maybe be different.
** The No Sale No fee does not cover auction, right to buy or concessionary (purchases at an undervalue) purchases.

Written by: Andrew Boast
Andrew started his career in 2000 working within conveyancing solicitor firms and grew hands on knowledge of a wide variety of conveyancing challenges and solutions. After helping in excess of 50,000 clients in his career, he uses all this experience within his article writing for SAM, mainstream
media
and his self published book
How to Buy a House Without Killing Anyone
.

Reviewed by: Caragh Bailey
Caragh is an excellent writer in her own right as well as an accomplished copy editor for both fiction and non-fiction books, news articles and editorials. She has written extensively for SAM for a variety of conveyancing, survey and mortgage related articles.