Coal Mining Search: often called a Coal & Brine Report or Coal Authority Report this is an additional, specialist property search which considers, by checking things such as coal authority mining records, whether the property you are looking to buy is likely to be affected by past or present coal and brine mine workings, particularly in terms of, but not restricted to, subsidence issues.
The recommendation to buy the coal mining search is normally flagged up within an
Environmental
or a
Local Authority Search
if you choose to buy these (cash buyer). If you are buying with a mortgage, your lender will require you to buy these two searches and, if a coal and mining hazard is mentioned there, your lender will require you to buy a coal mining search as well.
It's a very useful way, if you are buying a house in a mining area, to help find out if a property is affected by coal mining.
Additionally, your solicitor may well be aware that the property you are examining is in a mining risk area and require you to book a coal authority search for house purchase search and a lender might themselves make it a condition of granting you a mortgage.
Order your Coal Mining Search - just call 0333 344 3234.
*Fixed Fee – No Sale No Fee – On all Mortgage Lender Panels
What types of coal and brine mining and things associated are considered in a coal mining search?
The report considers:
Underground coal mining
Mine entries
Coal mining geology
Opencast coal mining
Coal mining subsidence
Mine gas
Hazards
Information from the Cheshire Brine Compensation District (simply notes whether the property is within the Compensation District area's limits)
For the mining activities themselves, the report lists past, present and any planned future activities. The information about future activities is more of an opinion but still usefully notes whether the area your property is located might be mined in the future.
The Coal Mining Subsidence section of the coal authority search notes whether there has been any claim for damages from any property due to mining-related subsidence within 50m of your property. Mine gas tells you whether there has been any noted emission of mine gases and the hazards section notes whether the property has been subject to any recorded remedial work.
Which areas of the country are most affected by coal and brine mining?
For coal mining areas, please see the map below. For brine mining, the main county which is affected is Cheshire. In fact, 'Wych' (which is Anglo-Saxon in origin) actually means Brine Town and can be observed as being part of the following towns' names, all of which are in Cheshire - Northwich, Middlewich and Nantwich.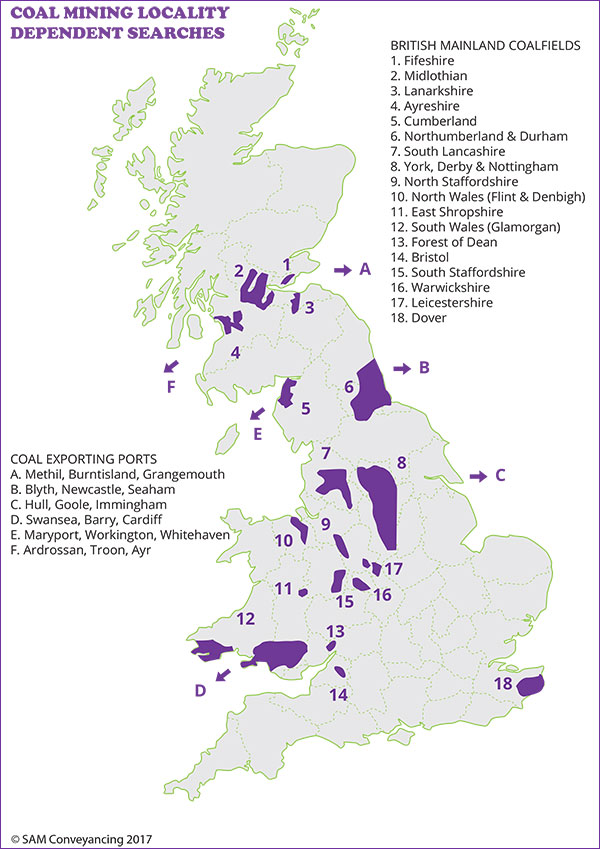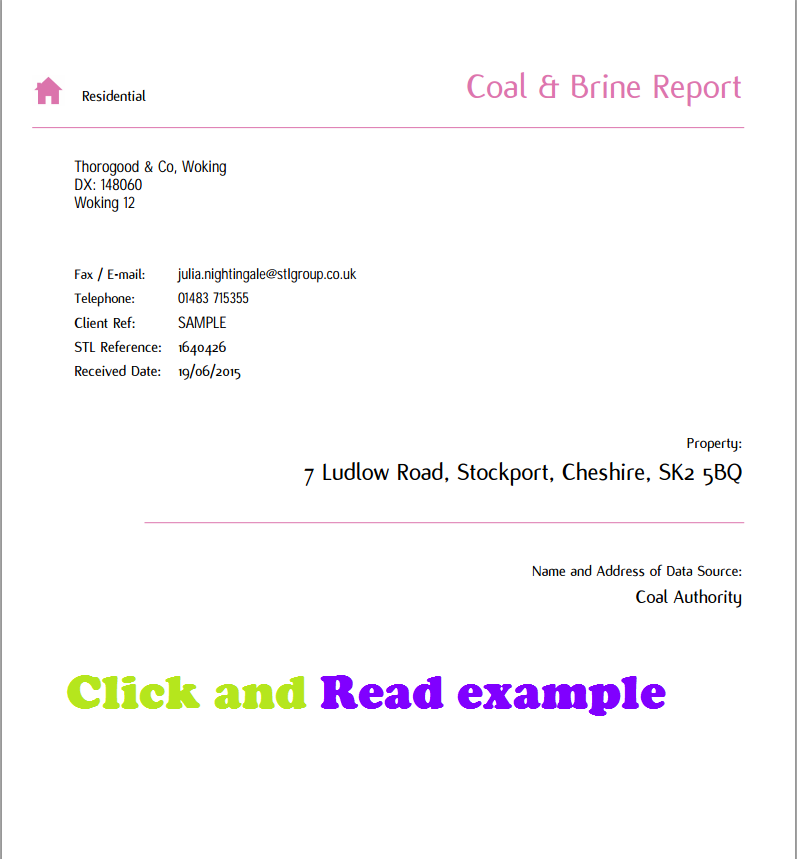 Who compiles the report?
A search company compiles the report and uses data provided by both the Coal Authority and the Cheshire Brine Board.
Why is it particularly useful?
Beyond providing you with information about potential or actual subsidence and other issues caused by present or past mining, the purchaser of the coal mining search is automatically insured to 'cover any loss in property value' caused by changes in information contained in the report received. The insurance only covers residential property for this particular search. There is a £50,000 limit on any claim.
Maps
There then follows two maps in the report, the first of which should show the property within a green circle representing the 250m limit to the report. The second map zooms in on the property itself, giving the boundary of the property itself, rather like a Title Plan.
This section must be checked to ensure that the search report is covering the right property.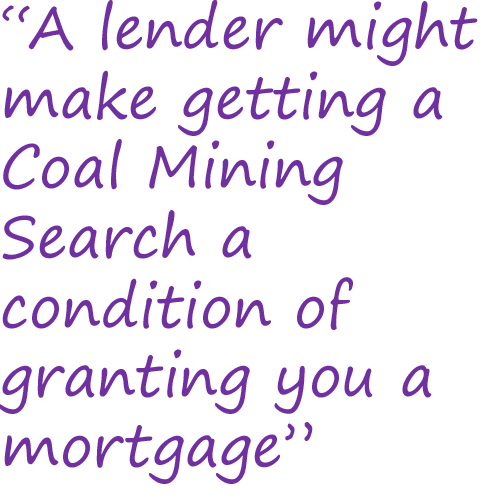 Policy Summary
This section expands on the insurance cover which the report sets up. It states, for example, that the cover is for the benefit of either the purchaser of a property and/or the lender involved or, in the case of a remortgage, that the cover is for the benefit of the owner.
As is the case with any insurance document, it is well worth examining some of the exclusions or conditions related to the policy; the most significant one, which is clear enough, is that commercial buildings are completely excluded from cover by this report - you need to get a specialist commercial coal mining search for insurance for commercial properties.
How can I get my Coal Mining Search (Coal & Brine Report)?
You can book this property search through us; just call 0333 344 3234 and speak to one of our experts.
*Fixed Fee – No Sale No Fee – On all Mortgage Lender Panels
Proud of our Reviews


322 Google Reviews FREE Online Conveyancing Process for Buyers
Includes online checklists, videos, downloads and tips - plus it is completely free to use from start to finish and saves your progress along the way.
Log in