Radon search: often called a radon risk report, this is an additional, specialist property search which considers whether the property you are looking to buy is located within a radon affected area.
Radon is a naturally occurring radioactive gas which you cannot see, smell or taste and comes from rocks and soil in many places throughout the UK, but in some more than others. It can cause lung cancer, particularly in smokers and ex-smokers.
The recommendation to buy this report is normally flagged up within an
Environmental
or a
Local Authority Search
if you choose to buy these (cash buyer). If you are buying with a mortgage, your lender will require you to buy these two searches and, if a radon hazard is mentioned there, your lender will require you to buy a radon search as well.
Additionally, your solicitor may well be aware that the property you are examining is in a radon risk area and require you to book this search and a lender might themselves make it a condition of granting you a mortgage. Read on to find out more.
*Fixed Fee – No Sale No Fee – On all Mortgage Lender Panels
Is your property in a radon affected area?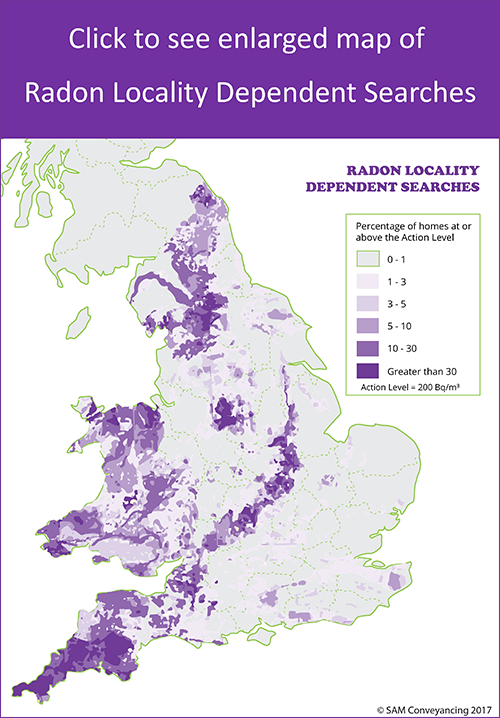 This is the first question considered by the report and if the answer is yes, then further action may be required.
The report gives an estimation of the probability that the property is above the action level for radon. The action level is the point where the volume of radon which may be present in buildings in the area might be a serious health risk.
Even with a 'yes' it is not necessarily the case that the property has a radon problem. The only way to be sure is to carry out a further individual radon measurement, which the Health Protection Agency recommends should be performed on any property found to be within a radon affected area.
What is the limit of the radon search?
The report states that the radon search is only valid for properties which are less than 25 metres.
Radon affected area? Ask the present owner about previous radon measurements
The report recommends that if the property in question is in a radon affected area then you should ask the owner if they have previously taken a radon measurement. If they have, then you should find out if results were above the radon action level. If so, then you should find out if remedial measures were installed and then if radon levels were subsequently retested and if the retest confirmed the effectiveness of the measures.
It is important to note that there is presently no public record of individual radon measurements: you can only obtain previous test results from the seller. Additionally, changes to a building or its use can significantly affect radon levels, particularly if they involve alterations to heating and ventilation.
Radon Bond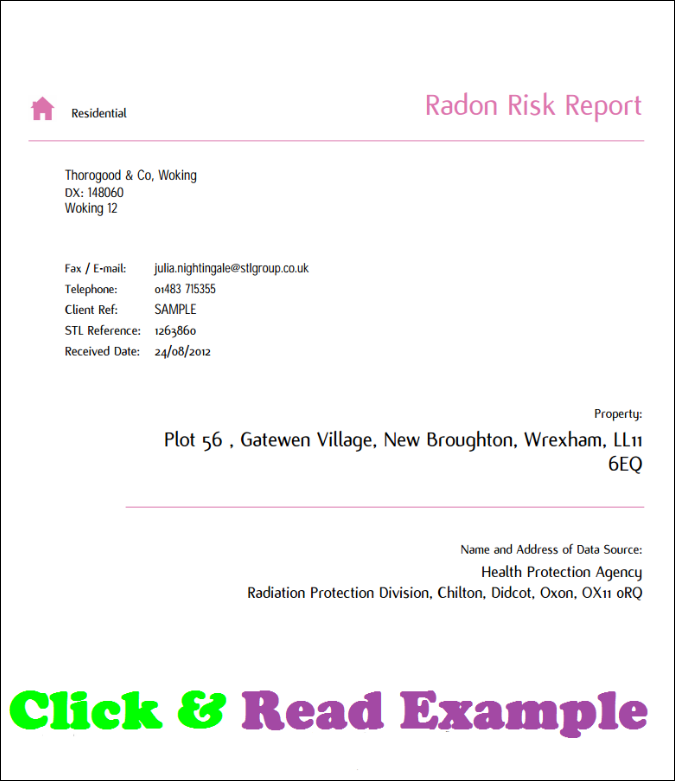 The report mentions an item known as a radon bond. This is a retained fund negotiated between the buyer and seller and allows for the purchase to go ahead without undue delay. Should radon reduction work be required then the purchaser is better protected whereas if the result is low then the seller does not lose sale proceeds. The agreement should allow enough time for the test to be completed and for any subsequent work required to be carried.
High results
The report finally states what is considered an action level of radon, i.e. one which carries a significant risk of causing lung cancer (200 Becquerels per cubic metre of air (Bq/m3). A test in a home which showed a reading above this level would mean formal advice would be given to lower the level.
If occupants are smokers or ex-smokers, then the target level reduces to 100 Bq/m3, because these groups are significantly more vulnerable to developing lung cancer. Formal advice would similarly be given concerning reducing the radon level.
How do I book an individual home radon test if the radon search recommends I get one?
You can order an individual home radon test by visiting
www.ukradon.org
 which is stated in the radon search.
How can I get my radon search (radon risk report)?
You can book this property search through us - just call 0333 344 3234 and speak to one of our experts.
*Fixed Fee – No Sale No Fee – On all Mortgage Lender Panels
Proud of our Reviews


322 Google Reviews FREE Online Conveyancing Process for Buyers
Includes online checklists, videos, downloads and tips - plus it is completely free to use from start to finish and saves your progress along the way.
Log in