Water and Drainage Search
Water and Drainage Search: this is one of the four main
property searches
which considers essential information relating to a property's access to water and drainage facilities.
Search companies compile data from the relevant water authority and the report is in the form of a number of essential questions with a summary answer to each, then later sections analyse in much greater depth each question asked. Maps of access to public sewerage and waterworks are provided.
If you are buying a property with a mortgage, lenders require you to buy this search and cash buyers, while not requiring it, are advised to get it for peace of mind. Surface water flooding has become a serious issue in recent times in England and Wales and so good access to drainage is highly important. Your conveyancing solicitor will read your water and drainage search and advise you if any matters of concern are flagged up.
NB Some lenders require buyers to order this search directly from the relevant water company and not a search company as a water company will have greater access to data. However, search companies are invariably insured for indemnity should a lack of data result in a disaster and a search company's water and drainage search is normally less expensive. Read on to find out what this search contains.
Book your water and drainage search – call 0333 344 3234
What questions form the water and drainage search?
Drainage
Answers to the initial questions are the most important and concern whether foul and surface water to the property are connected to a public sewer or not. Questions which follow concern, among other matters, whether there is a public sewer nearby, whether there is a charge for surface water drainage and whether there is a risk of internal flooding due to overflowing public sewers.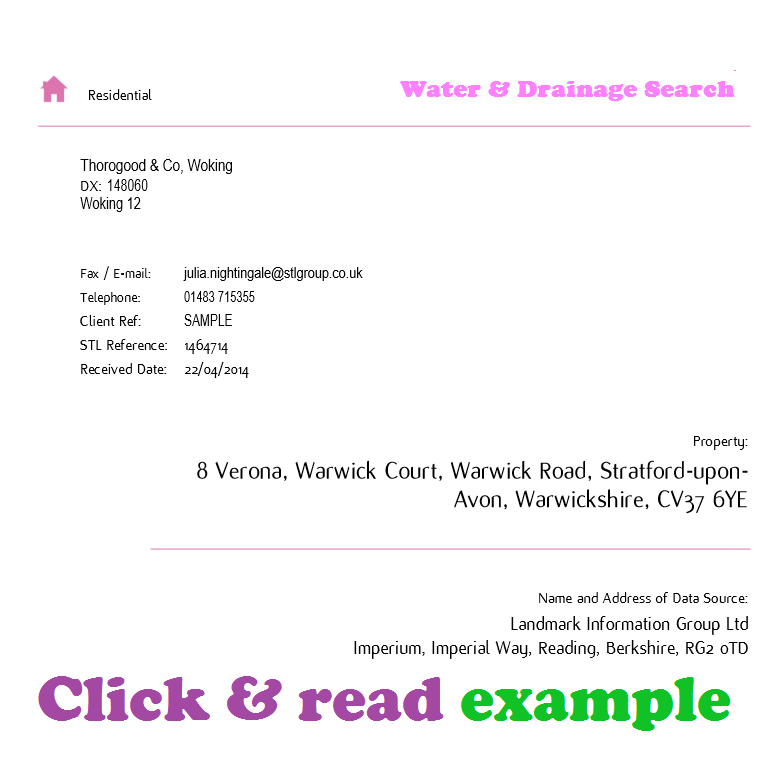 Water
The answer to the initial question is the most important one – whether the property is connected to a mains water supply. Of importance in the questions which follow are, for example, whether there is a risk of receiving low water pressure or flow or whether there is a water meter. The matter of water quality is also mentioned.
Charging
Questions in this section mainly concern naming the local authority responsible for billing a property's owners for water and sewerage services.
Why should I buy a water and drainage search as a cash buyer?
While you do not need to buy this search as a cash buyer, you will not only find out essential facts about your water supply and drainage but you will also find out if there are any risks from sewers overflowing or bad water quality.
If any risks are flagged up, your ability to buy insurance against flooding might be affected and you may well be advised to seek further information. The current owner of a property you are interested in buying may not know many of the facts considered in the report and may, for example, not be keen to speak about low water pressure which will affect your enjoyment of bathing etc.
How long does the water and drainage search take to come through?
This search is normally returned within 48 hours and sometimes within a few hours on the same day.
Book your water and drainage search: call 0333 344 3234
Proud of our Reviews


322 Google Reviews FREE Online Conveyancing Process for Buyers
Includes online checklists, videos, downloads and tips - plus it is completely free to use from start to finish and saves your progress along the way.
Log in