What is a Local Authority Search?
What is a Local Authority Search?
What is a local authority search? This is the most important of the four main property searches that lenders expect those buying a home with a mortgage to buy to examine potential threats that might affect the property.

The local authority search examines matters such as local land charges (including, for example, tree preservation orders) and details on planning applications relevant to the property, restrictions on permitted development, road schemes and contaminated land. All information is derived from the local authority.

There are two types of local authority search:
Personal Search
Official Local Authority Search
All information that you need for peace of mind is contained in the personal search, the only difference is that the personal search is written by search companies with information obtained from the relevant local authority. The official local authority search differs in that it is compiled directly BY the local authority. It is also more expensive.

NB Some lenders stipulate that you are only able to satisfy their conditions if you buy an official local authority search - see the following list. It must be noted also that this search, whether premium or official, takes the longest to send back making it worthwhile to book as early as possible in the process.
List of lenders who MAY insist on an official local authority search: Banks and Clients Plc, Buckinghamshire Building Society, DB UK Bank Ltd, Fleet Mortgages, GE Money Home Lending Ltd (has withdrawn from the UK mortgage market), Leek United Building Society, Loughborough Building Society, Mortgage Agency Services, Nedbank Private Wealth Ltd, New Street Mortgages, Paragon Mortgages Ltd, Paratus AMC Ltd, Parity Trust, Penrith Building Society, Pepper Homeloans, Platform (a trading name of The Co-Operative Bank Plc), Stafford Railway Building Society, State Bank of India UK.  (List updated for October 2016)
Click to see the List of Lenders who accept a Personal Search (List updated for October 2016)

Order your local authority search – call 0333 344 3234
What's in a Local Authority Search?
The main sections are:
A list of relevant entries in the Local Charges Register (includes e.g. tree preservation and smoke control orders)
Information on planning applications relevant to the property (granted or refused)
Building control history
Any enforcement action
Restrictions on permitted development
Nearby road schemes
Contaminated land
Radon gas information
You can ask additional questions relating to public rights of way, areas of outstanding beauty, pipeline and pollution notices, or town/village greens. This is called a Con29 Optional form or a "Con29o".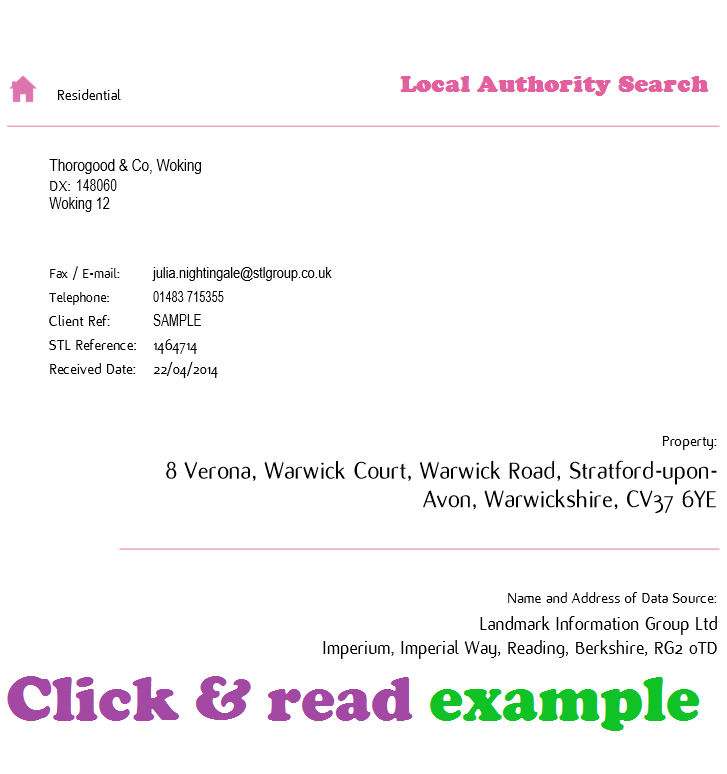 How is this detailed information presented
The initial section is headed 'information for conveyancers' – this makes it easy for your conveyancing solicitor to absorb the most important facts revealed. Then the information is examined in more depth and then there is a shorter summary section for you to read. Your conveyancing solicitor is able to examine the considerable detail further if it requires investigation.
This search takes the longest to return
and you can normally expect to wait between 10 and 14 days to receive it – this makes it very important to book early if you wish to give yourself the best chance of speeding up your conveyancing process.
Why is it so important?
Not only does the report examine issues, such as preservation and control orders, which if there are any, might seriously impact on your enjoyment of your property, but it also flags up other potential areas of concern which your conveyancing solicitor might advise you to investigate further. For example, subsidence, energy and infrastructure and radon issues may be indicated.
What if the information is incorrect?
If any of the information is found to be incorrect and this subsequently causes you loss or harm, all search companies and the local authorities have indemnity insurance for millions of pounds in case this happens.
Book your local authority search – call 0333 344 3234.

Welcome to SAM's guide to the Conveyancing Process
We have helped over 2,157 (September 2016) people move home so far this year using our 5 star rated conveyancing service.
Completion (moving in day)
Transfer your completion monies to your solicitor
Post-Completion (after you've moved in)
Update your addresses, change doctors and dentist, get on the electoral role
Your solicitor sends you registration documents 1 to 6 months after completion
Unpack, unwind and enjoy your new home!