What's in an Energy and Infrastructure Report?
Energy and Infrastructure developments listed and assessed
This headlining part of the report lists the following energy and infrastructure developments and assesses their chances of impacting your property either as 'IDENTIFIED' or 'NOT IDENTIFIED':
Oil and gas exploration including areas licensed for hydraulic fracturing (fracking);
Wind energy;
Solar energy;
Other renewable energy including the location of existing and proposed wind farms and wind turbines;
High Speed 2 (HS2) rail network;
Crossrail;
Yorkshire and Humber CCS pipeline
The local council from which the data came from is then listed, e.g. Three Rivers District Council.
The report then explains how to use it and, most importantly, explains that there will only be further detail regarding a particular development if an impact is listed as identified.
So if all the developments are listed as not identified, your report will be short and, in most cases, sweetly received!
'Alert Distances'
The 'Alert Distances' from each type of development are listed, i.e. the maximum distance from the property in which a development will be reported as identified.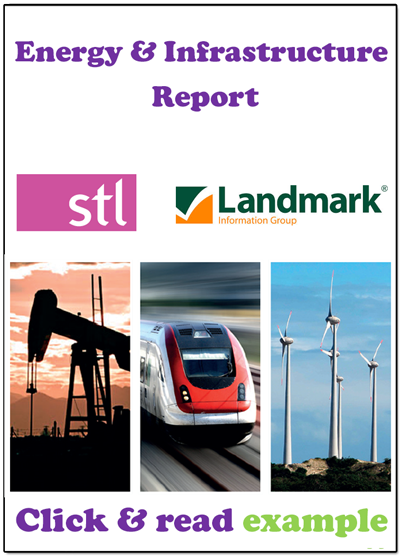 Broadly, the alert distances are 2km - 4km maximum for each development and are decided upon by independent expert guidance.
Recommendations
Depending on whether there are any developments identified, this section examines these further and gives appropriate recommendations to help minimise any negative impacts.
Maps of area assessed
The report gives a map each for both energy and infrastructure developments, centred on the location of the property under consideration, which shows any developments identified. On each there are two concentric circles which show the 2km and the 4km maximum radius in which any developments are noted.
How do you order an Energy and Infrastructure Report?
Call 0333 324 344 and pay for the Energy & Infrastructure Report*;
Report is emailed to you within 24 to 48 hours.
*terms and conditions apply.
The cost of an Energy & Infrastructure Report varies depending on the provider, however expect to pay between £29 to £50.
What other property searches can your order?
Flood Report;
Coal & Tin Mining;
Subsidence Report;
Planning Report;
Find out today if your home is at risk - Order your Energy and Infrastructure Report by calling 0333 344 3234 (local call charges apply) or email
help@samconveyancing.co.uk
*Fixed Fee – No Sale No Fee – On all Mortgage Lender Panels