What's in a Flood Risk Report?
✓

Flood Risk Assessment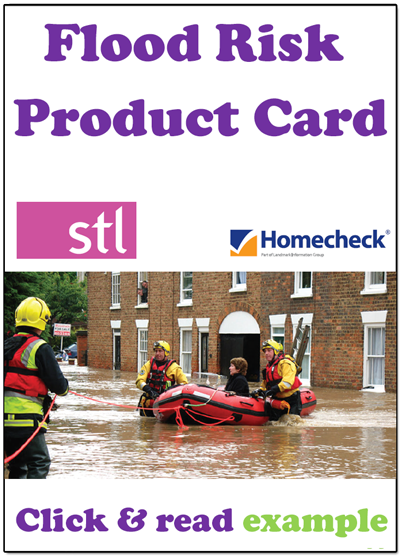 This is either 'Passed' or 'Failed'. This is the main point of the report!
The report then gives an overall flood risk rating for the property. There are four - negligible, low, moderate and high.

Depending on which of these ratings is given, there may be further explanation and, in particular, what type of flooding risk is most likely, for example, a risk of groundwater flooding. It directs the reader to the appropriate section which explains this further.
A graphic representation of these different types of flood risk, relating to the property, is then presented.
MOST IMPORTANT
Insurance Assessment. This gives a Yes or No opinion on whether you should be able to get buildings insurance for the property at standard terms
It is followed by recommendations which, according to the data, may suggest making further clarification of potential flood risk factors and practical steps to reduce consequences of any flood event.

It may, for example, suggest you/your conveyancing solicitor ask the vendor whether they are aware of any previous flooding at the property.
It also gives advice on whether you should obtain insurance terms before you exchange contracts.
✓

Summary of Findings

The assessment is broken down further in this section, and lists data about estimated chances of flooding during different time spans (the largest is 1/1000 years!).




There are four main flooding causes considered:
River
Coastal
Surface Water
Ground Water
Other factors examined are existence of floodplains, flood defences and and historic data.
✓

Flood Resistance and Resilience Measures

This section gives information about protective measures you can take to stop flood water entering a property and lists a number of items, with costs, which could be used for this purpose. It also gives additional general advice.



✓

Property location

This section gives a satellite photograph with your property at the centre, with a 25 metre radius circle - within which the maximum risks are considered - along with a 250 metre radius circle, which maps out the furthest extent that the report covers. It reassures you that the report is based, correctly, on the property you are interested in.



✓

Detailed breakdown of findings and specific advice

The sections which follow give more detailed data on the headline opinions given in the report, with detailed definitions of the different types of flooding risks. They give specific advice about what to do if your property is regarded as being at risk from specific types of flooding and also expand upon the insurance advice.




These are followed by smaller sections on limitations of the report and a list of contacts which includes the Environment Agency and the Flood Protection Association.



How much does a Flood Risk Report cost?
Flood Risk Reports cost £29 and normally take 24 hours to be emailed through to you.
Make sure your home is protected - Order your Flood Risk Report for £69 by calling 0333 344 3234
*Fixed Fee – No Sale No Fee – On all Mortgage Lender Panels