Day 2-21 - £400-£1,500 - Mortgage valuation deposit
One of the first jobs after you instruct your solicitor is to organise your mortgage valuation. A mortgage valuation is organised through your mortgage lender and they require it to confirm the current value of the property. You will have to use the surveyor instructed by the mortgage lender: you can't choose your own surveyor from the open market. The cost of mortgage valuations range from £400 to in excess of £1,000, however you can confirm this cost directly with your mortgage company. Read this article -
The 3 steps to getting a mortgage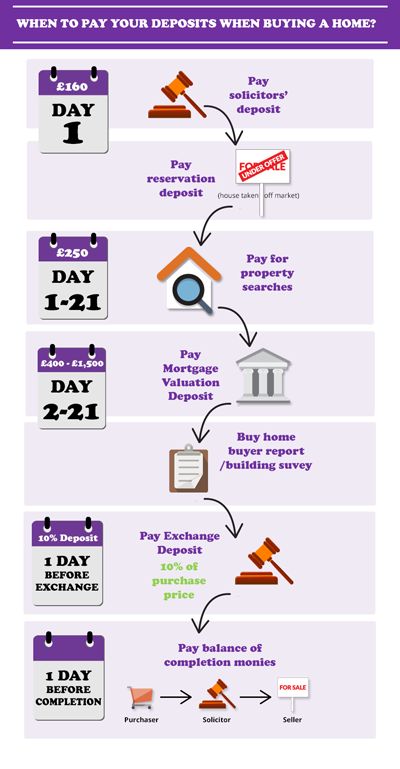 Day 2-21 - £400-£1,000 - HomeBuyer Report or Building Survey
You will need to get an independent surveyor to assess the structure and condition of your property. Often confused with the mortgage valuation, the HomeBuyer Report or Building Survey provides a detailed assessment of potential defects that the property may have. This type of survey should be undertaken by an independent RICS surveyor with relevant experience in the local area. Find out more about property surveys here -
HomeBuyer Report Vs Building Survey
1 Day Before Exchange - £10% of the purchase price - Exchange Deposit
Prior to exchange of contracts
you'll need to pay 10% of your purchase price to your solicitors' client account so that they can exchange contracts and then send on the house deposit to the seller. This is perhaps the most important answer to the question when do you pay your house deposit or perhaps, more pertinently, when do you pay your mortgage deposit, for this deposit is a compulsory part of eventually receiving the balance of your mortgage, which you use to buy your home. After you have exchanged contracts, you'll be
contractually bound
to purchase the property.
The money needs to be cleared (available) in your solicitors' client account before your solicitor can exchange contracts with the seller's solicitors.
TOP TIP

:

You can transfer up to £10,000 free each day using the Fast Payment payment system. You should time transferring the money to your solicitor so that if for example you need to pay £25,000 for the exchange deposit, you send £5,000 on one day, £10,000 on the next and then the balance the day after that. That way you won't incur bank transfer fees from you bank (make sure to speak to your bank and confirm you can send money by fast payment before you get close to

completion

).
We are often asked at the beginning of the conveyancing process to confirm exactly when exchange of contracts is likely to take place. The challenge is that although the conveyancing process follows a set path, there are a number of things that can happen along the way to slow the process down such as:
if you are getting a mortgage;
if the property is leasehold
how responsive the seller;
if there is a management company/freeholder; or
if you are buying using a gifted deposit.
Solicitors estimate an average time frame a freehold purchase is 8 weeks and a leasehold/share of freehold is 12 weeks. The more complex the conveyancing process and the more people involved, then the longer the time it will take to get to exchange of contracts. Click on the following link to find out more about -
Exchanging Contracts
1 Day Before Completion - Balance of completion monies
The day before you complete your purchase you'll need to pay the balance of your completion monies to your solicitor including:
There maybe some other costs that you need to pay when buying a property so make sure to get your completion statement sent to you by your solicitor. You can read more about all of the costs with detailed explanatory notes by clicking here -
Purchase Completion Statement Explained
.
Check your solicitor's bank account details by phone
It is essential that when you transfer any deposit to your solicitor, that you verbally check the bank details with another person within the solicitor's practice. This is additional protection against fraud.
See the full conveyancing process
Don't forget to download your FREE Pre-Exchange Checklist
When do you pay your deposit when buying a house?
From organising your buildings insurance to signing off on the seller's protocol forms, our checklist has everything covered so you don't miss anything.
Reduce the chance of missing something by downloading your FREE Pre-Exchange Checklist - Created by Solicitors