There are 2 types of property:
A leasehold is in effect a long-term rental; you don't own the land and the freeholder (the landlord) has set out in your lease restrictions and obligations that both the leasehold and freeholder must adhere to. For example, one restriction is to prohibit you from
keeping pets in your property
. Flats and maisonettes in the UK (except Scotland) are predominantly owned leasehold.
Is a Share of Freehold a Freehold?
In the article below we look further into:
Why is a leasehold different to a freehold?
What types of property are leasehold?
What is the issue with buying a leasehold house?
How many years does a leasehold have?
What is a Good Leasehold?
What is an Absolute Leasehold?
What are the disadvantages of buying a leasehold property?

What control does a leaseholder have over their service charges?
Can a leaseholder buy their freehold?
When buying a leasehold property you need to get the support of a conveyancing solciitor experienced with leases. Our solicitors can handle any type of leasehold regardless of complexity and work to a competitive fixed fee protected with a
No Sale No Fee
.
* Fixed Fee – No Sale No Fee – On all Major Lender Panels
Why is a leasehold different to a freehold?
You have a lease to use a specific area/s in the property with access through communal areas;
You have a set number of years in your lease and when this expires the lease falls away and you have to leave (read more about extending your lease);
There are restrictions for the use of your leasehold property (for example, no developments without consent); and
You pay ground rent and service charges.
What types of property are leasehold?
These are examples of different types of leasehold:
What is the issue of buying a leasehold house?
How many years does a leasehold have?
A lease can be any length from 1 to 999 years. There are terms used for certain lease lengths which are:
If you have a lease that has an unexpired lease term of 80 years or lease, you are most likely going to look to
extend your lease
.
A step by step guide to complete a formal lease extension.
Where to look for your lease term in your lease?
Within every lease there is a clause such as"..."Term" means the term of years hereby demised being the term of 999 years from and including the Commencement Date..."
What is a Good Leasehold?
A good leasehold occurs where a leaseholder registers their property without being given evidence of the freeholder's title deeds. The issue here is that the leaseholder is taking a chance that the freeholder is the owner of the land. You may not be able to get a mortgage when buying a good leasehold due to the challenge if the freeholder is not in fact the owner of the land.
What is an Absolute Leasehold?
An absolute leasehold is a guarantee that the lease is valid and the leaseholder is the owner of the lease. It is granted the freeholder is registered as the land owner at the Land Registry.
What are the disadvantages of buying a leasehold?
You have to pay ground rent, service charges, make payments towards a sinking fund etc.. There are a number of variable costs you have to budget towards, in addition to repaying any mortgage you have taken out to pay for your leasehold.
When the lease term expires, ownership of the property reverts to the freeholder. The longer you are into your lease, the less valuable your property becomes. You have a choice to extend your lease - which involves considerable expense - but you must exercise this within set time frames.
Your lease may be subject to restrictive covenants - You may find, for example, that you are prohibited from keeping pets in your leasehold flat.
What control do you have over service charges?
Freeholders impose
service charges
on leaseholders mostly to pay for the provision and maintenance of communal property and services such as electricity bills, communal gardens, lifts and roofs.
Leaseholders normally additionally have to pay into a sinking fund to cover unexpected maintenance work in the future, for example leaking roofs, broken lifts etc.
You have the legal right, as a leaseholder, to request from your freeholder/landlord:
A summary of what the service charges are being spent on;
The methodology behind any calculations; and
Paperwork supporting the charges, for example receipts for ongoing or completed work.
Your landlord must also consult you about planned work in these circumstances:
If any work is set to cost more than £250;
If any work is set to take more than a year to complete; and
If any work is set to cost you more than £100 per year.
You are responsible for the repair and maintenance of your own property, but you should consult your landlord before you decide to carry out any major project – the terms of your lease may well legally require this.
What other costs are a leaseholder liable for?
Yes. These normally include:
ground rent;
buildings insurance (arranged by the landlord); and
administration charges.
When buying a leasehold property, you need to find out about all the ongoing charges you'll be expected to pay out for to see if you can afford them.
Can you take over the management of your block with other leaseholders?
Yes the leaseholders can take over the management of the freehold and this is enshrined in law under the term the
Right to Manage
.
You don't have to prove that your landlord has badly managed the upkeep of your block but you do need to qualify and set up a management company with the other leaseholders to carry out the ongoing maintenance work. You can also apply to appoint a new manager rather than take over the management of the block but you must prove bad management. You do this via the First-Tier Tribunal, mentioned above.
Does your lease end in less than 70 years? Beware!
Lenders normally only grant mortgages to purchase leasehold properties with remaining terms of more than 70 years. They expect you to have a lease term of 25 years and upwards AFTER you've paid off a 25-year mortgage. As stated, the shorter a lease becomes, the less valuable it is and the harder to sell. This is also why you cannot generally get a second mortgage on a property with a remaining lease of less than 70 years or any other loan secured on the property itself.
Can leaseholders buy their freehold?
Proud of our Reviews


322 Google Reviews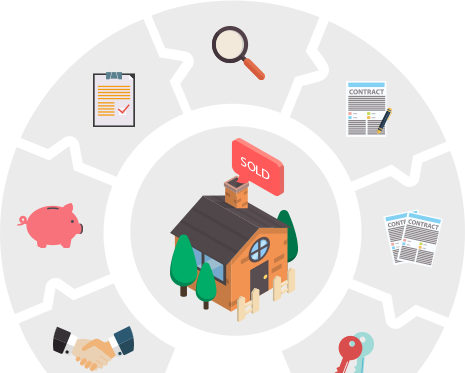 FREE Online Conveyancing Process for Buyers
Includes online checklists, videos, downloads and tips - plus it is completely free to use from start to finish and saves your progress along the way.
Log in