1

What counts as an obstruction of your Right to Light?
If constructors create a new building which limits the amount of light coming through one of your windows and the level of light falls below the accepted level (see above), then this constitutes an obstruction.
You have the option of taking legal action against the building owner unless you choose to waive your rights.
Any kind of 'development' might potentially block the light coming into your home.
Some examples include:
a neighbour's new shed
garden walls
extensions
part of a new housing or development.
If your right to light hasn't been taken into account by a property developer, you might be entitled to claim compensation by way of remedy or to negotiate changes to the development which safeguard your light.
Extensions - a common cause of Right to Light disputes
An examination of the relevant information in a local authority online planning portal regarding extensions- and these items of guidance and rules are applicable for all councils in England and Wales - gives the following information:
Your extension should not result in a significant loss of privacy, daylight or sunlight to neighbouring properties, or be visually overbearing when viewed from adjoining houses.
The use of side windows in extensions adjacent to boundaries should be avoided, as a view across adjacent land/gardens, or adequate light, cannot be assumed.
The majority of houses have their main windows facing front and back. An extension built close to the boundary with a neighbouring property may therefore reduce daylight and sunlight to the windows of that house, together with the outlook from these rooms. Extensions should not, therefore, be so large as to create a claustrophobic effect or cause a significant amount of visual intrusion and loss of light to neighbouring properties.
The Council has adopted the Building Research Establishment guidance on site layout planning for daylight, and extensions should comply with the 45 degree test.
The trouble is that homeowners often employ a local building firm to carry out their extension plans without knowing that a development could affect their neighbours' rights to light. They rarely employ a right to light specialist and the next thing they know, they receive a letter from a neighbour's solicitor.
Most commonly problems arise when a neighbour has a window to the side of their house to which the light is blocked by a high wall.
Regarding rear extensions, including conservatories or orangeries, according to Government guidance, these shouldn't materially alter the existing levels of sunlight, privacy and daylight to adjoining properties.
What is the 45 Degree Test?
You take the elevation of the wall in which the neighbour's window is placed and draw diagonally down at an angle of 45 degrees away from the near top corner of the extension;
You then take the plan and draw diagonally back at an angle of 45o towards the window wall from the end of the extension;
If the centre of the main window of the next door property lies on the extension side of both these 45 degree lines, then the extension may well cause a significant reduction in the light received by the window.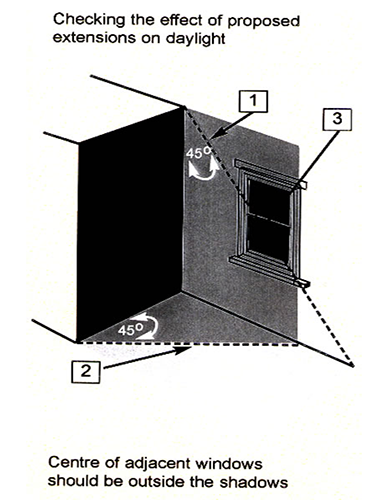 2

What can you do if your Right to Light is disrupted?
Irrespective of whether planning permission has been granted, depending on how bad the issue is, if construction goes ahead on a building development then you can go to court to complain about the infringement of your right to light.
If the court finds in your favour, it can either:
Award you compensation; and/or
Cut back the offending part of the development
In extremis, the court can issue an injunction stopping the development altogether.
A court, however, is unlikely to grant an injunction against a developer in cases where a small financial payment can be made as compensation – especially for minor matters or late applications.
The downside is that going to court is likely to be very expensive for you, particularly if you're seeking such an injunction.
3

How can a RICS surveyor help you if you feel your Right to Light has been disrupted?
Some RICS members specialise in right to light work and, most importantly, they may be able to resolve matters without you having to go to court.
If the development is still at the planning stage, your RICS adviser can estimate the amount of light that is likely to be lost as a result of the new structure. They can then make a visual assessment and advise you on whether you're likely to succeed with a court case.
RICS firms often use 3-D modelling software to work out how the existing light will be affected by any proposed change in the way light enters the building. By working out the amount of light left, it's possible to estimate how much compensation you might be paid.
RICS firms can also take you down the route of dispute resolution with your neighbour/s where appropriate, and this may be worth considering if the alternative is an expensive court case.
4

Can you take action regarding an existing structure affecting your Right to Light?
Yes. Even after a development has been completed, a court can order that it is altered to minimise any infringement on your right to light. However, as before, you should be aware that going to court can become very expensive very quickly.