2

What happens if you still can't agree after surveyor negotiations?
As we've seen above, the law allows for 6 months of negotiations between you and your freeholder after the date stated in part 10 of the Section 45 Counter Notice before your Section 45 claim becomes invalid. 
However, both you and your freeholder have the right to make an application to the First-tier Tribunal (Property Chamber) which makes a final binding ruling on the premium you'll have to pay and the terms of your lease extension (which will always result in a 90-year extension onto your existing lease term and a 'peppercorn' ground rent i.e. zero). You should look to start the process no later than month 5 after the counter notice date because you cannot make an application after 6 months.
It is very common to make an application to the Tribunal however very few cases are ever heard as they settle before the trial date because:
Both your and your freeholder's total costs in the whole matter will rise considerably. You yourself will have to pay for:


Solicitor representation regarding preparing your case for the tribunal, including investigating your case and title documentation etc. (this may exceed £1,000+
Tribunal application fee (£100)
Tribunal hearing fee (if required) (£200)
Solicitor/barrister representation at the Tribunal (if required) (£300 - £500/hour excluding VAT)
ID and Land Registry Fees (£45)

Your freeholder will have to pay for their own legal representation regarding the tribunal. Even though this might work out to be less than your costs, it will be a serious 'step up' in terms of their costs. That in part is why many cases don't proceed as far as the actual hearing.
Invariably it will be down to you whether to apply to the tribunal, it isn't normally a freeholder's decision to do so.
Having a professional RICS valuation done in the first place is particularly important should you have to progress to this stage because any sort of online valuation or 'guestimate' is not likely to be taken seriously.
Neither you nor your freeholder are awarded costs alongside the tribunal's final ruling: you must bear this in mind before considering taking the tribunal step.
3

What should you do if your landlord makes no Counter-Offer/ignores your notice?
"Where the tenant's notice has been given in accordance with section 42 but—
the landlord has failed to give the tenant a counter-notice in accordance with section 45(1), or
if required to give a further counter-notice to the tenant by or by virtue of section 46(4) or section 47(4) or (5), the landlord has failed to comply with that requirement, the court may, on the application of the tenant, make an order determining, in accordance with the proposals contained in the tenant's notice, the terms of acquisition."
Should your landlord/freeholder not respond to your Section 42 Tenant's Notice by the date specified (normally 2 months and a day after your notice's date), in strict legal terms you are entitled to a lease extension for the premium you've stated in accordance with the terms of your notice.
In such cases, once the time limit has elapsed your solicitor then writes write to your freeholder's solicitor requesting the draft lease based on the Section 42 terms. If the freeholder's solicitor agrees with this, which is not likely, then they will issue the draft lease and the lease extension work can progress to completion.
However, if they don't respond or disagree with the request, you now have the right to apply to court for a Vesting Order and this must be done within 6 months of the date on which the Counter-Notice should have been received.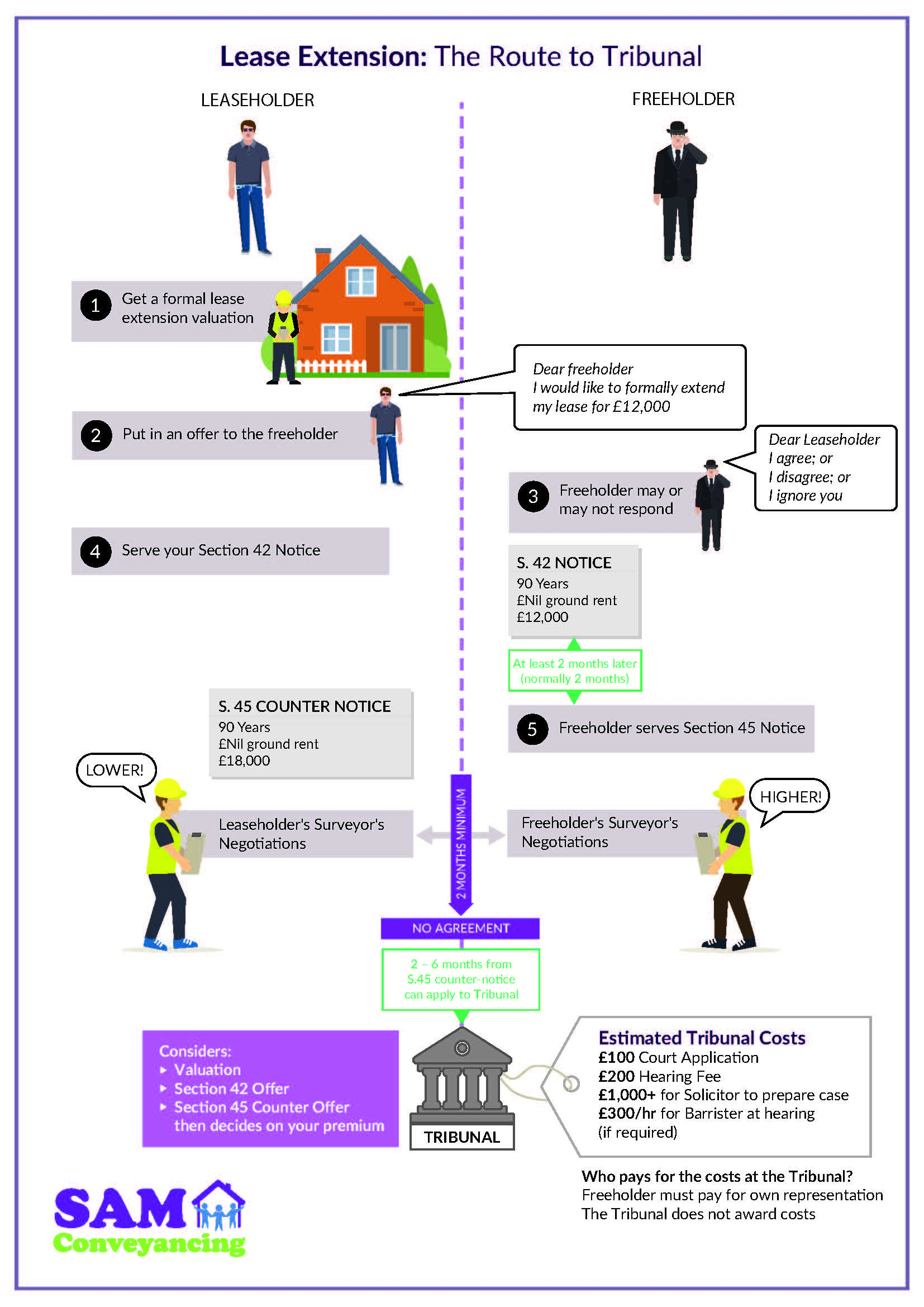 Similar to the First-tier Tribunal (Property Chamber) mentioned above, you'll have considerable costs to pay:


Solicitor fees for any further dealings with your landlord, preparing your case for court and finally completing and registering the new lease (£1,000s)
Court Fee (c. £350)
Barrister fees (can be anything from c. £800 to £1,000s depending on how contested the case is)
ID fees, Priority and Bankruptcy Searches, Land Registry Fees (£50+)

Vesting Order applications are generally successful however, and costs are awarded unlike the case for the First-tier Tribunal, which can be deducted from your premium. Often also the premium set will be less than the one you stated in your Section 42 Notice.
Can't agree your lease extension premium with freeholder? No response to your S42 Notice?
Our expert property lawyers and RICS surveyors can help you resolve your formal lease extension negotiations, from expert lease extension valuer representation to lease extension conveyancing to taking a case to the First-tier Property Tribunal if required. Great rates.
* Lease Extension Solicitors – RICS Lease Extension Valuers – Experts in First-tier Property Tribunal cases/Vesting Order cases