Why do I need Chancel Repair Liability Insurance?
Chancel liability is an unknown risk that doesn't appear on the title deeds to your property. Whilst there have not been a large number of cases where the church looks to enforce the repair obligations onto land owners, the cost if they did is considerable and when balance against the cost of getting insurance, buyers often feel getting this protection to be the safer option.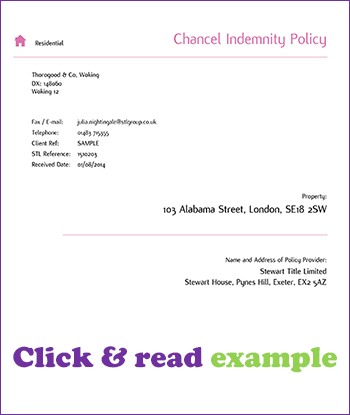 Why don't I just get a Chancel Repair Liability Search?
Getting chancel repair liability insurance saves you possibly having to pay twice. If you buy a chancel repair liability search, you may be lucky and find that you the property does not have a liability to contribute to repairs. The cost, depending on who you go to, is similar, if not more, than the chancel indemnity insurance, so if the property is at risk the cost is twice the price of just getting the indemnity insurance.
What is covered within the indemnity insurance?
The terms of each policy differ so you should inspect your own indemnity policy, however here is an example of what is covered:
In the event of a Parochial Church Council or the Representative Body of the Church of Wales claiming to be entitled to and demanding payment towards the cost of repair to a church chancel directly arising from the Defect ("Claim") the Insurer will indemnify the Insured against:
Any payment (including costs and expenses) awarded against the Insured in any proceedings brought against the Insured or agreed in any voluntary settlement or compromise of a Claim with the prior written consent of the Insurer
All other costs and expenses incurred by the Insured with the prior written consent of the Insurer including the costs of the Insurer in defending or settling the Claim on the Insured's behalf
Is chancel repair insurance a one off payment?
The buyer pays for the chancel repair insurance before they purchase the property. It is a one off payment and covers the named buyers in the policy for the duration of their ownership of the property. It isn't renewed each year.
How much am I covered for?
Insurance policies typically cover you for £1,000,000 which provides sufficient cover against most conceivable claims.
Who provides the cover?
CLS and Stewart Title offer chancel indemnity
Is it worth getting even if I am a cash buyer?
Yes – even though there is no requirement to get it, not to do so might potentially put you at risk of an unexpected bill for as much as hundreds of £1,000s; buying insurance is great for peace of mind!
How long does it take to get Chancel Liability Indemnity Insurance?
It is normally returned and ready within 24 hours, sometimes within a few hours on the same day.
Get Chancel Repair Liability Insurance – call 0333 344 3234
*Fixed Fee – No Sale No Fee – On all Mortgage Lender Panels