Why do I need Chancel Repair Liability Insurance?
If you are buying a property with a mortgage, invariably a lender will require you to buy it or conduct a chancel repair liability search.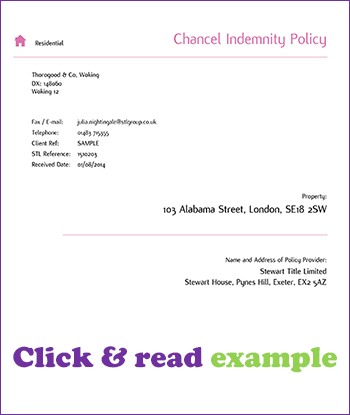 Why don't I just get a Chancel Repair Liability Search?
Getting chancel repair liability insurance saves you possibly having to pay twice. If you buy a chancel repair liability search, you may be lucky and find that you are not liable to pay it in the parish where your property is located. If you are not so lucky, you will then be expected to take out insurance against any future claims by a local church and insurance may be more expensive to get because of this knowledge. Taking out the insurance covers all bases.
How much am I covered for?
Insurance policies typically cover you for £1,000,000 which provides sufficient cover against most conceivable claims.
Who provides the cover?
Property search companies organise cover with insurers on your behalf.
Is it worth getting even if I am a cash buyer?
Yes – even though there is no requirement to get it, not to do so might potentially put you at risk of an unexpected bill for as much as hundreds of £1,000s; buying insurance is great for peace of mind!
How long does it take to get Chancel Liability Indemnity Insurance?
It is normally returned and ready within 48 hours, sometimes within a few hours on the same day.
Get Chancel Repair Liability Insurance – call 0333 344 3234
*Fixed Fee – No Sale No Fee – On all Mortgage Lender Panels