First Time Buyers Homeless after Handing Notice to Landlord
First time buyers are finding themselves homeless after handing in their notice on their flat before they
exchange contracts
on their new home. However with the draw of not paying for both rent and a mortgage, plus having a shorter period between exchange and completion, first time buyers are risking not exchanging by the time their notice to their landlord expires.
Judging when to hand in your notice to your landlord isn't an exact science and if you ask your solicitor they'll always advise you to wait until you have exchanged. Sadly though some notice periods can be as long as 2 months, and with a standard conveyancing purchase taking around 2 months to complete, waiting for exchange to hand in your notice could double the time it takes to complete your purchase.
You may think that 4 months sounds ok and you'll be happy to wait, however the estate agent and seller may feel differently and you could find they apply pressure on you in order to get the completion through faster and for you to hand in your notice before exchange. The pressure that can be exerted could be as strong as to scare you into thinking there is another offer that can complete quicker or that there is a cash buyer.
It can be scary as a first time buyer being told that you are going to lose the property if you don't complete quicker so you can see why first time buyers would feel they should hand in the notice to their landlord earlier so they can complete quicker.
Read on to find out when you should hand in your notice to your landlord.
Get a Conveyancing Quote*
*Fixed Fee – No Sale No Fee – On all Mortgage Lender Panels
Why wait until exchange of contracts?
The legal process of buying a home (conveyancing) in England and Wales is different from other countries. In other countries a buyer is legally bound to buy a property at the point they put in an offer and will face financial penalties for pulling out (with some caveats); however in England and Wales anyone can pull out at any point up until the point exchange of contracts.
Exchange of contracts is a critical part of the conveyancing process (
see the full conveyancing process
) and it is the point where the buyer's solicitor has satisfied their legal enquiries over the title and the buyer and seller agree to sell to each other. After contracts have been exchanged either buyer or seller can pull out, however they will incur substantial financial losses for doing; the worst of these is the 10% of the purchase price of the property that will have to be paid.
With such a focus on exchange of contracts you can see why buyers will be nervous about handing in their notice prior to having the guarantee of exchange.
What happens if your notice expires and you haven't exchanged contracts?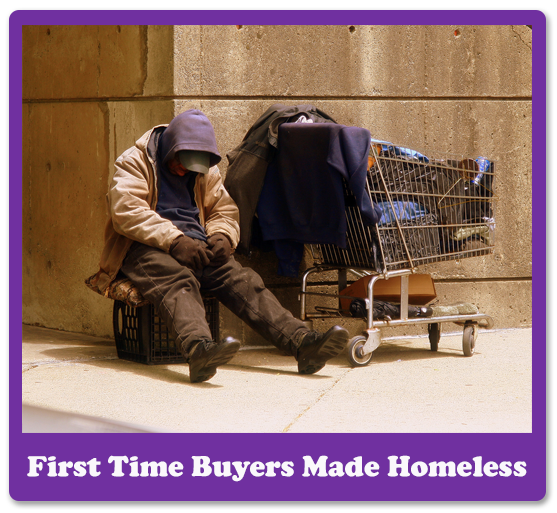 Having your notice period expire and being forced to leave your rental and having no place to go to must be a first time buyer's worst nightmare. The solutions are limited and you should seek guidance from your solicitor to find out a realistic time frame as to when you'll be likely to exchange.
Short term Solution (less than a month)
Agree to extend your notice – This is normally the easiest option and most landlords will be happy to allow you to extend your notice period. You'll most likely be allowed to extend for another month and will be asked to pay for this month up front.
Move in with family or friends – For some this maybe an option and probably an experience neither you or the kind family or friend will want to last for a long time.
Long term Solution (1 month or more)
Agree to a new tenancy term – If exchange of contracts is not going to be viable for a considerable period of time then it would make sense to agree a new tenancy agreement with your landlord for 3 to 6 months with a 1 month notice period. This will give you greater security in knowing you have somewhere to live whilst your solicitor handles the complexities of the conveyancing.
What if your landlord won't extend the notice
The worst case scenario would be if your landlord won't extend your notice and you don't have any family or friends to live with. Under these circumstances you would need to take immediate action to speak to the local housing office at the council or start looking for a new short term rental. 
The landlord will need to follow a strict eviction process that can take months to enforce and can often require a judge to enforce the eviction. It is important to note that the landlord cannot simply physically remove you from the property at the end of your notice and this is why the laws regarding Landlord & Tenant are viewed by some as being very favourable towards the tenant.
If you are currently going through the eviction process and are still living in the property then it is important to keep on paying your rent on time, keep communicating with your landlord/court as to your circumstances and keep actively looking for a new place to live. Hopefully in the months it takes to evict you, either the conveyancing will be at a point where you can move into your new home or you'll have found a new place to live.
If you are currently being evicted you should immediately seek professional legal advice from a solicitor. 
When should you hand in your notice to your landlord
The best advice is to speak to your solicitor and get them to confirm a realistic date for when exchange will take place and then look to hand in your notice as close to this date as possible. Remember, your solicitor will always advise you to hand in your notice after exchange so don't look to ask them if you should do it beforehand.
For many first time buyers the draw of handing in their notice prior to exchange of contracts will be too great and they are prepared to take the risk of being made homeless. 
Get a Conveyancing Quote*
*Fixed Fee – No Sale No Fee – On all Mortgage Lender Panels
Proud of our Reviews


322 Google Reviews FREE Online Conveyancing Process for Buyers
Includes online checklists, videos, downloads and tips - plus it is completely free to use from start to finish and saves your progress along the way.
Log in