House Viewing Checklist Part 1: Do your homework first!
Our house viewing checklist is a
7 part series
to help buyers from choosing the right property to getting their offer accepted.
Click to jump to any stage of our House Viewing Checklist guide:
This first - and arguably most critical - part of the series stresses the importance of finding out as much information as you can before visiting a property using the Internet. Not to do so means you might waste time during a viewing asking questions you could already have found answers to.
Need any help or guidance? Please call us on 0333 344 3234 (local call charges apply)
*Fixed Fee – No Sale No Fee – On all Mortgage Lender Panels
General guidance
You should:
View a property at least 3 times and at different times of day to get an idea how busy or noisy a location is. This becomes even more important if you have, or are planning on having, children.
Spend 15 to 30 minutes looking around a property each time. You should also spend time walking around the surrounding area. You not only need time to check out a property but also to get a feel for the locale.
Use your nose as well as your eyes for detecting signs of damp.
Not let 'falling in love' with a property cloud your judgment during a viewing. Buying a house is a very expensive thing for most people: you are viewing to ensure that should you purchase, it will be money well spent.
Use the internet before you view any property
You can find out many facts you will want to know about an area your property is located in - and the property itself - by using the internet. SAM Conveyancing is mapping out many areas of the country for this purpose - here is an example, for Bracknell, of facts we've mustered to assist a
house viewing checklist
.
Interested in a particular property? What is its current market value?
Before starting any negotiation you should research property prices in the area where you are buying. Prior to online search engines this would have been more difficult, however nowadays Rightmove and Zoopla offer market information linked to all their property listings. You can search for: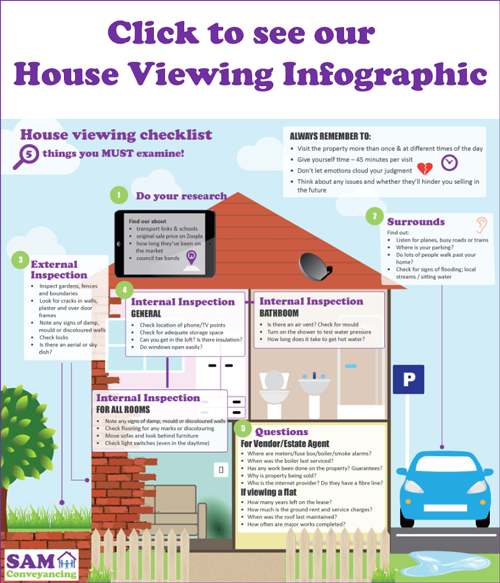 Completed property sales
This is where you can get the most accurate data about what your property is worth. You need to look for properties on your street, with the same amount of floor space, bedrooms and bathrooms. Where properties differ in size this can become more difficult because more bedrooms and bathrooms will mean a higher purchase price.
You should also be careful not to compare property prices for properties not on your street. A street in itself could add £10,000s to the purchase price (remember - location, location, location).
In an ideal world there'll be a property that has completed over the last 6 to 12 months and it'll compare with a 5-10% increase for your property's current market value.
Where there is a comparable house but it was sold over 12 months ago, then you need to check on the Land Registry to see how much house prices have gone up in your area over the last year (or however old the last property sold is). The Land Registry has a great tool for this and you can such comparable years and months going back to 1996. Click here to go to the
Land Registry Property Price Checker
.
Under offer
You can check under offer properties however don't rely on this data. These properties haven't completed and the online property portals don't update their current offer prices so the advertised price could be £250,000, but the accepted house price could be £230,000.
For Sale
Looking at other properties for sale is not an indication of what your property is currently worth. Asking prices are not always met and the fact that the seller is asking for this amount of money, doesn't mean this is what the property will finally sell for.
Other Matters For Research
Council Tax Rates
You can quickly find out which local council is responsible for the council tax and the charge that you would have to pay if living in the property.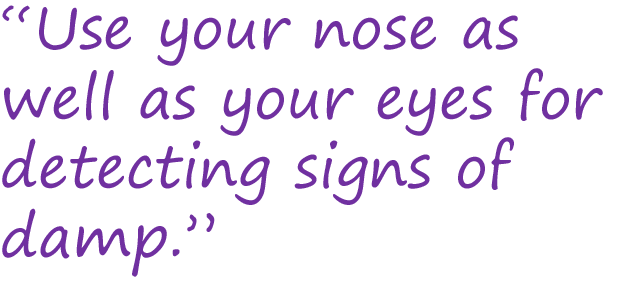 Transport links
You will want to know how to get from the property to work, to your friends, to local towns etc. and using different forms of transport.
Local shops and amenities
You will want to know about local shops and services, where they are and their opening and closing times.
You can not only find this information out online but there's also normally many reviews if you wish to compare outlets.
You can also find out about larger shopping centres.
Schools
You can find out about what schools are in your property's vicinity, how far they are from your property and information about their reputations.
For many buyers with children, schools are a decisive factor regarding a purchase.
Entertainment
You may want to find out if particular forms of entertainment or recreation are locally available. You can not only find out if, for example, your local high street has an Italian restaurant but you can also see if it has positive reviews!
This is particularly important to do if you have a 'niche' interest, such as you like climbing on a 100 foot high climbing wall.
Part 2 of our House Viewing Checklist series examines what information you can get from a viewing even before you look at the property itself...
*Fixed Fee – No Sale No Fee – On all Mortgage Lender Panels FREE Online Conveyancing Process For Buyers
Our conveyancing process area includes:
online checklists
videos
free downloads
useful tips
It is completely free to use - from start to finish - and saves your progress along the way.