What is wet rot?
Wet rot occurs more frequently than dry rot but is less serious. It typically only causes decay where timber has become and remains wet.
Signs
Distortion, discolouration, softness and cracking
Loss of strength in the timber
Visible fungal growth may be seen
There may be a damp, musty smell
What is dry rot?
This is caused by serpula lacrymans and is the most serious form of fungal decay in a building. It can spread onto and destroy much of the timber.
Signs
Distinct mushroom smell
White fungal growth with yellow and lilac tinges
Deep cracks appear within the wood
Both soft and hardwoods can be damaged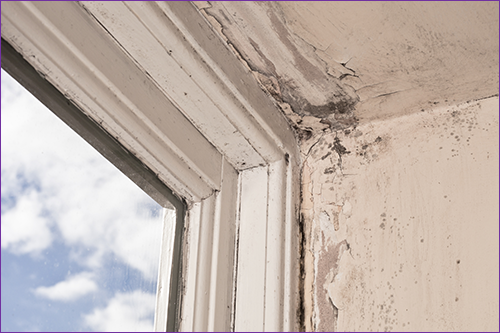 How much can dry and wet rot cost to remedy?
You need to hire a damp and timber specialist surveyor and, depending on the dry and wet rot treatment needed, the cost can be anything from £200 to more than £3,000 and upwards, simply because you may have to completely replace structural timber.
The most expensive treatments are normally accompanied by an insurance-backed 30-year guarantee.
What does dry and wet rot treatment involve?
Dry Rot Treatment
The source of moisture maintaining the rot has to be located and eliminated. This may involve repairing existing defects such as damaged or overflowing gutters, missing slates, blocked air bricks and so on.
The specialist removes all damaged linings and decayed wood and panelling, skirtings, plaster and celings to ensure there is no further spread of the fungus.
Visible and accessible fungal growth is eliminated.
Remaining timber and brickwork is treated with fungicide to form protective chemical barriers.
Preservative-treated timbers replace all removed beams.
Wet Rot Treatment
The source of damp or water is remedied so that timber moisture is kept to a safe level, below 20%.
Weakened wood is removed.
Remaining timber which might be at risk is treated with fungicide.
Preservative-treated wood is used to replace all removed timber.
Need advice on dry and wet rot treatment? Call 0333 344 3234 or email help@samconveyancing.co.uk
*RICS Surveyors – Local Knowledge – Same Week Availability
Want help now? Call us on 0333 344 3234 (local call charges apply)