You need a party wall agreement whenever you plan to do works which affect a wall you share in common with a neighbour or neighbours. 
otherwise you face being taken to court
and the court can rule not only that you halt your project but also that you pay your neighbour compensation and costs. This would be the case for example if you started work on
removing a chimney breast located in a party wall
but had not received the correct legal permission from any relevant neighbours.
To find out what happens when your neighbour doesn't agree to your plans or decides to seek compensation from you for loss or damage, read
Party Wall Disputes
The rules which govern party walls are set out in the
Party Wall Act 1996
as amended. You can read more about these matters here:
What is a party wall?
Need a party wall agreement quote? Call 0333 344 3234
How do you get a party wall agreement?
To start the process towards getting a party wall agreement, you firstly require a party wall surveyor to prepare a Party Wall Notice compliant with the Act which you then serve on your neighbour or the surveyor can serve it directly on your neighbour as you see fit.
Call us on 0333 344 3234 to discuss how we might help you with Party Wall agreements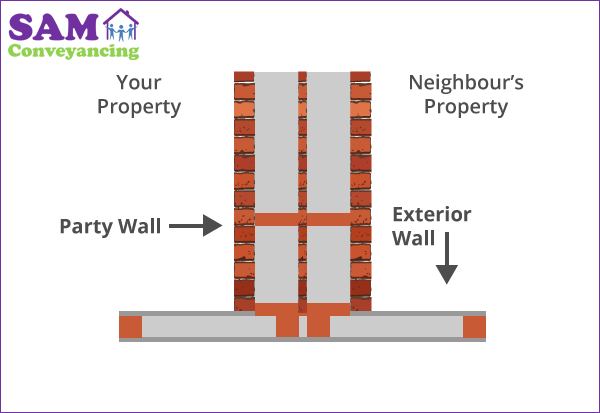 What happens after you've served your Party Wall Notice?
You neighbour then has 3 choices:
Consent to the works without obliging you to commission a Schedule of Condition or the preparation of a Party Wall Award; or
Dissent to your notice but consent to your chosen surveyor being the agreed party wall surveyor; or
Dissent to your notice and insist they appoint their own party wall surveyor (who you will have to pay for).
What if your neighbour dissents and they and their party wall surveyor are happy for their party wall surveyor to act as agreed party wall surveyor for both sides?
You can agree to the neighbour using their party wall surveyor as the agreed party wall surveyor and this saves you fees, unless you specifically wish to retain your surveyor.
What if your neighbour dissents and agrees that your party wall surveyor is to be your appointed surveyor or the agreed party wall surveyor?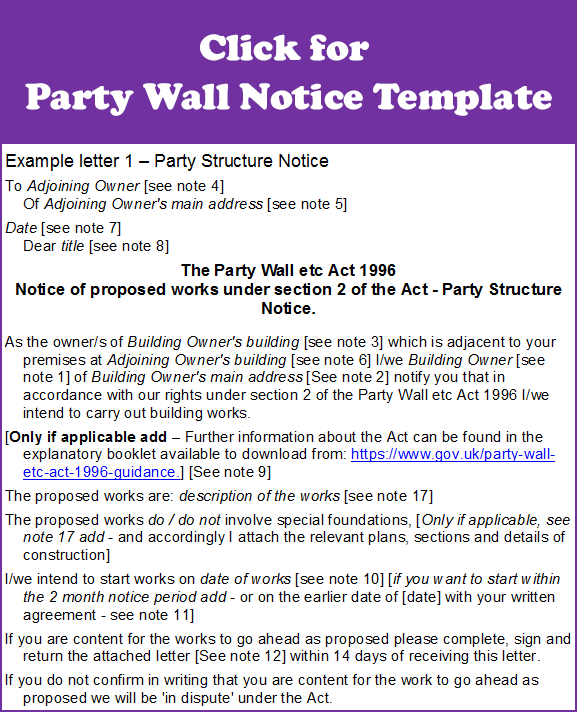 Your surveyor will then carry out the following actions:
Carry out a fully photographed and dictated survey of the Party Wall of your neighbour's property relevant to the vicinity of the planned works.
Act as the agreed party wall surveyor if your neighbour is in agreement with this or liaise with the party wall surveyor appointed by your neighbour if applicable.
Negotiate, agree, prepare and publish a Party Wall Award detailing how and when the works are to be undertaken.
RICS surveyors often charge in the region of £1,000 to £1,500+VAT for a full Party Wall Agreement service; we can often provide this for a better price subject to your plans and the availability and coverage of our surveyors – call us on 0333 344 3234 to discuss this further 
What if matters become more complicated?
Rarely, matters can become more involved because, for example:
Negotiations with your neighbour's appointed party wall surveyor (if applicable) become entrenched; or
Your proposal turns out to be more technologically challenging than first envisaged; or
If damage is caused to the neighbouring property due to the fulfilment of the works; or
Other unforeseen problems are encountered
For more information about what your neighbour can do in these kind of situations, read
Party Wall Disputes
In any of these situations, we reserve the right to charge an additional fee of £150+VAT per hour although we rarely exercise it.
NB We impose no additional charge for our surveyor acting as agreed surveyor for both parties further to the cost of our surveyor purely acting for you.
Need a party wall agreement? We have expert RICS surveyors who can act for you. For a free quote, call 0333 344 3234.
Proud of our Reviews


322 Google Reviews FREE Online Conveyancing Process for Buyers
Includes online checklists, videos, downloads and tips - plus it is completely free to use from start to finish and saves your progress along the way.
Log in