What is a party wall? This is a wall which divides the buildings of two owners where the boundary between the two ownerships is located usually, but not always, at the centre of the wall.
There are two types, according to the Party Wall Act 1996 as amended, which governs all legal matters which address these matters. These are:
1. A wall that stands astride the boundary of land belonging to two (or more) different owners; and
2. A wall that is wholly on one owners' land but is used by two (or more) owners to separate their buildings.
Party walls are a complex area of law which
comes into play when you are planning an extension to your property or, for example, chimney breast removal and the work involves a shared wall
. This is because neighbours may have to put up with disturbance without enjoying benefits of your work and also, there have to be rules work to ensure any chance of a future structural collapse because of the work is kept to a minimum.
It is always best practice to hire an experienced chartered surveyor when any work you plan to do involves a shared wall.
Get an experienced Chartered Surveyor for Party Wall work – call 0333 344 3234
Do you have to inform my neighbours if you plan work involving a party wall?
By law, you must give a Party Wall Notice to your neighbour/s of any notifiable works at least 2 months before the planned start date or at least 1 month before notifiable excavation works occur.
The Act defines notifiable work as either building work which affects a shared wall or boundary line, or excavations within 3 – 6 metres of a neighbouring property (depending on the depth of the foundations you are making). NB This will include most extensions and basement and loft conversions.
You need to serve notice on all owners of every neighbouring property affected by the works (whether freeholder or leaseholder). You don't need planning permission for your plans to serve notice; once you've served notice, you can take up to a year to start work.
If your plans change slightly AFTER you've served notice (you might, say, increase the depth of your extension) you should be able to submit revised drawings to your neighbour without serving new notice.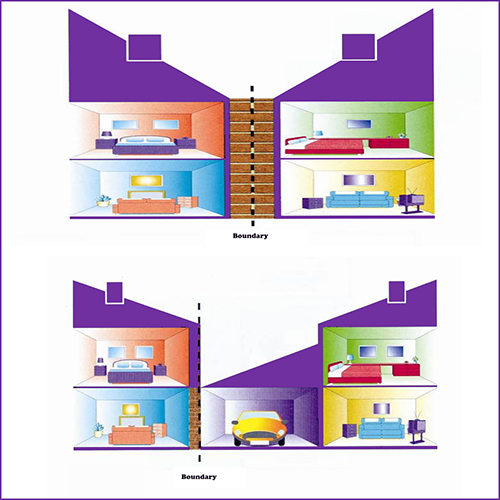 What if I don't serve a Party Wall Notice?
If you don't serve a Party Wall Notice before carrying out relevant works in compliance with the Act, you can face an injunction awarded by a court at your expense to stop you from continuing any work and if you've caused any damage, a judge can award compensation for loss or damage resulting from works against you. You will also have to pay all costs.
If you have served the correct notice, surveyors have to settle any disputes over damages. They can't award costs for unquantifiable concepts such as stress and inconvenience so any costs awarded will be lower than those awarded by a court.
How much does a Party Wall Notice cost?
Surveyors generally charge around £65 for a Party Wall Notice. You can do this yourself but you would need to ensure that you include all essential information required by the Act otherwise the notice will not be valid.
You need to know, for example, exactly who owns the building affected by the shared wall wall works – this may well be different from the present occupier – you need to find this out from the Land Registry.
What happens after you've served a Party Wall Notice?
Your neighbours have 14 days to respond to it. If they agree to it, your work can start immediately but if they dissent or don't reply, the matter goes into dispute. This is when costs can increase.
You should ask if your neighbours are content for one surveyor to act for all parties to help resolve any dispute and give the neighbours at least 10 days to decide. Appointing an 'agreed surveyor' in this way might save you at least £500 - £1,000 compared to you having to hire two surveyors to draw up what's termed a 'Party Wall Award'.
This is why it's so important to talk to your neighbours BEFORE you serve notice and gauge whether they are planning to dissent. If they are, you should ask them whether there's a surveyor they'd like to use. If there is, you might be able to appoint this person as the 'agreed surveyor' and save yourself the extra costs referred to.
Don't hire a surveyor who's involved with the planned work
If you hire a surveyor or other professional involved with the work itself, it is highly unlikely that your neighbours will consent to this person being the agreed surveyor because they might not readily view the person as impartial.
Sample timeline for party wall matters
Day 1
You serve a party wall notice to all relevant legal owners citing all relevant sections of the Party Wall Act stating when the work is set to start. This must be in at least 2 months' time.
Day 15
By this point, your neighbour should have agreed to your notice in writing. If they fail to reply, you must take this as indicating dissent and send them a further letter stating that they must appoint a party wall surveyor within 10 days or accept you instructing one on their behalf.
Day 26
By this point, your neighbours must have decided whether they wish to appoint a surveyor and if they have not, you can appoint one for them. You must not appoint the surveyor you're already using. To save money, it's better if you can get your neighbour to consent to using a single agreed surveyor.
Day 27
The appointed surveyor/s record your neighbour's wall's existing condition for the purposes of fairly assessing any damage later on. They also give you a Party Wall Award laying out rules your builder will have to follow, such as restrictions on when and how the shared wall works should be carried out, and any additional work needed to protect your neighbour's property.
Your builder will also be allowed legally to trespass on your neighbour's property if the surveyors deem it necessary to carry out the shared wall works.
Day 1 plus 2 months
Assuming all surveyors involved have agreed the party wall award, work can begin.
Day 1 plus 12 months
Any proposed work must have started by this point.
Need a chartered RICS surveyor for party wall matters? Call 0333 344 3234 or email help@samconveyancing.co.uk
Proud of our Reviews


322 Google Reviews FREE Online Conveyancing Process for Buyers
Includes online checklists, videos, downloads and tips - plus it is completely free to use from start to finish and saves your progress along the way.
Log in